How to Take a Screenshot on the Galaxy Note 8
This quick guide explains how to take a screenshot on the Samsung Galaxy Note 8. Like the Galaxy S8 and for the first time on any Note device, the Galaxy Note 8 doesn't have a physical home button. This means there is a brand new method for taking a screenshot on your phone. This is one of many different features you'll want to know about.
There are several different reasons for taking a screenshot, which is essentially capturing whatever is on the screen as an image. Then, you can save, edit and share a screen capture wherever it's needed.
Read: 20 Best Galaxy Note 8 Cases
Thanks to the S-Pen stylus you have three different methods to take a screenshot. The easiest way is to press and hold two buttons down at the same time per our instructions below. Only now you aren't using the home button like past Samsung devices.
Someone coming from the iPhone or those who've used other Android smartphones will feel right at home. That's because a quick and simple button combination will instantly capture whatever is on the screen. Samsung now uses the same combo as other smartphone manufacturers.
How to Take a Screenshot on the Galaxy Note 8
If you want to take a screenshot of something important in an email or save a photo, here's how. All owners need to do is push and hold both the power and volume down buttons at the same time. Push, hold and let go. That's just one of two methods though.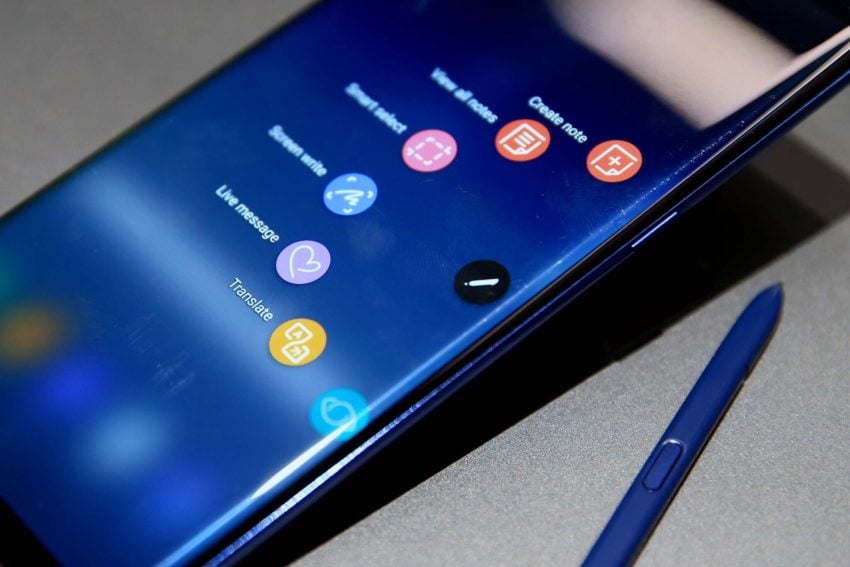 Quickly push and hold down both the volume down and power buttons at the same time, hold for a second or so, then let go. You will see and hear the screenshot capture. That's it. The phone will save what's on the screen and you can instantly access it from the gallery.
Smart Capture
Additionally, you'll notice a feature called Smart Capture. This shows more information on the bottom of the screen after a screenshot. Like how to take another one, or taking multiple screenshots of an entire website or email string. This lets you capture long screenshots in one image, instead of taking three or four.
Hit "Capture more" and the Galaxy Note 8 will keep taking screenshots until you stop. This is a nice feature, but it does prevent you from taking multiple screenshots quickly. As the phone has to wait for the popup of options. To disable this head into Settings > Advanced Options > and disable "Smart Capture" to turn it off.
Other Galaxy Note 8 Screenshot Methods
Those aren't your only ways to take a screenshot though. Samsung has a smart tool that uses the S-Pen stylus, along with another called Palm Capture. Although the button combination is the easiest for most. For the S-Pen, just pull it out and select "screen write" to get started. That instantly takes a screenshot of whatever is on your screen.
Additionally, hold the edge of your hand (wrist, the edge of your palm and pinky finger) on the screen. Then just slide the edge of your hand across the entire display from left to right. You've probably done this on accident and didn't know what you did, but it's a feature. It's a screenshot gesture on Samsung devices.
It works in either direction and may take a few tries before you master the technique. Once figured out you can quickly swipe to take a screenshot and then share or save it as desired. Again, the button combo is easier for me, but the gesture is faster and works without picking up your phone.
Everything Else You Need to Know
Screenshots are instantly saved to your gallery under "screenshots" for easy access. Additionally, you can find a preview of the screenshot in the notification bar to quickly share, edit or delete it. 
Also, if you happen to notice you're taking screen shots accidentally, it's probably the palm-swipe method. Here's how to turn it off. Go to Settings > Device > Advanced features > Palm swipe to capture > and toggle the on/off button. Now, just use the button combo or the S-Pen when you need to take a screenshot.
While you're here, pickup a Galaxy Note 8 screen protector from our roundup below.
10 Best Galaxy Note 8 Screen Protectors
Whitestone Dome Glass (Easy Install)
Now that the Galaxy Note 8 has been available for more than a few months we've had a chance to test and try multiple screen protectors.
Our first recommendation is the Whitestone Dome Glass kit. Now don't be overwhelmed by all of this, as the process is actually extremely easy. This company sends you a screen protector, easy installation tray, a liquid for the application, and a UV light that cures the liquid. It sounds more "involved" than other screen protectors, but it's actually incredibly easy. You set it up, let the tray do the work, and use the light to cure the screen protector to your Galaxy Note 8.
This ensures a perfect fit, no gaps, and no touchscreen responsiveness issues like we've seen on the Galaxy S8 or Galaxy S7 Edge from prior years. These protectors are extremely popular because they work great, and they're easy to install. Try this first, then keep reading for a few more recommendations.

This article may contain affiliate links. Click here for more details.