How to Take a Screenshot on the Galaxy S9
This quick guide explains how to take a screenshot on the Samsung Galaxy S9. It's a simple feature that almost everyone can use and appreciate, and each company has its own way of doing it. Not to mention Samsung's Galaxy S9 doesn't have a dedicated home button, so it's different if you recently upgraded.
There are several different reasons for taking a screenshot or capturing and saving whatever is on the screen. And once you do, you can save, edit and share that screenshot anywhere and everywhere. Here's a quick video showing you how followed by more details for those interested.
With the Galaxy S9, you actually have multiple different ways to take a screenshot. The easiest is a simple button combination that will even be familiar to someone coming from an iPhone. Plus, Samsung added scrolling screenshots to capture an entire webpage or email, and a bunch of extra tools you can take advantage of. Here's how to do all of them.
How to Take a Screenshot on the Galaxy S9 and S9+
If you want to take a screenshot of something important in an email or save a photo, here's how. All owners need to do is push and hold both the power and volume down buttons at the same time. Push, hold and let go. This is the easiest of the 3-4 ways to take screen grabs.
Read: 10 Cool Things the Galaxy S9 Can Do
Quickly push and hold down both the volume down and power buttons at the same time, hold for a second or so, then let go. You will see and hear the screenshot capture. That's it. The phone will save what's on the screen and you can instantly access it from the gallery. Depending on your settings, you can start editing it right away too.
Palm Swipe Screenshot
There's another way that's pretty easy, you've probably done it before by accident. Samsung has a feature where you can swipe your palm over the screen to quickly save whatever is on it.
Hold the edge of your hand (wrist, the edge of your palm and pinky finger) on the screen. Then just slide the edge of your hand across the entire display from left to right. This gesture will capture information from the screen and instantly save it. That way you don't have to use two hands to do the button combination.
Scrolling Smart Capture
Additionally, you can continue taking screenshots after the first one, by using Samsung's Smart Capture. This shows more information on the bottom of the screen after a screenshot. The first one is to "capture more+" which instantly takes another screenshot. When you tap it will automatically scroll down, then take the second screenshot. This is helpful for saving an entire webpage, emails, or recipes off the internet.
Every time you tap capture more it'll take another one until you tell the Galaxy S9 to stop. It's an extremely helpful feature, but it does slow you down and prevent you from taking multiple screenshots quickly. You can also tap "crop" to adjust these longer than usual images.
If you don't want this popup slowing you down or getting in the way head to Settings > Advanced Options > and disable "Smart Capture" to turn it off.
Screenshots with Bixby
And finally, you can simply talk to your Galaxy S9 and ask Bixby to take a screenshot for you. If you didn't disable the Bixby button, tap it (under the volume keys on the left) and then say, "take a screenshot". Your phone will automatically capture what's on the screen. So make sure you're on what you want to save before you ask.
You can also say, "Hey Bixby, take a screenshot" if you use Bixby Voice instead of the Google Assistant. Here are over 175 cool things you can do with Bixby.
Everything Else You Need to Know
Screenshots instantly get saved to your gallery under "screenshots" for easy access. Furthermore, you can find a preview of the screenshot in the notification bar to quickly share, edit or delete it on the fly.
Read: 15 Common Galaxy S9 Problems & Quick Fixes
Also, if you happen to notice you're taking screenshots accidentally, it's probably the palm-swipe method. To turn that off go to Settings > Device > Advanced features > Palm swipe to capture > and toggle the on/off button. Now, just use the button combo or Bixby to take your screenies.
Before you go, pick up a Galaxy S9+ screen protector from our roundup below.
10 Best Galaxy S9+ Screen Protectors
Caseology Tempered Glass (Easy Install Tray)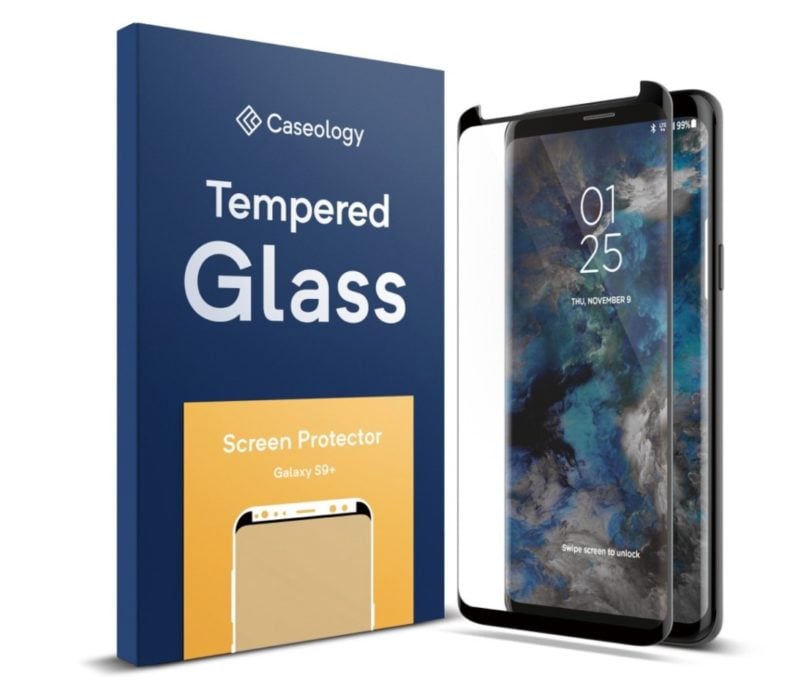 First off, we're recommending the Caseology Tempered Glass Screen protector kit for the Galaxy S9+. While they make great cases, the reason this made our list is because of the easy installation tray.
No one likes putting on screen protectors, and half the time we mess up anyways. This is especially true with the curved glass edge on Samsung phones. With Caseology, you'll get a super simple easy installation tray that perfectly aligns the glass protector for you. Pull off the protective film, line it up, and drop it in place. Then use the included squeegee to get rid of any bubbles.
Each Caseology glass works great with cases, which means the edges are just a tiny bit short so your case doesn't pull it up and ruin your screen protector. They're using 9H reinforced glass with anti-fingerprint coatings, rounded edges to prevent chipping, and it's pretty affordable too. Don't forget Samsung sells official accessories as well.

As an Amazon Associate I earn from qualifying purchases.