How to Turn Off the Galaxy Note 8 Notification LED Light
In this guide we'll explain how to turn off the Galaxy Note 8 notification LED light that blinks on the top of the phone. Samsung's smartphones are user-friendly with tons of customization and advanced controls. And while we can't control what apps access the notification LED, we can disable it completely.
The notification LED on Samsung phones give you quick information without turning on the screen. It blinks for incoming notifications, alerts, missed calls and more.
Read: 20 Best Galaxy Note 8 Cases
That said, with features like an always-on display, seeing a notification light blink constantly is distracting. Whether you're in a movie theater and want it off, or just don't like it, here's how to turn it off. Additionally, it supports a full spectrum of colors and some apps even let you change the LED color for notifications. We'll explain that below as well.
How to Turn Off the Galaxy Note 8 Notification LED
Another reason some users may want to disable the LED is for phantom blinking. Where it goes off for no reason, and you don't have an incoming notification. We haven't seen reports of this being a problem on the Galaxy Note 8, but we've seen it on past Samsung phones.
Instructions
Tap the gear-shaped Settings button in the notification bar (or find Settings in the app tray)
Select Display
Scroll down to LED Indicator
Uncheck or turn off the switch
Once you uncheck this option in settings the notification LED will no longer go off. Now your phone won't irritate others around you, or brighten up your bedroom late at night.
However, there is one problem users need to know about before turning this off. The notification LED setting also controls the LED when the phone is charging. The Galaxy Note 8 displays a red, orange or green LED while the phone is on the charger. Turn this off, and you won't know when your phone is fully charged.
Read: How to Turn Off the Note 8 Always-On Display
Because the battery charging status LED and notification LED is one setting, you can't choose one or the other. It's all or nothing with Samsung smartphones.
Other Details & Customization
Later if you decide you want it back, head into the same settings menu and switch it back on, and you're all set. Then, as we said earlier, there is an app that allows you to completely customize the notification LED.
Another idea is to customize when you see the notification LED, or turn it off for individual apps using apps like LightFlow. This way you'll still get the battery charging status, and cut down on what apps make the LED blink.
Download it from the Google Play Store and select what colors will light up for each specific app, or notification type. Give it a try today and enjoy a more personalized Galaxy Note 8 experience. While you're here, take a look at these 15 best official Galaxy Note 8 accessories.
15 Best Official Galaxy Note 8 Accessories
Note 8 ClearView Standing Cover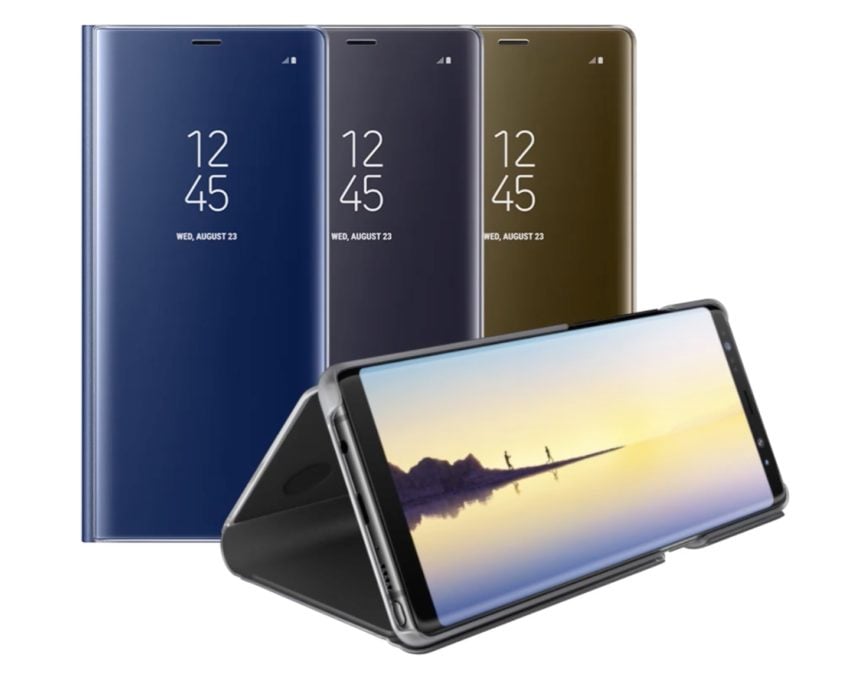 Most of the accessories released for the Galaxy Note 8 will be familiar to Samsung users. That's because these same options were available for the Note 7 or Galaxy S8. However, they're slightly different, new, and improved for the all-new Note 8.
First up is the ClearView Standing Cover, which has a kickstand built-in. This is a clear case that uses the always-on screen to display information even when the screen is off. The flip cover protects the screen and can fold backward and double as a kickstand. Perfect for watching YouTube or Netflix hands-free.
The ClearView Standing Cover comes in all four Note 8 colors.

As an Amazon Associate I earn from qualifying purchases.