How to Use Animoji on iPhone X
The iPhone X is the only iPhone that can send Animoji. This guide will show you how to use Animoji and explain where you can send Animoji from your iPhone X.
Animoji are animated emoji that you customize by making faces at the front facing iPhone X camera. You can send a picture of the Animoji, send it as a sticker or you can record a 10 second clip of the Animoji with your voice and your facial expressions.
While you need the iPhone X to make Animoji, you can send them to anyone with a phone. You can even save them to your Photos and then upload to Facebook or Instagram. There are three things you can do with an Animoji.
Send an iMessage sticker to other iOS devices,
Send a photo of an Animoji.
Record a 10 second Animoji video.
The Animoji feature of the iPhone X is built-in to the Messages app as an iMessage app. It is free, and you don't need to download anything to make it work. Here's how to use Animoji on the iPhone X.
Open Messages and then pick a message you want to send an Animoji in.
Tap on the small monkey icon at the bottom of the screen. If you don't see one, you need to tap on the little app store icon next to the camera and then on the monkey.
From here, you can scroll through the 12 different Animoji options or you can start using Animoji by looking at your iPhone X.
If you swipe up from the Animoji area, it will make it full screen so you can see all the options better and you can switch between them better.
Play around with the options the first time you do this. As you move your head the ears of some animals will react and you can also make them reach to all kinds of facial gestures.
How to Send an iMessage Animoji Sticker
You can only send the iMessage Animoji sticker to another iOS device. To do this, all you need to do is make a face and then tap and drag on it up to an iMessage conversation. Pick your finger up and it will slap onto the screen like a sticker.
How to Send an Animoji Picture
If you are sending a text message, you can send an Animoji picture to someone. You just need to make a face and tap on the Animoji. This will put the Animoji in the message area and you can send it like any other photo.
How to Send a Talking Animoji
Sending a talking Animoji is the best way to use this feature because it is simply a ton of fun. Once you have the Animoji part of the window open, you need to tap on the small record button in the lower right.
This starts a 10 second recording. You can move around in the frame, talk and make facial expressions. The recording automatically stops at 10 seconds, or you can tap stop earlier if you want a shorter clip.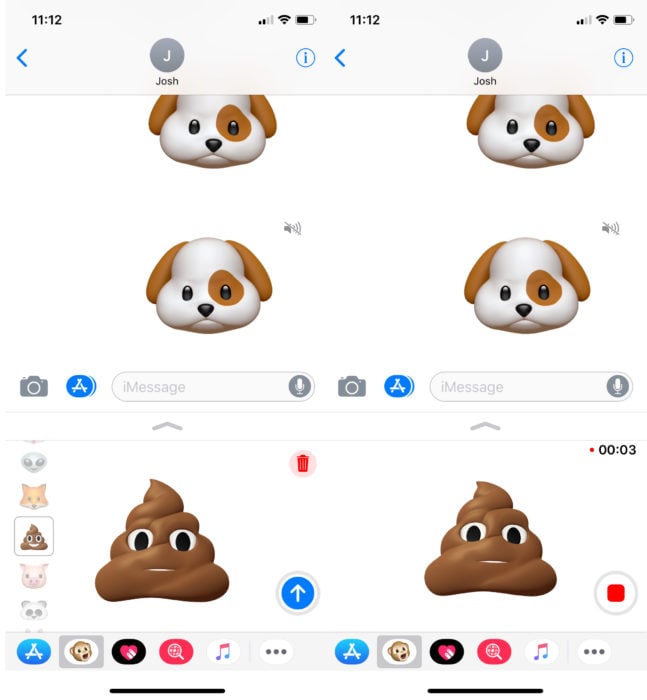 You will hear and see a replay. Tap on the Blue Arrow to send the short video. If you want to see it again, tap on the blue circle arrow to repeat it. To delete and start over tap the trash can.
This sends as a video file to any device you can iMessage or text. You need to send it in order to be able to save the video file to your iPhone where you can upload it to another service.
How to Post Animoji to Facebook, Instagram or Twitter
Once you send the Animoji video to someone, or even to yourself, you can save it to your iPhone camera roll. Tap on the Animoji video you want to save and then tap on the share button in the lower left corner and then on Save video.
You can also 3D Touch into the video from the message and pull up slightly to get an option to Copy, Save or Forward the message. You want to save it, which will keep a copy in your Camera roll. In some cases we've found that apps aren't able to accept the Animoji video file.
Once apps are updated you should be able to share it directly to the app, but we had to share to the computer via AirDrop, which converts the file. The other option is to open in iMovie and then export a video of your 10 second clip.
The Best iPhone X Cases
x-doria Defense Lux iPhone X Case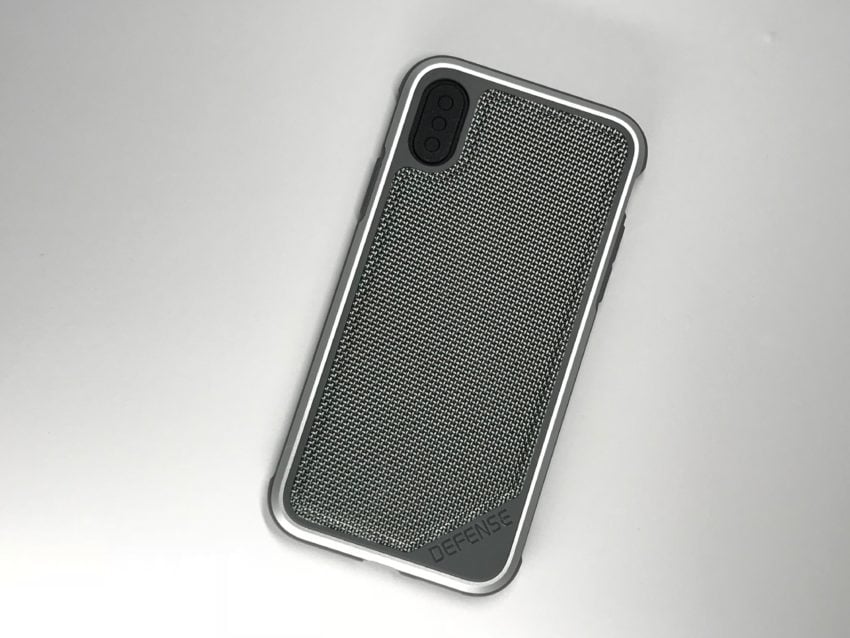 The x-doria Defense Lux iPhone X case is amazing. This case looks great, feels awesome and offers military grade drop protection without adding much bulk.
We love the look of this case in Ballistic Nylon and Black Carbon on the iPhone X. These cases not only offer a cool look, but the back is actually textured like the material listed. The Ballistic Nylon case has a soft, but grippy feel to the back just like you'd expect from looking at it. The Black Carbon feels like textured carbon fiber and looks awesome.
We didn't mean to, but we did drop our iPhone X in this case and our doorbell camera caught it on video. The case iPhone survived without any problems.
x-doria designed this case to protect your phone from drops up to 10 feet on concrete and there is . sound channel to direct the speaker towards you instead of straight out the bottom. The raised edge keeps the screen safe when setting the phone face down on a table.
$34.99 at x-doria

As an Amazon Associate I earn from qualifying purchases.