How to Use Fingerprint Gestures on the Galaxy S8
This guide will explain how to enable fingerprint gestures on the Samsung Galaxy S8. You can make the phone easier to control and navigate by enabling fingerprint scanner gestures. 
Both the Galaxy S8 and S8+ are taller than previous models and take some getting used to. Trying to reach the top of the screen to pull down the notification bar is difficult one-handed. That's where these gestures are helpful. 
Read: How to Quick Launch the Galaxy S8 Camera
Once turned on, you can pull down the notification bar with the swipe of a finger, enabling easy access to the quick-setting menu in the pulldown bar. Now you can quickly enable WiFi, Bluetooth and more while using the phone one-handed. Learn how from our video below. 
How to Enable Galaxy S8 Fingerprint Gestures
All you need to do is head into settings and turn them on. Additionally, Samsung added a quick gesture for Samsung Pay we'll mention below.
Instructions
Pull down the navigation bar and tap the gear-shaped Settings button near the top right (or find Settings in the app tray)
Scroll down and select Advanced Features
Tap Finger sensor gestures
Swipe the On/Off switch to ON at the top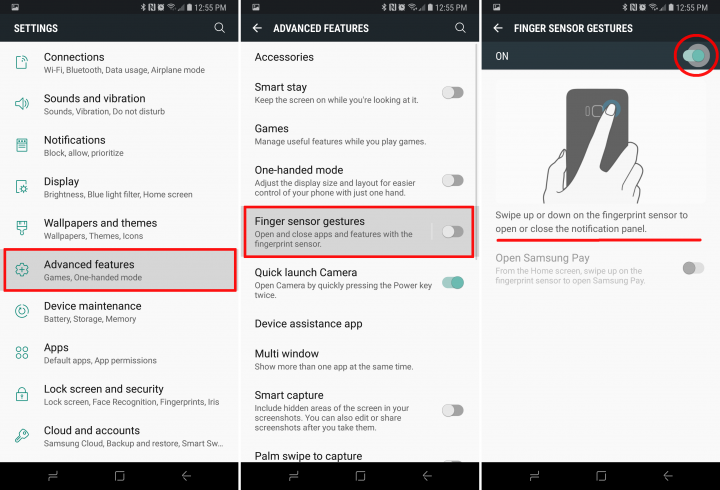 Now when you're using the Galaxy S8 or S8+ with one hand, swipe down on the fingerprint scanner to access notifications. In turn, this prevents you from having to shuffle the phone in your hand and reposition it to reach the top.
This will cut down on moments fumbling with the phone where it may slip and fall out of your hand.
Samsung also added an option to enable a gesture to launch Samsung Pay, the company's mobile payment service. You'll need Samsung Pay active and on the home screen in order to enable the gesture. Once done a swipe up on the sensor will launch Samsung Pay.
This is a feature we've seen on other Android devices from Huawei and Google, only with more controls. Hopefully, Samsung can make this more useful with software updates in the future. While you're here, take a look at some of the best Galaxy S8 cases from our slideshow below.
25 Best Galaxy S8 Cases
Samsung Clear View Standing Case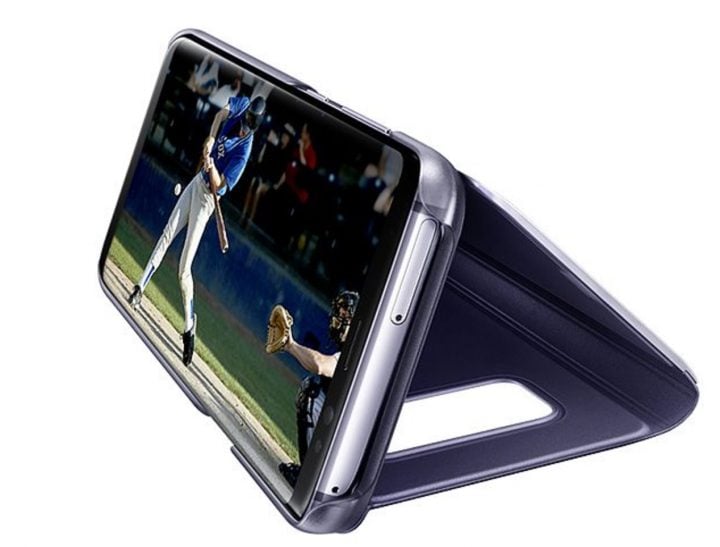 First, are a few Samsung cases then we'll move on to some of the more popular (and cheaper) brands available. As we see every year, Samsung has a decent select of great cases and accessories for the Galaxy S8 and Galaxy S8+.
Our favorite among them is the Clear View Standing Cover. It doubles as a kickstand and folds closed to protect the screen. When shut, the clear front displays the time, date, or battery levels. It's expensive but one of the better cases available.

As an Amazon Associate I earn from qualifying purchases.