How to Use Instagram Focus Portrait Mode
Here's how to use Instagram's new Focus Portrait mode, what it does, and what you need to know. If your phone isn't new enough to take fancy portrait photos with bokeh effects, Instagram is here to save the day.
Portrait mode is the latest popular phone camera feature, something millions of iPhone X owners love. In this mode the camera blurs backgrounds while you take photos, making the main subject stand out. Portrait mode for selfies is even more popular, and Instagram's new camera mode can do them both.
Read: How to Upload Multiple Photos to Instagram at Once
If you don't have the latest iPhone, Android, or Samsung Galaxy, you've been missing out on bokeh-style portrait photos. That's why Insta added it right to its app. Here's how to take Instagram Focus mode photos today.
Before we begin, there's one small catch. Focus mode isn't available on all smartphones yet, and it might never be. For now, Focus is available on iPhone SE, 6S, 6S+, 7, 7+, 8, 8+ and X and select Android devices. This is likely a hardware limit, but we'll update once we know more.
Instructions
Open Instagram, then swipe from left to right on the main screen
This opens the Stories Camera, which is where you'll find Focus Mode
Tap Focus from the bottom of the screen, in the list of camera modes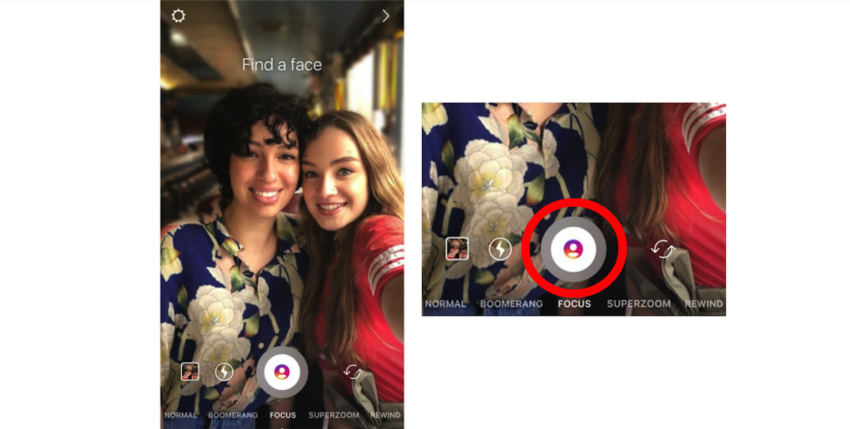 Find a Face with the front or rear camera, and Tap the shutter button to take a photo
Additionally, Focus mode works with group portraits too
Focus mode works with the selfie camera or the rear-facing camera. However, for now, it only works with faces, so it'll say "Find a Face" if it can't find one. When you take a Focus photo of someone, the person stays in focus and the background blurs softly. Just enough to bring the subject into greater focus.
Read: How to Stop Instagram Auto Play Videos
The end result is a nice, clear photo, with softly blurred edges so the person is front and center. Basically, making your subject what people naturally focus on when looking at the image.
So far we're seeing mixed results with the new Instagram Focus mode. Specific hair styles cause the blurring effect to struggle, and if there isn't enough lighting you'll see blurring on the edges of people, too. Overall though, this new feature is a welcomed addition to Insta. It works well, and now you can take beautiful bokeh photos like your friends that have an iPhone X, Google Pixel 2 and other devices.
Before you go, learn how to hide Instagram photos and videos with Archive, and here are 8 common IG problems and quick fixes.