How to Use NVIDIA Shield TV Voice Search
The NVIDIA Shield TV easily takes the prize for the best Android TV you can buy. You can use NVIDIA Shield TV Voice Search to find videos to stream. You can also ask Google for basic information, like sports scores, game times, trivia, and weather information. Voice search comes with every NVIDIA Shield TV and turns the remote into a powerful information tool. We'll show you how to use it and how to get the most out of the NVIDIA Shield TV Voice Search feature.
An NVIDIA Shield TV connects to any 4K or HDTV and lets users play some amazing games, including Android games, and they can stream some great games available through the NVIDIA Shield TV gaming service called GEFORCE Now. Watch 4K movies online or through the USB expansion port if you put some 4K movies on the drive.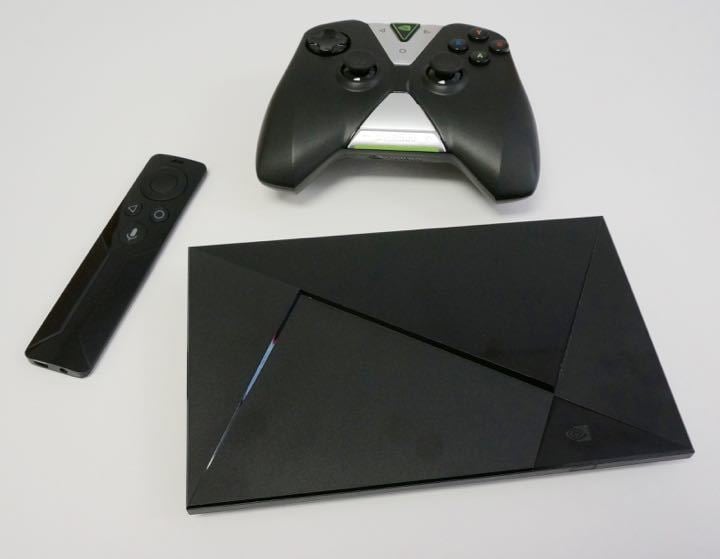 GEFORCE Now costs $7.99/month and lets subscribers play games they could previously only play on a graphics powerhouse PC. Titles available include The Witcher 3, Paragon, Marvel Heroes, and War Thunder. NVIDIA Shield TV owners can also stream games from their PC to the box if they own a PC with a GEFORCE GTX gaming graphics card and supported games.
Besides gaming, users can watch video from all the major video streaming services like HBO and Google Play Movies.
Please see How to Setup Up Plex on NVIDIA Shield TV.
How to Use NVIDIA Shield TV Voice Search
To use NVIDIA Shield TV voice search, you'll need a box plus the remote control or the Shield Controller. The Shield Remote comes with the $199.99 basic NVIDIA Shield TV and the $299.99 Shield Pro. The biggest difference between the two boxes, besides the $100 price difference, is the storage. The Pro has 500 GB built-in, while the basic model only comes with 16GB. Both let the user add external storage via USB 3.0.
Users can buy another remote, if they lost it or if they bought the original Shield TV. The remote costs $40 if you buy it from Amazon. The Shield Controller costs $59.99 if you need to buy one. It comes with the Shield TV, but didn't come with the first gen's cheaper model.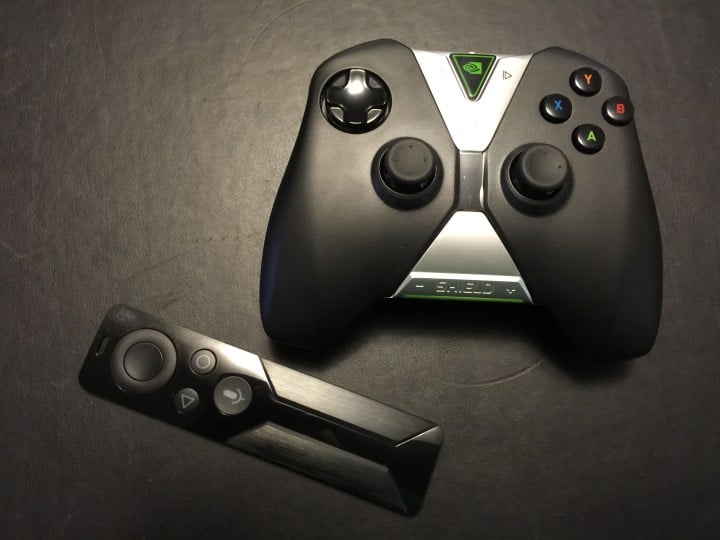 Using the Shield Remote, press on the button that looks like a microphone. You'll find it in the center of the remote.
Users can also search using the Shield Controller. It has a green and black button on the top center of the controller. Press it to use NVIDIA Shield TV Voice Search.
What Can I Search For?
Regardless of whether you search using the remote or the controller, the search function works the same. NVIDIA Shield TV Voice Search will find a lot of content. Here's a list of the some of the searches you can do or commands you can say with your remote or controller.
Search for Movie or TV Show titles by name, genre or other details like actors
Apps
Games
Google Voice Searches for almost anything like weather, facts and trivia
Play music with Google Play Music or other supported apps
Launch apps
Let's say you want to play certain kinds of music. Use the NVIDIA Shield TV Voice Search function and say, "Play some jazz on Spotify" and it will launch the Spotify app and play some jazz music for you. This works with other music apps like Google Play Music and Pandora.
The voice search also finds movies. Search for Field of Dreams and it will find it on Google Play, but you can also specify an app. Say "BFG on Netflix" or "Play Downton Abbey on Amazon Video" and it will launch the specified app to play the requested video.
Do you want to know the weather for your area. Just ask, "What's the weather like?" You can also specify a city, like "What's the weather like in Milwaukee, Wisconsin?"
If you and a friend can't agree on who served as the 16th president of the United States, ask the Shield TV using the Voice Search. It's good at coming up with basic facts. It also finds sports scores and game times for many popular sports.
If you ever have problems using the remote, make sure it's connected to the Shield TV and has a full charge. If it's connected and the battery's not low, then try holding the mic button and the back button for 15 seconds. This resets the remote and often fixes voice search problems.
Google Assistant Coming Soon
AT CES 2017 NVIDIA announced that some time in 2017, the NVIDIA Shield TV will get an update. This will add Google Assistant, Google's new voice-powered service previously available only on Google Pixel phones. We don't have date for when this will happen, but hope it comes soon.