Incredible Deal Offers 20% Off Every Game for 2 Years (PS4, Xbox One)
We told you to watch out for an amazing gaming deal this week, and now we have all the details on a gaming deal that will cut the price of every game you buy 20% for the next two years. Normally this type of discount comes with a $120 entry fee, but if you buy any game over $39.99 you can add a two-year membership for $30.
The program is only at Best Buy and it is for a program called Gamer's Club Unlocked. Normally $120 you can get a membership in stores for $30 for the next week when you buy a game for at least $40. Normally Gamer's Club unlocked is not worth it unless you buy a lot of games, but this deal is paid for in just three games.
To score this deal, you need to go to Best Buy this week, buy a game for $39.99 or higher — like Sunset Overdrive or any other game and sign up for the service when you checkout. This should work when you pickup a Sunset Overdrive pre-order, but you can't pre-order Call of Duty: Advanced Warfare to get this deal.
The game you choose can be for any console and the 20% off discount is valid on games for any consoles.
The main reason Gamer's Club Unlocked is a great deal is because it chops the price of all your new games 20% for the next two years. This means when you buy a $59.99 game you'll see the price drop $12 at checkout. You can use this on special editions to save even more.
You can also stack the My Best Buy $10 pre-order rewards on top of this, to deliver a total of $22 in savings from almost any new game purchase at Best Buy over the next two years.
You can only sign up for this offer in store at Best Buy, but the Gamer's Club Unlocked benefits work online or in store. If you already have online pre-orders you will need to cancel and re-order them once Gamer's Club Unlocked is linked to your Best Buy account.
There are some limits to this deal. You can only buy three of each game, so you cannot use this to make tons of money selling games that you buy from Best Buy. Three copies of each game is more than enough for most gamers.
Here's a full look at the Gamer's Club Unlocked benefits;
Get 20% off new video games for 2 full years (NEW)
Get 2x base points on new video game software, digital content, and game accessories
Get 2 points for every dollar when you trade-in games
Get points on gaming consoles
Redeem Reward Certificates on nearly everything at Best Buy, including special money-saving exclusive offers
10% bonus trade-in credit on your video game software trade-ins
10% off pre-owned games
Buy two, get the third free on pre-owned games via special welcome coupon
Save 50% on a new strategy guide via special welcome coupon
Best Buy answers more questions about the Gamer's Club program in an announcement on the Best Buy Forums.
If you plan to buy three new games in the next two years you will break even on this deal. If you buy more games, like many gamers do, you can save big for two years.
Shoppers can stack this deal on top of a current Gamer's Club Unlocked deal to extend their membership. The deal comes as there are not many new releases, but in time to start saving on all the games coming out in November.
If you combine this with the Call of Duty: Advanced Warfare deal that chops the price to $20 with a trade you can walk home with the new Call of Duty for under $10 if you stack a trade in for $20, a $10 coupon, $12 off and $10 in reward certificates.
Top PS4 Games to Buy in 2014
Call of Duty Advanced Warfare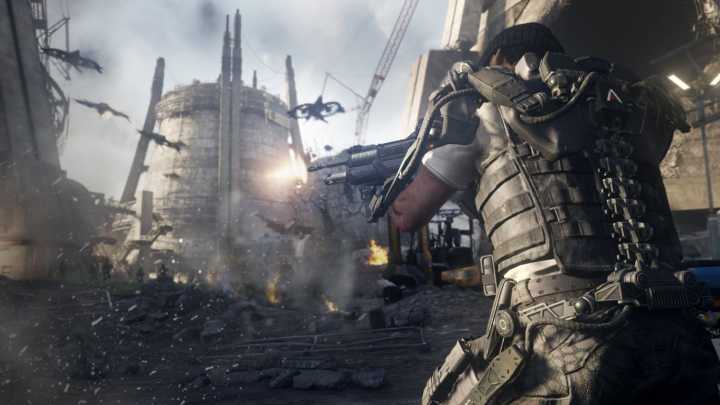 PS4 Call of Duty Advanced Warfare Details:

Call of Duty Advanced Warfare Release Date: 11/4/14
Pre-Order Bonus: Brass exoskeleton, EMP Weapon
Special Editions: Yes
Exclusive: No

Call of Duty Advanced Warfare is one of the top PS4 games to buy in 2014 not only becuase it is a new Call of Duty game, but because it is ready for a PS4 lacking fun shooters.

Yest it arrives into a fall filled with Destiny, but Killzone didn't live up to the excitement and there is no Titanfall for PS4.

Instead gamers get this Kevin Spacey filled Call of Duty Advanced Warfare release that delivers a super soldier with smart weapons and access to technology like never before including drones and hoverbikes.

Call of Duty Advanced Warfare Gameplay Video

As an Amazon Associate I earn from qualifying purchases.