Incredible Destiny Deal: Free Upgrade to PS4 & Xbox One
There is a new Destiny deal that you need to check out if you plan to buy a PS4 or Xbox One later this year, but you want to play on the Destiny release date using your Xbox 360 or PS3.
Bungie offers a free Destiny digital upgrade to the PS4 or Xbox One version from your digital PS3 or Xbox 360 purchase.
We already saw just how much better Destiny looks on PS4, and expect a similar graphical lead on the Xbox One this fall, so it makes sense to look for a way to play on the latest consoles.
Of course the best bet is to buy a new Xbox One or PS4 right now, and get all the best Xbox One games and top PS4 games on the new consoles this fall, but if that's not possible there is a great reason to buy the digital Destiny release on your current console.
So long as you buy Destiny digitally on the Xbox 360 or PS3 you can upgrade to the new version free of charge when you upgrade you console.
This Destiny deal only works with the digital version, so you'll need to cancel your disk based Destiny pre-order and switch to digital if this is something you want to take advantage of.
Another catch is that you cannot switch to a different console brand. This only allows you to upgrade from the Xbox 360 to the Xbox One or the PS3 to the PS4. If you are thinking of switching from the Xbox 360 to the PS4 you will not be able to use this Destiny deal to get a free upgrade. You can get a free copy of Destiny with a new Xbox One starting this week.
This includes a free upgrade of the digital Destiny release, the digital Destiny Guardian Edition and even the Destiny Expansion pass. It's clear that Bungie knows this holiday season will be a big time for users to upgrade to a new console and is making it easier for users to play now and then bring Destiny with them to the new console during the holiday season.
For gamers who are looking forward to Xbox One and PS4 deals on Black Friday or simply hoping they get a new console at Christmas, buying digital is the way to go. There is no chance you will get $60 for a used copy of Destiny this holiday season so the inability to resell is not an issue.
The Destiny deal runs through January 15th, 2015 on both consoles. You'll log in to the new console with the same ID to find your free Destiny download, including the Expansion Pass.
When you upgrade to a new version of Destiny your Guardians, progress, stats and Destiny gear all transfer to the same console family. So you can go between Xbox 360 and Xbox One and PS3 and PS4, but can't jump from Microsoft to Sony.
You can continue playing the Xbox 360 or PS3 version of Destiny after you upgrade, which is nice considering some users will keep the old console hooked up to another TV since the trade in value is poor for most consoles at this time.
Top PS4 Games to Buy in 2014
Call of Duty Advanced Warfare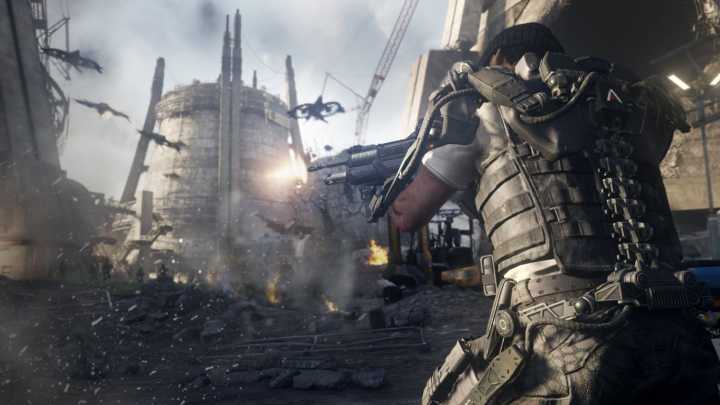 PS4 Call of Duty Advanced Warfare Details:

Call of Duty Advanced Warfare Release Date: 11/4/14
Pre-Order Bonus: Brass exoskeleton, EMP Weapon
Special Editions: Yes
Exclusive: No

Call of Duty Advanced Warfare is one of the top PS4 games to buy in 2014 not only becuase it is a new Call of Duty game, but because it is ready for a PS4 lacking fun shooters.

Yest it arrives into a fall filled with Destiny, but Killzone didn't live up to the excitement and there is no Titanfall for PS4.

Instead gamers get this Kevin Spacey filled Call of Duty Advanced Warfare release that delivers a super soldier with smart weapons and access to technology like never before including drones and hoverbikes.

Call of Duty Advanced Warfare Gameplay Video