InvisibleShield Screen Guarantee Plan Will Fix Your Broken Phone Screen
InvisibleShield has always replaced the screen protector if it breaks while using it, and now they offer an InvisibleShield Screen Guarantee Plan that includes up to $100 in screen repair if a drop damages the screen protector and the iPhone screen beneath it.
This new plan is part of the InvisibleShield Sapphire Defense screen protector and a case. The screen protector and the case cover all the major points of impact to keep the phone safe.
With this special kit, you can rest assured that you will not need to pay out of pocket if your iPhone breaks with this kit installed. Below is a teaser video of a protection detail that is at CES to install free screen protectors.
If you drop or damage your screen with the InvisibleShield Screen Guarantee Plan and kit installed InvisibleShield will send you a $100 Visa Gift Card to help you cover the cost of the screen replacement. This may not cover the total bill, depending on the phone, but it is a good start.
Users need to register their phone when they buy the plan. If there is an incident, you will need to send a photo of the phone with the Sapphire Defense screen protector installed and a receipt of the repair.
This includes a two-year warranty period with activation and covers one repair. There is no deductible to get the $100 repair payment.
InvisibleShield announced this new screen protector in Las Vegas at CES 2017. If you are at the show you can find InvisibleShield team members who are providing the protection free of charge to users.
10 Best iPhone 7 & iPhone 8 Screen Protectors
InvisibleShield iPhone 7 and iPhone 8 Screen Protectors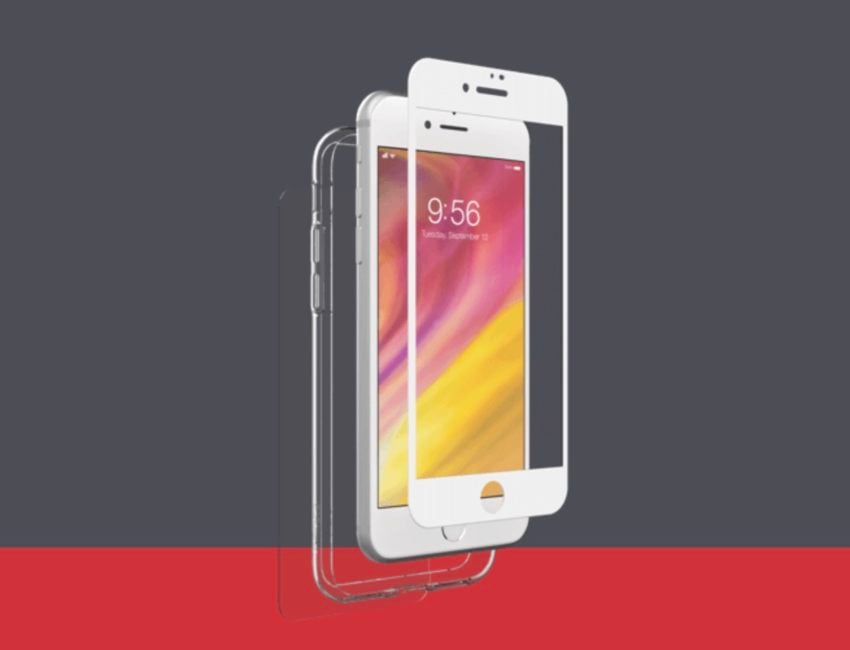 These iPhone 7 and iPhone 8 screen protectors will help protect your iPhone screen with shatter protection or help repel oil and smudges from your iPhone screen. There is also an iPhone 7 option that includes a case and will pay for screen repair if the screen protector doesn't keep your screen safe.
Zagg offers many different iPhone 7 screen protector options and will even replace your iPhone screen protector if it breaks. They don't cover the screen unless you have that plan. The Glass+ is available for the iPhone 7, iPhone 7 Plus, iPhone 8 an iPhone 8 Plus. the iPhone 8 Plus also includes several film options.
The new Glass+ 360 screen protectors include protection for the front and back of your phone.
Glass+ 360 - This new protection include a glass screen protector on for the front of your phone and a hybrid glass protector for the back. The kit comes with a bumper that protects the corners of your phone. This is a total protection solution that still shows off your phone's design. $69.99 at Invisibleshield
InvisibleShield Glass+ – An extremely durable tempered glass screen protector with advanced impact protection, scratch resistance, and reinforced edges. Glass+ features Ion Matrix technology which strengthens, polishes and eliminates imperfections in glass, making it 2X more impact resistant than an unprotected screen
InvisibleShield Screen Guarantee Plan - This includes an InvisibleShield Sapphire Defense screen protector and a case. If your screen breaks they send you a $100 Visa gift card.
If you cannot stand seeing fingerprints or you are constantly dropping your iPhone 7 or iPhone 8, these are amazing options to consider.
Tthe Glass+ is $39.99. Invisibleshield makes these for the iPhone 7 and the iPhone 7 Plus as well as the iPhone 8 and iPhone 8 Plus.