iOS 9.2.1 Jailbreak Release: What We Know So Far
Apple officially released iOS 9.2.1 last month, which comes with a handful of bug fixes and security improvements for iPhone and iPad users. Here's what we know so far about an iOS 9.2.1 jailbreak release.
iOS 9.2.1 isn't a big update by any means. In fact, it's rather small, but it does come with bug fixes and performance improvements, as well as security fixes in order to make iOS 9 run a bit better on your iPhone or iPad.
Read: iOS 9.2 Jailbreak Release: What We Know
It's likely the last iOS 9.2-based update that we'll see, as iOS 9.3 looks to be next in line, as the fourth beta was released just recently.
However, one big question that many iPhone users have is whether or not this means we'll see an iOS 9.2.1 jailbreak release soon. Here's what we know so far.
An iOS 9.2.1 jailbreak has been teased in the recent past, with one individual able to successfully jailbreak the version when it was in beta mode. Of course, that developer didn't release his exploits and we don't expect him to at all, meaning that either TaiG or Pangu still need to come through themselves.
However, this does show that an iOS 9.2.1 jailbreak is possible, and it's likely that TaiG or Pangu could already have a jailbreak loaded in the chamber.
Read: 5 iOS 9.2 Jailbreak Features We Want to See
Many people have speculated that an iOS 9.2 jailbreak release could arrive once iOS 9.2.1 comes out, which is the best case scenario that I can think of, especially if iOS 9.2.1 didn't patch up any significant jailbreak exploits, but it's possible that it could have, as iOS 9.2.1 comes with a handful of security fixes, some of which may have even closed up exploits that TaiG or Pangu could have been using.
In fact, Pangu recently recommended that users update their iPhones and iPads to iOS 9.2.1 in order to take advantage of the new security fixes. It's likely their announcement is aimed at those who aren't jailbroken, but it does make us curious as to whether or not they're hinting at an iOS 9.2.1 jailbreak.
However, if Pangu or TaiG release an iOS 9.2 jailbreak, it might not be compatible with iOS 9.2.1 because of all the security fixes that might have patched up any known exploits.
Read: Fake iOS 9.2 Jailbreak: What You Should Know
Furthermore, PP has said that a new jailbreak is likely to happen with iOS 9.2 and not iOS 9.2.1. PP has been partners with Pangu for a while, so we wouldn't be surprised if they had insider knowledge about this.
So it's possible that an iOS 9.2 jailbreak could release that won't support iOS 9.2.1, but we'll have to wait and see on that one.
As far as dev teams waiting until iOS 9.3 releases in order to release a new jailbreak, that's entirely possible, but a developer who goes by enMTW has recently said that an iOS 9.2 jailbreak will release within a few weeks, and that iOS 9.2.1 will be jailbreakable.
The info was revealed in a video (above) saying that a new jailbreak is expected to arrive soon, and it will likely be March when that happens. enMTW also says that a Mac version of the jailbreak tool will be available right at release, which doesn't happen too often with the release of a new jailbreak tool.
As for when we might see a new jailbreak of some kind, there's nothing set in stone and nothing has been made official yet — it's simply all conjecture and speculation.
TaiG, Pangu, and other jailbreak dev teams usually don't reveal information (and never have) about their progress with jailbreak releases, so when a new jailbreak does release, there will likely be no warning ahead of time. However, new developers joining the jailbreaking scene are a bit more candid and aren't holding back many secrets.
In the meantime, do yourself a favor and set up an alert that will send you a notification for when an iOS 9.2 jailbreak does finally release. Something like this is good to do if you're someone who's constantly refreshing the internet hoping that a jailbreak releases. This will put your mind at ease and alert you when a jailbreak does release.
Best iOS 10 Cydia Tweaks: The Ultimate Collection for iOS 10, 10.1 & 10.2
Best iOS 10 Cydia Tweaks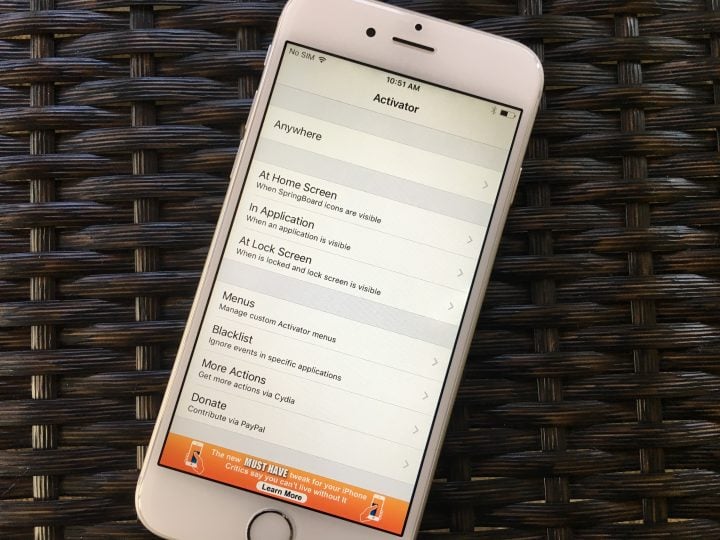 Activator
One of the most popular jailbreak tweaks of all time is Activator, and it's easy to see why. Activator allows you to set up automations as well as shortcuts for all sorts of different actions, like automatically turning on your alarms for the next day and even changing songs using the volume buttons.
This is especially true now that Activator works on iOS 10, so you can combine it with everything that Apple added to iOS 10 and iOS 10.2.
AppDrawer
One of the best features of Android is the app drawer, where all of your installed apps appear when you bring it up. Something like this is awesome, since you don't have to have all of your apps on the home screen, and now the feature is on iOS through Cydia thanks to AppDrawer.
Browser Changer
Do you use a web browser on your iPhone other than Safari? Then it might be nice to actually change iOS's default browser to your preferred one using Browser Changer. This means that any links from other apps will now open in the web browser of your choice and not just default to Safari.
Bytafont 3
iOS 9 added a new San Francisco font that is still in iOS 10. If you're not a huge fan of it, you can use Bytafont 3 to change the font to whatever you want. The possibilities are endless here.
DeleteForever
Not a big fan of the Recently Deleted folder in the Photos app? While there isn't an iOS 10 Cydia tweak to get rid of the folder, you can at least bypass it altogether when deleting a photo.
DeleteForever will allow you to permanently delete photos with one swoop, rather than deleting a photo and then having to delete it again from the Recently Deleted folder.