iPhone 6s Not likely: 3 Potential WWDC Gadgets
All signs point to a new iPhone 6s in 2015, but it's not likely that Apple will show off the new iPhone at WWDC 2015. This is a developer event with a big focus on software, but it is not out of line to see a few hardware announcements at or near the WWDC keynote.
Unlike last year, there is no leaked video proclaiming a new iPhone appeared on-screen during WWDC Keynote setup. Apple did announce the iPhone 4 at WWDC, but since that time a shift to the fall quickly overtook any tradition of a summer announcement.
By announcing the iOS 9 update today and waiting several months for the iPhone 6s event, Apple is able to give developers time to prepare for many of the new iOS features before complicating things with a new iPhone 6s.
We could still see some WWDC 2015 hardware announcements from Apple. Two weeks ago we expected to see a new Apple TV at the event, but that's not happening at this time according to the latest details. The MacBook, MacBook Air and MacBook Pro Retina are all new enough that Apple is unlikely to add to this product line at WWDC.
Here's a quick look at three potential WWDC 2015 hardware announcements that you might see instead of an iPhone 6s. The WWDC 2015 Keynote starts at 10 AM Pacific and 1 PM Eastern. You can watch the WWDC 2015 Keynote live on Windows, Android and Apple products.
Here's a closer look at the Apple products that Tim Cook and company could announce on stage during the WWDC 2015 keynote. None of these are a sure thing, and the event may pass without any new hardware, but rumors and the time since an update make these potential candidates.
iPod Touch 6th Generation
A new iPod touch 6th generation release at WWDC 2105 would sync up perfectly with the new music subscription service Apple is about to launch to take on Spotify.
The current iPod touch 5th generation is aging, and even with price drops and small changes it is not as attractive as it once was. Last year Gotta Be Mobile readers told us that they still want a iPod touch with a better camera, more storage and updated hardware. the reasons varied form giving the device to a child to using it as a smartphone that is only on WiFi.
In April 2015 a new report from Apple Insider outlined the potential iPod touch 2015 release with a device that might keep the same 4-inch screen and borrow internals from an iPhone 5 or iPhone 5s.
The timing is right for a new iPod touch release in 2015, as the current model is basically the same device announced on stage in 2012. Apple's new music subscription service is coming and the iPod touch could be a big part of this. It makes more sense to announce a new music focused device alongside the Apple music streaming service than it does to announce alongside a new iPhone this fall.
New Apple Keyboard
We may see a new Apple Keyboard at the WWDC 2015 event, possibly tied into the announcement of a new version of OS X.
In march a new Apple keyboard 2015 update appeared on the Czech Apple website, spotted by letemsvetemapplem, with backlit keys and a power button in place of the eject button.
The image quickly disappeared from the apple website and there was no new description to accompany the image. Other potential upgrades may include a rechargeable battery over USB, instead of the fast draining and annoying AA batteries in the current model, and the potential for new mechanisms inside the keyboard.
Apple's new MacBook features a butterfly mechanism under each key that delivers a more reliable typing experience on the thin keyboard inside the MacBook. This could mark an opportunity for Apple to add the MacBook-style keys to a desktop keyboard for a familiar typing experience across devices.
Magic Trackpad with Force Touch
The touchpad on the MacBook and MacBook Pro Retina notebooks use a new Force Touch technology that detects how much pressure you use when you press on the touchpad. The new touchpad also uses a Taptic Engine to simulate a click so there is no need for a mechanical click.
The feedback from the Taptic engine also delivers small vibrations inside some apps so you know when you've lined up an annotation or performed another function.
With the Force Touch portion, users control how much pressure they need to use for a click to happen, with varying levels needed for an index finger or a thumb. With Force Touch users can press harder to see a definition of a word, preview a file and create calendar events from email. The touchpad also supports pressure sensitive drawing and can scroll faster through a video based on the pressure.
We haven't heard any specific rumors about this, but like a new keyboard, it makes sense to see this technology come to the desktop.
8 Exciting Apple Products for 2015
iPhone 6s and iPhone 6s Plus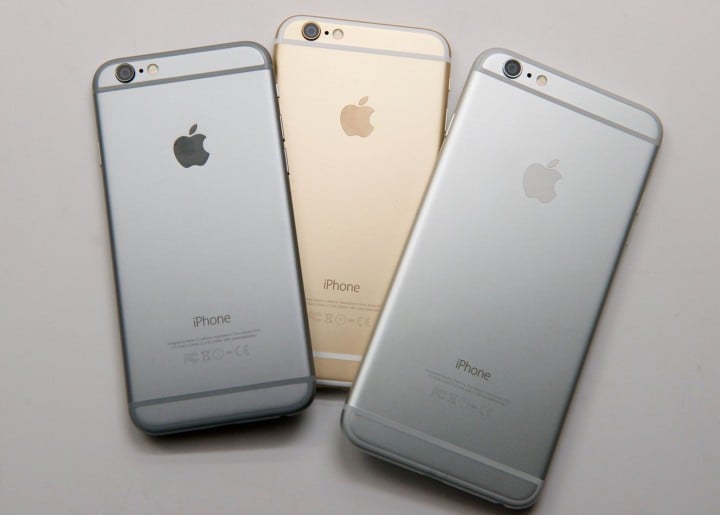 Apple delivers a new iPhone every single year and in 2015 we are looking at an iPhone 6s release and an iPhone 6s Plus release. For the past several iPhone releases Apple stuck to a big release like the iPhone 4 and iPhone 5 followed by a smaller release that uses a similar design and refines the features into an iPhone 4s and an iPhone 5s.
Release Confidence: 90%
Release Timing: Fall (September)
After the iPhone 6 release last September we expect to see a new iPhone 6s release in the fall. The only reason this isn't at 100% is that there is a small chance Apple could change something up after delivering the iPhone 6 Plus. There is always a chance that Apple will change how it handles this larger device.
iPhone 6s rumors point to new touch screen technology, more memory, a new processor and we recently shared 11 iPhone 6s features we want to see in 2015.
Check out the latest iPhone 6s rumors for more information about this highly anticipated device.

As an Amazon Associate I earn from qualifying purchases.