Insane iPhone 8 Feature May Deliver 3D Selfies & AR Gaming
If the iPhone 7 left you wanting more, buckle in for an insane iPhone 8 feature that could change how you use your iPhone every time you pick it up. It could also help you take 3D selfies that put you into iPhone games like never before.
The latest iPhone 8 leaks point to a new front facing camera that can sense the 3D space in front of it. This could change how you play games on the iPhone and new camera technology could log you into your iPohone 8 with your face.
One new iPhone 8 feature could be the ability to 3D scan your face to put you into the game when you play an iPhone game. We've seen face scanning on the Xbox One and PS4, but this would be the first wide-scale adoption in a smartphone.
Another potential iPhone 8 feature would be facial recognition. Using the front facing camera, the iPhone could unlock when it detects you, instead of requiring you to press the home button.
Both of these iPhone 8 features are impactful. The first would allow for more immersive iPhone apps and the second would change how you log into your iPhone every day.
Ming-Chi-Kou outlines the inclusion of a better front-facing iPhone 8 camera that can be used for face recognition, iris recognition, scanning your face into a game and even taking 3D selfies. 9to5Mac shares the new report where Kou dives deeper into the components and technology.
One of the most useful applications of a new iPhone 8 camera is the ability to take a 3D selfie. This wouldn't likely be for sharing on Instagram. Instead, it could put your face into a game. This is already possible to some degree with current iPhone and Android cameras. Snapchat reportedly bought
Snapchat reportedly bought Seene, which you can see in action in the video above taking a 3D selfie. Techcrunch reports the purchase could lead to Augmented reality snaps. The company is not under Apple's umbrella, but it could play into a larger role of delivering apps that take advantage of a mind-blowing new iPhone 8 feature.
The screenshot above shows what it looks like when a face is scanned into a game. You may have already used this with NBA 2K17 and other console games.
Apple reportedly purchased RealFace, a company working on advanced facial recognition. The company shows a demonstration of the iPhone unlocking using a face.
According to reports, the technology is able to filter out photos, sculptures and other methods to fake a face. It's possible that a more advanced, 3D sensing front-facing camera could enhance security. Facial unlock features aren't new. Android phones have used face unlock since 2012, but the software is notoriously easy to fool. If Apple rolls out facial unlock for the iPhone 8, it would need to overcome these issues to gain widespread adoption.
We expect the iPhone 8 this fall. Apple is reportedly prepping a red iPhone for a March Apple Event, along with new iPads and iOS 10.3.
7 iPhone 8 Features We Want in 2017
New iPhone 8 Design to Enable Features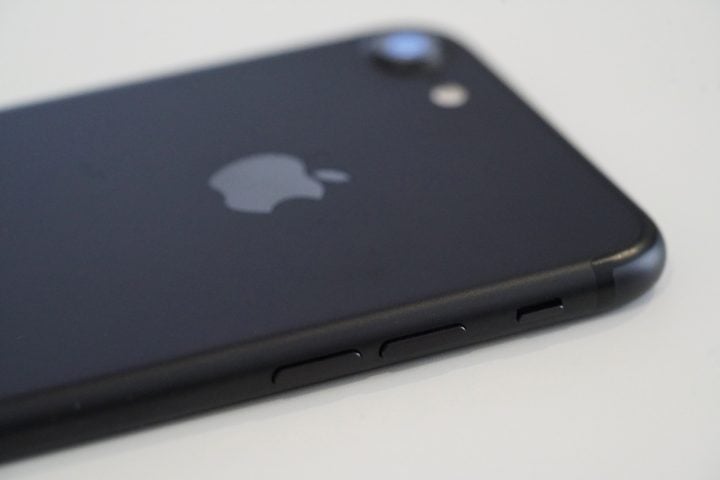 Everyone wants a new iPhone 8 design, but most people don't know what changes they actually want. We're leading off our iPhone 8 feature wish list with a new iPhone 8 design because it is a key part of enabling new iPhone 8 features.
After sticking with a very similar design for three years there is an expectation of major changes for the 2017 iPhone and here are the things we would love to see Apple do with a new design.
Shrink the overall size of the iPhone 7 Plus without lowering the screen size. Apple could do this by shrinking the bezels on the sides and bottom of the iPhone some to offer a smaller overall package. The latest leak from Apple shows how this could happen.
Apple could choose to change where you use Touch ID and how the home button works in new ways to make this happen. The latest designs don't show a home button. We could see a change to Touch ID or a switch to face unlocking.
We definitely don't want a phone that is slim just to be slim, especially not at the price of battery life, but there is something to be said about an iPhone 8 design that trims some fat.
The Jet Black iPhone 7 feels different than all the other colors. While it is more susceptible to scratches it is easier to grip, which is something we can definitely see Apple add to the new iPhone 8.
KGI Securities Analyst Ming-Chi Kou predicts the iPhone 8 design will look include an all glass front and back with stainless steel metal on the edges of premium models. This could come together for an iPhone 8 design that looks like a cross between the iPhone 4s and the Jet Black iPhone 7.