iPhone 8 Wireless Charging: What to Know
Wireless charging is finally coming to the iPhone. Apple's new iPhone 8, iPhone 8 Plus and iPhone X all support this feature. Here, we'll go over everything you need to know about iPhone 8 and iPhone X wireless charging.
More importantly, Apple isn't using some new technology to do this. Instead, the company incorporated the readily available and widely adopted "Qi" wireless charging standard. Meaning your new iPhone will instantly work with thousands of supported accessories and chargers on the market.
Read: 3 Reasons to Pre-Order the iPhone X and 3 Reasons You Shouldn't 
The glass back design gives the new iPhones this option. Allowing them to recharge by simply placing the device on a Qi wireless charging mat. Additionally, Apple has its own AirPower charging mat coming in 2018. Here's more information, how it works, and where you'll actually need wires to charge your iPhone 8.
Apple's new iPhone lineup is one of its best yet. From a new edge-to-edge display to an Augmented Reality camera and more. However, one of the most exciting new features is wireless charging. Something fans have asked about for years.
Wireless charging is nothing new and is a popular feature on Samsung Galaxy devices over the past few years. That said, a few years ago it was incredibly slow and more of a novelty than anything. That's no longer the case though. As a result, this once convenient and novelty feature is now something many should consider.
iPhone 8 Wireless Charging: What to Know
First off, there are a few different types of wireless charging. If you buy the wrong charging pad or your new car doesn't support the right type, it won't work with Apple's new phones. The two most popular are Qi Wireless Charging, and the PMA Wireless Charging Standard.
The bigger of the two is Qi wireless charging (pronounced "chee") which is what Apple's new iPhones use.
The benefit here is that most smartphones from Samsung and others use Qi charging too. As a result, you can find Qi wireless chargers at the airport, in hotels, Starbucks and from countless 3rd party accessory manufacturers. From what we understand, these will all work with the iPhone 8 and iPhone X. Any Qi certified accessory works on the new iPhones. Additionally, a lot of car manufacturers have Qi wireless charging built into vehicles too.
How it Works
Simply plug the Qi charging mat into a wall outlet, and drop your phone on the mat. A coil inside the mat and a coil inside the iPhone talk to each-other and charging starts instantly. It's safe, effective, and relatively fast. If your iPhone gets too hot, the charging coils slow down to a safe level while it continues to recharge your phone.
You don't have to plug anything into the iPhone, just drop it on the mat and go. It isn't completely wireless, but it's close.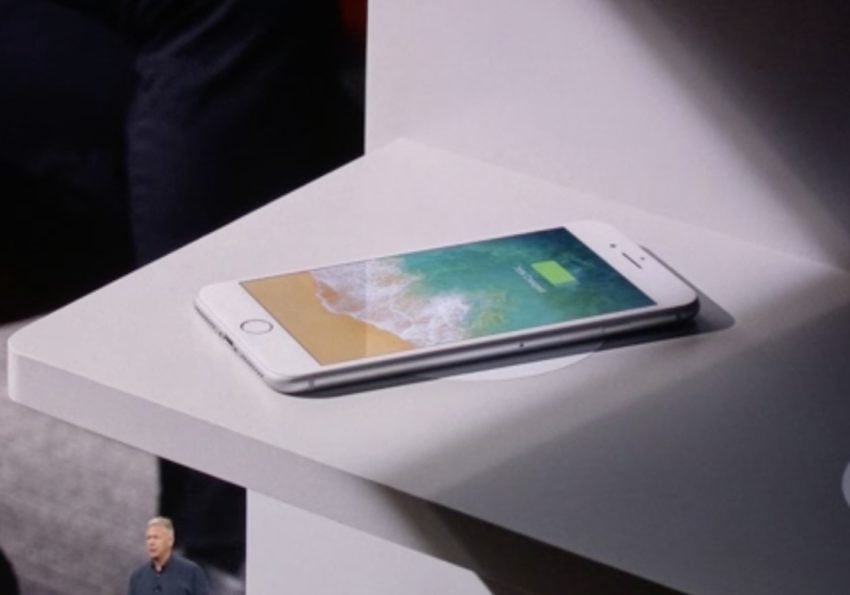 Drop it on the wireless charging pad and it recharges, then grab it later and enjoy a full battery. It's that simple.
Apple Fast Wireless Charging
Wireless charging used to be slow and take nearly 3-4 hours to fully charge a device. Something that was far slower than using the wall plug and lightning cable that comes in the box. This is because wireless chargers run with only 7 watts of power.
And while we don't have all the details yet, it looks like each iPhone supports Fast Wireless Charging too. Essentially wireless charging pads with 10 or even 15 watts of power output. Matching speeds previously only available from Samsung. In fact, Apple's own AirPower charger is a fast wireless charger. Not to mention being capable of charging your iPhone X, Apple Watch and AirPods all at the same time.
According to statements from Apple, "all Qi-certified products support the iPhone." Which suggests that everything from slower 7-watt chargers to the fastest 15-watt options will work. That said, partners like Mophie and Belkin have chargers sold on Apple.com but they only offer 7-watts of output power, so will deliver the slowest wireless recharge available. We'll update this article once we know more.
Either way, one of the most requested iPhone features is finally available in the iPhone 8 and iPhone X. Find a Qi-certified wireless charger and be ready for when your new phone arrives.

As an Amazon Associate I earn from qualifying purchases.