iPhone Xs Pre-Order Tips & Tricks
iPhone Xs pre-orders go live on September 14th and if you want a very specific model to arrive on your doorstep next week you'll want to put in an order when they go live.
iPhone Xs and iPhone Xs Max pre-orders start at 12:01AM Pacific Time on Friday. This means those of you living in the United States will need to stay up late if you want to order one of the company's new iPhone models. Those of you living outside the U.S. will need to wake up early.
Staying awake to put in a pre-order doesn't guarantee you'll secure an iPhone Xs or iPhone Xs Max for release date delivery. That said, it's the only way to avoid lines and an in-store pickup on the iPhone Xs' global release date on September 21st. Stock at retail stores often is uneven and it can sell out quickly on release day.
If you want your iPhone Xs or iPhone Xs Max on release day or soon after, you'll want to be ready to go long before the clock strikes midnight on Friday. We haven't heard about any major shipping delays or production issues, but we could see shipping times pushed into October due to demand. This is particularly true for the new iPhone Xs Max.
If you want a new iPhone next week it's important to prepare for the start of pre-orders. If you haven't decided on a specific model by the time pre-orders come around, you might not get the model you want or you might have to endure a lengthy wait for your delivery.
This guide will take you through some of the methods we've used to get the model we wanted when we wanted it. iPhone launches can be unpredictable so these tips will come in handy if you've got your eyes on a very specific iPhone Xs or iPhone Xs Max model.
Favorite the iPhone Xs Model You Want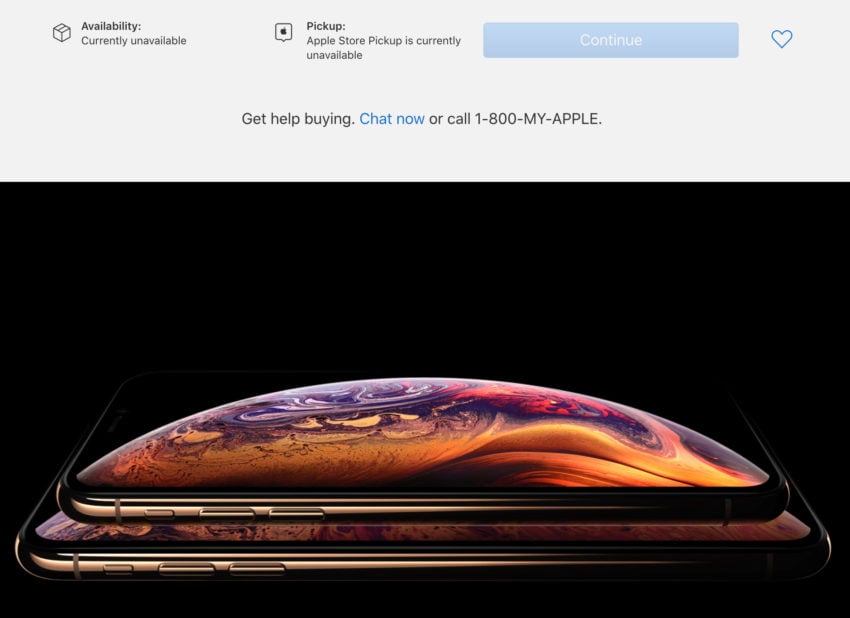 Pre-orders don't start for a few days, but you can go to Apple's website right now and favorite the iPhone Xs or iPhone Xs Max model you want to order when they go live.
If you have a few minutes you should go through the order process right now on Apple's website. Here's how to do that:

Open up Apple's iPhone Xs page in your browser or in the Apple Store app.
Login to the account you'll be using to pre-order your iPhone Xs or iPhone Xs Max.
Select the iPhone Xs model you want to pre-order.
Select the Color, Storage and how you want to pay.
Click the little heart next to the "Select" button at the bottom if you're doing this via Apple's website.
If you're doing it via the Apple Store app, tap the heart in the upper right.
This will store the iPhone Xs model you want in your Favorites. Once pre-orders go live you'll simply want to head to your Favorites and tap or click on the device you favorited. From there you'll be able to buy the phone you want in seconds.
It only takes a few seconds to do this, but you could help you secure the iPhone Xs model you're after for release date delivery.