Is Madden 16 Deluxe Edition Worth Buying?
The new Madden release once again offers a special edition for players who want an edge in Madden Ultimate Team. Instead of buying new packs or excelling in MUT with skill, you can pay $10 more to get a bunch of upgraded players.
This guide will explore the Madden 16 Ultimate Team mode, what you get with the $69.99 copy of Madden 16 Deluxe edition and help you decide if it is worth spending the extra money on.
EA's Madden 16 release date arrives in less than a week with a $59.99 version and a $69.99 version. For $10 more the Madden 16 Deluxe edition includes $50 in MUT Pro Packs.
Ultimate Team is a franchise mode for Madden 16 that lets users play through a Fantasy Football style season in Madden 16. This is separate from the new Draft Champions mode that is a very fast paced and short version where you don't need to collect MUT Pro Packs.
This is the third iteration of Madden Ultimate Team, with a collection of upgrades and changes that build on the features from last year.
After playing Madden Ultimate Team mode on Madden 15 with the special edition we found that the MUT Pro Packs delivered a fast way to upgrade our team — even though the packs come once a week instead of all at once.
If you want to avoid buying Madden 16 Pro Packs regularly or earning enough coins to play, buying the Madden 16 Deluxe edition is a good way to get a better team.
The Madden 16 Deluxe edition replaces the Ultimate edition from last year, but the bonus items are still basically the same. EA sells this on all platforms with $50 bonus content. Here's the breakdown of the bonus item.
36 Madden Ultimate Team Pro Packs
Playmaker Pack
The Madden Ultimate Team Pro Packs include a variety of current and past players, items and the Playmaker pack includes players who can help jump-start your team.
With this special edition you get three Madden 16 Pro Packs each week starting on September 1st and a Playmaker pack on day one. You need to log in each week and open your packs, or you will not get the full $50 in value.
If you are playing the Madden 16 EA Access early release you can save 10% on Madden 16 Deluxe edition, which is $6.99, making this about the price as the main edition.
If you plan to play Madden 16 Ultimate Team mode this is a great deal. You would easily spend $50 on Pro Packs to get this value. In our time with Madden 15, we still found a need to earn and occasionally buy more MUT packs to build a better team, but the Deluxe edition is well worth the value.
The $10 up front cost will deliver faster access to players who can actually catch, block and tackle, and will dramatically increase your satisfaction with the MUT mode in Madden 16.
Here's a look at the new Madden 16 Ultimate Team challenges and options that include Ultimate Moments.
If you think you will play Madden Ultimate Team mode in Madden 16 and you think you will buy any packs in the game you should spend the extra $10 on the Madden 16 Deluxe edition so that you can upgrade your team faster.
Madden 16 Release: 10 Important Details
Madden 16 Release Date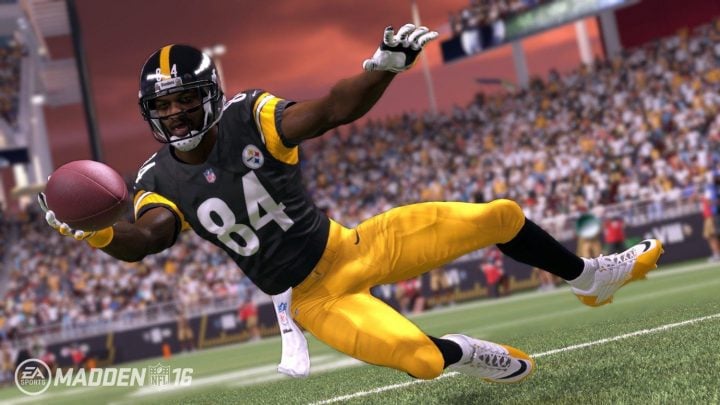 The Madden 16 release date is the same across all consoles and it arrives at the same time on disc and digital so you don't need to worry about where you buy the game from if you want to play right away.
EA Sports confirmed the Madden 16 release date for August 25, 2015. The timing is no surprise considering the new Madden game arrives every year, but this is the date you need to mark on your calendar as the start of Madden Season.
If you order Madden 16 digitally you can pre-load the game, which means you can download it to your console before the release and start playing right at 12:01 AM Eastern on Tuesday August 25th.
You can pre-order the game for release day delivery or walk into any store that sells games on the Madden 16 release date to pick the game up without a pre-order.