Lenovo IdeaCentre AIO 520 (27") review
If the best desktop PC you can buy is the one with the least amount of cables, accessories and future upgrades, consider buying the Lenovo IdeaCentre AIO 520 (27"). This Windows PC has good looks, solid internals and everything you need.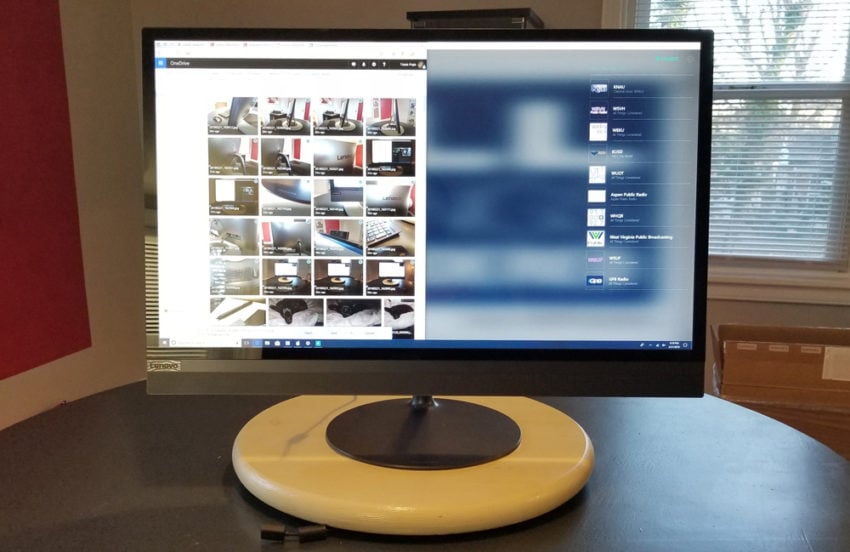 The IdeaCentre AIO 520 (27") is a complete PC in a box. Available for as little as $899 at Lenovo.com you get a 27-inch touch display that's four times as sharp as a standard HD display. It has enough processing power, RAM and storage that you won't dream of upgrading for years to come. In fact, only a few minor flaws keep it from being the best all-in-one PC with Windows 10 you can buy. And, even with those flaws, it's still a great PC.
Lenovo IdeaCentre AIO 520 (27") Design & Internals
It's hard to tell that the Lenovo IdeaCentre AIO 520 (27") is more than just a display by looking at it from the front.
Besides the 27-inch display, which is touch sensitive, only a long speaker grill is visible from the front of the IdeaCentre AIO 520 (27"). Two 3-watt stereo speakers sit behind this grille. The all-in-one's matte gray paint mimics a high-end steel finish, though, only the steel base that suspends the all-in-one in front of you is really metal. A thick black bezel keeps distractions behind the desktop at bay, but it can also pick up some glare and fingerprints.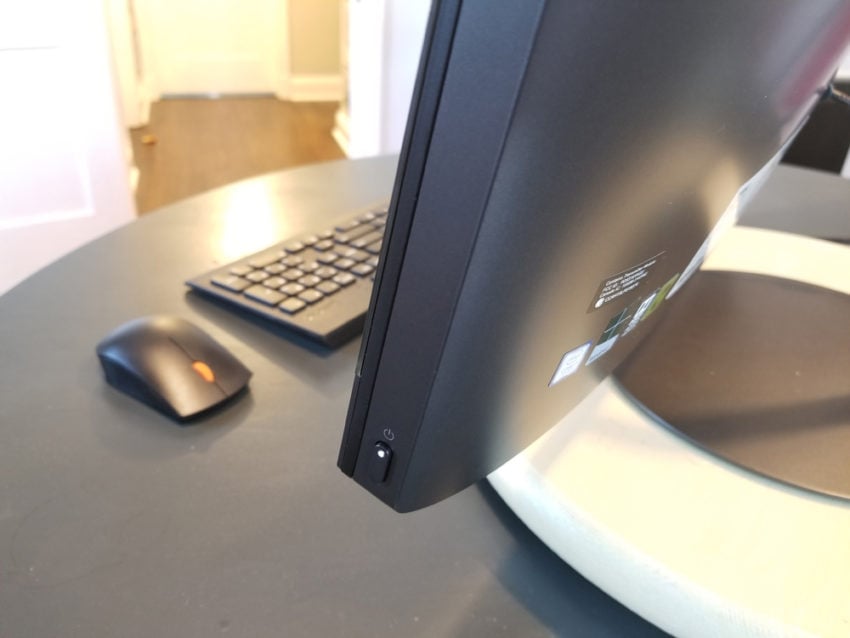 Lenovo gets extra credit for keeping things easy to access with this minimalist design. The headset jack and SD card reader are on the IdeaCentre AIO 520 (27")'s bottom edge, so you never see them, but they're always accessible. You won't notice the USB 3.0 port that sits on the all-in-one's left edge or the DVD drive that slides out from the right side at first glance either.
By far, Lenovo's best trick is an old-favorite from its older all-in-one PCs. Pushing down on a door on the IdeaCentre AIO 520 (27")'s top edge reveals an HD web camera. This camera lets you sign into Windows 10 without typing your password. Microsoft's Cortana personal assistant can hear you from across a large room using this camera's microphone array.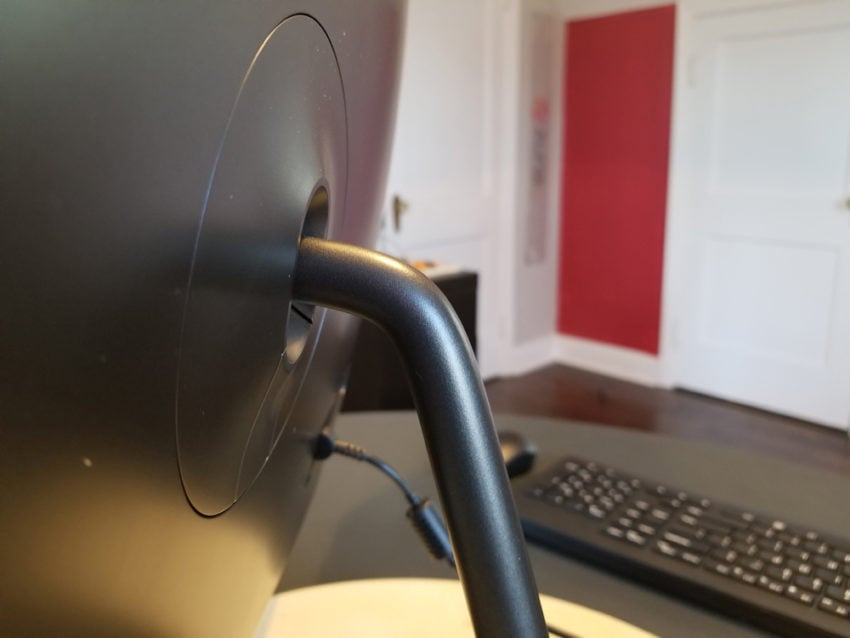 The sleek design doesn't leave you wanting more ports. The IdeaCentre AIO 520 (27") has a Gigabit Ethernet port, HDMI-out port, 2 USB 2.0 ports, 2 USB 3.0 ports and a USB 3.0 Type-C port for fast data transfers to hard drives and smartphones. It's a shame to have a display this spacious and gorgeous and only use it for work. That's why an HDMI-in port lets you connect your set-top box, PS4 or Xbox One to put the display and speakers to good use when you aren't working in Windows 10.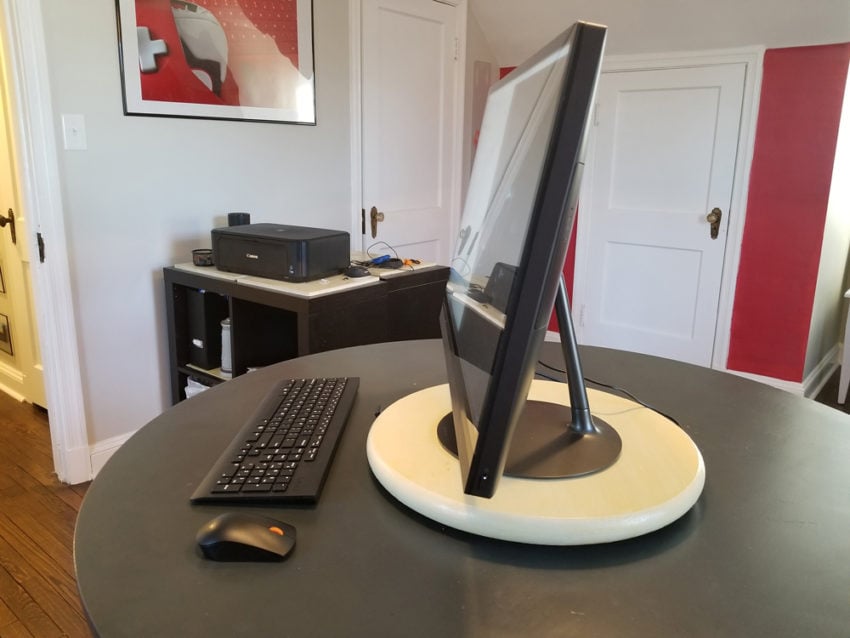 Lenovo only sells three IdeaCentre AIO 520 (27") models on its website. An $899 model comes with Intel's Core i5 2.40GHz processor, 8GB of RAM and a 1TB 720RPM hard drive with 16GB of memory to keeps file loading quickly. Another model with the same specs but only a 1TB RPM hard drive costs $1079.99. Gotta Be Mobile's review unit came with a powerful 7th Generation Intel Core i7 2.9GHz processor, 16GB of RAM and a 2TB 720PM hard drive with 16GB of dedicated memory. All three models have the 2560 x 1440 27-inch QHD display and other features.
Lenovo IdeaCentre AIO 520 (27") Experience & Performance
Use the Lenovo IdeaCentre AIO 520 (27") for a while and you start to appreciate all the luxuries that a great all-in-one PC affords you. Seriously, it's enough to make anyone who uses a laptop daily reconsider their choice.
It took days for me to grow used to the massive amount of screen real-estate IdeaCentre AIO 520 (27") provides. Once I did, it was hard to give it up. This screen is so big that Windows 10's split-screen multitasking and picture-in-picture modes seem more useful on a desktop than they are on a tablet. The screen's colors didn't impress me, but everything was clear and easy to see from feet away.
You can hear every word someone whispers in movies and TV shows feet away from this all-in-one. Its speakers were loud enough that I could still clearly hear classical music from my upstairs office in my kitchen downstairs. You can tweak these speakers for sound quality that's tailored to what you're doing.
At this price for this much storage, RAM and processing power, I was afraid that Lenovo might have cut corners on the IdeaCentre AIO 520 (27"). They didn't. Though massive, the 27-inch display doesn't flex as you tap on it like the screens of other all-in-one PCs. My only quibble with this display is that it's also highly reflective. You may need a plan to combat screen glare if you put this PC facing a window.
The Windows Hello camera that slides out from this desktop's body worked the first time, every time. This sliding mechanism is also a neat way of ensuring no one can use your web camera to watch you without you knowing.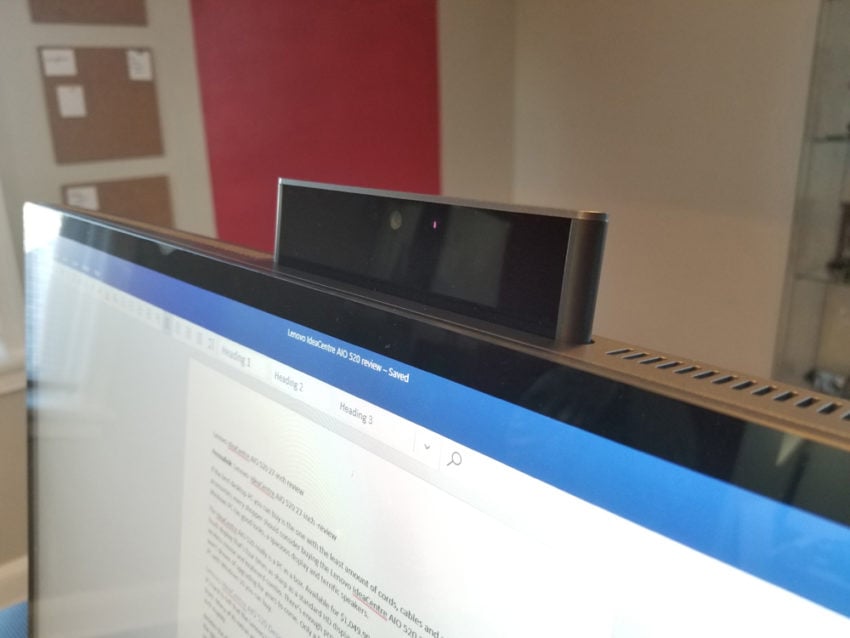 You get a wireless keyboard and mouse with this all-in-one, and they're good enough that you don't need to replace them.
There are some things I don't understand about IdeaCentre AIO 520 (27"). Despite offering a great touch display, the IdeaCentre AIO 520 (27")'s doesn't tilt the back and down for a more comfortable touch experience. Expect to reach up a lot to use touch because of that as Windows 10 apps put essential buttons and toggles at the top of your display.
Performance
Lenovo's other two strange decisions are related to the internals you get for your money.
No IdeaCentre AIO 520 (27") comes with a discrete graphics card option, which really would make this one of the best Windows 10 all-in-ones you could buy. If you're a gamer, count on using this PC as a display for your console instead of a gaming rig. That's a shame since you already get a great processor and at least 8GB of RAM.
Second, the IdeaCentre AIO 520 (27") relies on a single 2TB hard drive with 16GB of memory to help improve performance. The SSD does its best, but file transfers still suffer. Groove Music certainly took longer to load my 40GB of music than I'm used to. If the PC you're replacing doesn't have an SSD, this won't be a problem, but those used to solid-state storage will notice the slower file transfers and storage performance for sure.
Despite these challenges, the IdeaCentre AIO 520 (27") performs very well at everyday tasks. It'll take a lot of open tabs before Google Chrome or Microsoft Edge begin to crawl. Apps and programs downloaded from and outside the Windows Store load quickly. iTunes, which opens incredibly slowly on most PCs, works well here too. Rest assured, the IdeaCentre AIO 520 (27") can handle your daily routine. It won't always do so quietly, though. A loud fan kicks on when an app or program pushes the system hard.
Lenovo IdeaCentre AIO 520 (27") Specs
Processor & Graphics
2.9 GHz Intel Core i7-770T processor

2.40GHz Intel Core i5-3400T processor Optional

Intel HD 630 Graphics

Memory & Storage
16GB of DDR4 RAM

2TB 7200 RPM Hard Drive with 16GB of Dedicated Memory

1TB 7200 RPM Hard Drive with 16GB SSD Optional
1TB 7200 RPM Hard Drive Optional

Display
2560 x 1440 27-inch QHD Touchscreen display
Ports & Extras
1 USB 3.0 Type-C Port

2 USB 3.0 Type-A Ports

2 USB 2.0 Type-A Ports

HDMI In

HDMI Out

Media Card Reader

Gigabit Ethernet Port

Headphone Jack

1080p Windows Hello Camera

2 3-Watt Dolby Premium Speakers

Cortana Microphone Array

DVD Reader & Burner

Wireless Keyboard and Mouse

Dimensions and Weight
24.6-inches x 18.9-inches by 2.7-inches

23.15-pounds
Should You Buy the Lenovo IdeaCentre AIO 520 (27")?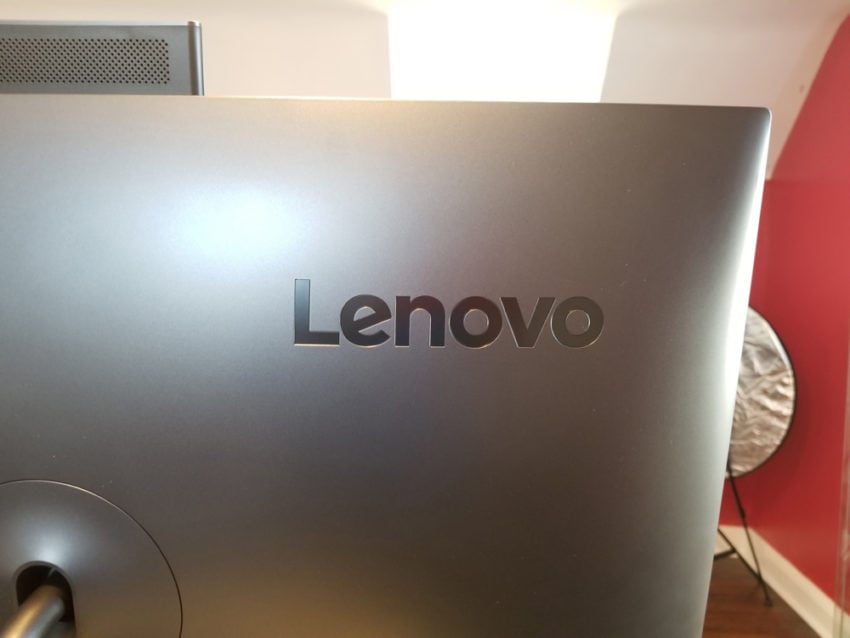 The Lenovo IdeaCentre AIO 520 (27") is a hefty investment at $899.99, but one I think any person who doesn't game regularly can make worry-free.
That's because the few negatives there are about this PC balance themselves out. What it lacks in fast storage, it makes up for with plenty of space to store all your files. The 27-inch display is bright and responsive to every tap or swipe. No, you can't lower it for a more comfortable angle for touch. However, you can reuse this device as your Xbox One or PS4 display with just a button press. The touch technology, Cortana microphone array, Windows Hello camera and abundance of ports prepare the IdeaCentre AIO 520 (27") for the future. And the dedicated DVD reader and writer lets you continue to enjoy your CDs and DVDs from the past.
If you're considering a Lenovo IdeaCentre AIO 520 (27") as your next PC, don't overthink it. Yes, it's expensive, but spend the money. You won't be disappointed.
[letsreview]

As an Amazon Associate I earn from qualifying purchases.