LG V30 Release Date Breakdown
The new and improved LG V30 is finally official with a big 6-inch edge-to-edge display and two powerful cameras on the back. With pre-orders coming on October 5th and the release date near, here is everything you need to know about the US release, pricing, deals, and shipping info. This is our LG V30 release date breakdown.
On August 31st LG unveiled the successor to the popular V20 — a bigger and more powerful LG V30. Now nearly a month later, it's officially available in South Korea and coming soon for other markets. LG's V30 is the Galaxy Note 8 alternative you've been waiting for.
Read: Galaxy Note 8 vs LG V30: What Buyers Need to Know
A few highlights from LG's V30 event are the lightning fast cameras, sleek software, and the V30's big new 6-inch OLED "Full Vision display".
Since being released, the impressive new LG V30 only hit shelves in South Korea. The company confirmed more information for the US was coming soon, and now we have all the details.
Here, in an effort to help buyers get LG's impressive new phone, we break down the release date, pricing, color options and more.
LG V30 Release Date
The finely tuned and bigger LG V30 officially went on sale on September 21st, but only in South Korea.  However, this launch date is strictly for LG's home country. As for the United States, the information still isn't 100% clear. Verizon confirmed it will not offer pre-orders, but the phone will be available in stores and online starting October 5th. Then, AT&T will open pre-orders on October 5th, with in-store availability the next day on October 6th. We have no information from Sprint but will update once we know more.
Additionally, T-Mobile will open pre-orders on October 5th, with the release date set for October 13th.
Mark your calendars! You can pre-order the #LGV30 at T-Mobile starting 10/5.https://t.co/RfxvfuFrEX

— T-Mobile (@TMobile) September 28, 2017
So from the sounds of it, both Verizon and AT&T will get the phone first, although neither company released pricing information. T-Mobile will likely ship phones ahead of the October 13th release date, but we'll have to wait and see.
As soon as we have more information about a release date in the United States we'll update with all the details. Either way, this phone will be available in some form starting October 5th.
LG V30 Pre-Orders
Those interested will want to pre-order the V30 ahead of time to get LG's new phone on release day. That said, the only carrier with pre-orders is T-Mobile.
As we said above, T-Mobile is offering pre-orders on October 5th with the release date scheduled for October 13th. AT&T will let you pre-order on the 5th, or buy the phone in stores on the 6th — so there's not really any point in pre-ordering from AT&T.
Read: LG V30 vs LG G6: What to Know
Once we hear from Sprint we'll update with any information available.
Where to Buy the LG V30
First off, the LG V30 is available now in South Korea. If you're in Europe or the United States, the wait is a little longer and who will offer it is still unknown.
However, we're expecting all major retailers and carriers to have the phone. That means Carphone Warehouse in the UK and other big carriers. As for the United States, expect availability from AT&T, T-Mobile, Verizon and maybe even Sprint. Not to mention smaller regional carriers and most retail stores. Some of those include Best Buy, Wal-Mart, Sam's Club, Target, and Amazon.
LG V30 Price
Your next question is likely how much will this phone cost. That's because the new Galaxy Note 8 is almost $1000, and the iPhone X is over $1000. Thankfully, LG prices its devices lower than the competition.
Just as expected, the new LG V30 costs around $800. This week T-Mobile confirmed it will offer the V30 for $800 outright, or $30 a month for 24 months after an $80 deposit. Then, AT&T is asking $810 for the LG V30, or $27 a month for 30 months.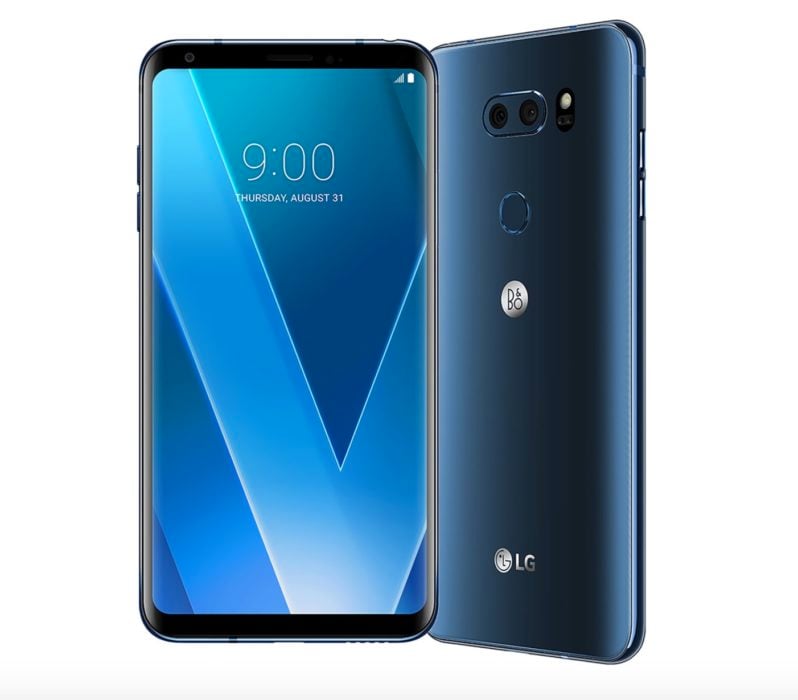 We expect similar pricing from Verizon, although they're usually a few dollars more than everyone else. Look for Verizon to ask around $829, with monthly payments around $31. This is about $100 more than the first price of the LG G6, which makes sense. Additionally, the LG V20 last year came in at $799 and undercut the Galaxy Note 7 in terms of price. Expect a slightly lower price at T-Mobile than from the others, and something around $29-$32 a month for 24 months on an installment agreement from US carriers.
This is about $100 more than the first price of the LG G6, which makes sense. Additionally, the LG V20 last year came in at $799 and undercut the Galaxy Note 7 in terms of price. LG is doing the same thing here, making this a great option for those turned off by the high price of Samsung and Apple's latest smartphones.
LG V30 Deals
The all-new LG V30 is cheaper than the Galaxy Note 8 or iPhone X, and with a few LG V30 deals you can save even more money. For now, AT&T is the only carrier offering a discount on LG's new phone. That said, we expect more to arrive in the coming days or weeks.
Starting October 5th, get the LG V30 from AT&T and get one free when you have or add DirecTV. That's two stunning phones for the price of one. Additionally, those on an AT&T Unlimited plan get HBO for free too. As an added bonus, AT&T will give you DirecTV Now for just $10 a month instead of $35 when you have DirecTV and buy the LG V30.
Once the phone hits shelves and more deals surface we'll update this post with all the money-saving information you need.
LG V30 Specs & Features
The LG V30 pretty much has it all, similar to its earlier models like the LG V10 and V20. The company throws a little of everything into a well-rounded phone, then undercuts the competition like Samsung and Apple in terms of pricing.
This year, the LG V30 kicks things up a notch. It has a high-end 6-inch OLED display made of plastic, so it's more durable than other big-screen phones. LG's using a brand new 16 Megapixel f/1.6 aperture camera for blazing fast photos and improved low-light photography, not to mention the secondary wide-angle camera on the back. Then audiophiles can appreciate the 32-bit Quad DAC for improved audio, a big battery, wireless charging and IP68 dust and water-resistant. Yes, the LG V30 has it all.
LG V30 Specifications
6-inch 2880 x 1440 Quad HD P- OLED "Full Vision" Display with smaller bezels
Snapdragon 835 Processor with 4GB of RAM
64/128GB storage options, micro-SD slot expansion
Android 7.1.2 Nougat (Android 8.0 Oreo to quickly follow)
Dual 16 and 13 Megapixel Rear cameras with a f/1.6 aperture and wide-angle lens
5MP front-facing camera
3,300 mAh battery with Fast and Wireless Charging
Rear-mounted fingerprint scanner
IP68 Dust and Water Resistance up to 5ft (MIL-STD 810G Compliant)
32-bit Quad DAC for improved audio with presets and sound filter modes
USB Type-C port, 3.5mm headphone jack, more
Available in Aurora Black, Cloud Silver, Moroccan Blue, Lavender Violet
The only potential downside for the LG V30 is the lack of a removable battery. This is a feature fans of the first two V-series phones absolutely loved. However, by integrating the battery into the device and sealing off the design, the V30 is now IP68 dust and water-resistant. Meaning it can go under 5ft of water for over 30 minutes and come out working fine.
Additionally, the new design features curved glass on both the front and the back. Making it easier to hold and just a better-looking phone. In terms of a Galaxy Note 8 comparison, the V30 only has 4GB of RAM vs 6GB and a slightly smaller display. That also means the 3,300 mAh battery in both phones should last longer on the LG V30.
LG's making a lot of noise about its "world's first" f/1.6 aperture camera in a smartphone, new video recording capabilities for content creators, and that the V30 has better sound than any other phone thanks to its Quad DAC. If you're looking for the highest end smartphone on the market, LG's V30 is near the top of the list.
LG V30 Color Options
LG announced its new phone and confirmed four beautiful colors options for potential buyers. And while we're not sure if all four will go on sale in the United States, you can expect at least three of them. With potentially some exclusives at retailers like T-Mobile or Best Buy.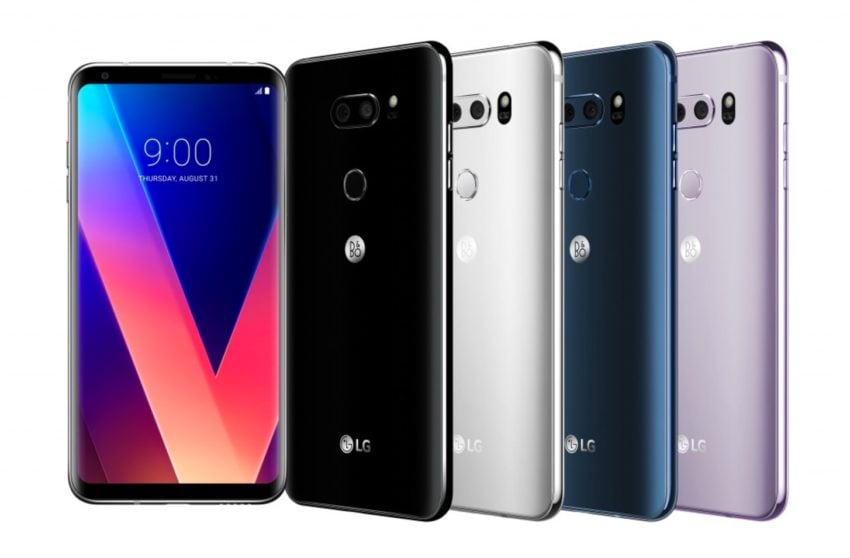 Choose from Aurora Black, Cloud Silver, Moroccan Blue, Lavender Violet with the LG V30. The front of each device is still black, which helps make the screen seem bigger and blend in with the extremely small bezels around the device. You can't go wrong with any LG V30 color choices.
In closing, when you consider the $960 asking price for the new Galaxy Note 8, or the iPhone X for $1,000 getting an LG V30 for $800 is very enticing. We'll update this post the moment we have more information. In the meantime, here are a few reasons we recommend waiting for the LG V30.

As an Amazon Associate I earn from qualifying purchases.