Madden 15 Deal Cuts Price to $15 with Madden 25 Trade In
The first of many Madden 15 deals is here and it cuts the cost of Madden in half with a Madden 25 trade in. That's just the up front savings. If you count the added $10 you get towards another game this Madden 15 deal drops the price to just $15.
This is four times more than the Madden 25 trade in value at Walmart and certainly beats what you'll get for a GameStop Madden 25 trade in value this late in the year.
Madden 15 deals like this won't come along every day, and may not appear again until well after the Madden release later this month. This is such a good deal you could buy a used copy of Madden at GameStop and still make a few dollars on Best Buy's Madden 25 trade in deal.
Read: Madden Release Details
Yes, this Madden 15 deal drops the price to just $15 after you collect the Madden 25 trade in, a $10 coupon and another $10 in rewards towards another purchase. Of all the Madden 15 deals we expect to see over the next few weeks this is the best one you're likely to see.
The best Madden 25 trade in value is on the Xbox One and PS4, but you can also score a great deal with the Xbox 360 and PS3 Madden 25 trade in offer as well.
In order to take advantage of this deal you'll need Madden 25 for Xbox One or PS4. You'll need to trade it in this coming week, and you'll need a free My Best Buy membership to get all of the savings.
Here's how to get $35 towards Madden 15, plus another $10 in savings on your next game, like FIFA 15.
You'll need a Madden 25 trade in. Best Buy is placing this value at $25 right now on the Xbox One and PS4. The PS3 and Xbox 360 Madden 25 trade in value is $15.
Along with that trade in you get a $10 Madden 15 coupon. This drops the price of Madden 15 by $35 or $25 depending on what you trade in.
In addition to this you also get a $10 My Best Buy reward after you pre-order and purchase the game. This pushes the savings to $45 and $35 respectively. Even though you can't use this until after you get Madden 15 it's an incredible deal.
To score the king of all Madden 15 deals and get the most for your Madden 25 trade in you will need to wait until Sunday August 10th when the deal starts. You'll also need to go to a Best Buy store, rather than buying online. The higher Madden 25 trade in value is already live, but there is no mention of the coupon code online.
For gamers that want to push the saving further, the Madden 15 Ultimate Team edition is $69.99 and includes $40 in added Madden Ultimate Team content. If you purchase that version, which is $10 more than the standard Madden, you'll tack on a lot of extra players for your Madden Ultimate Team. We run down why the Madden 15 Ultimate Team edition is worth it and also share what's new in Madden Ultimate Team mode.
Some Best Buy stores offer a midnight Madden release, but not as many as for a new console or for a game like Destiny, so if you do get this offer you may not be able to play at Midnight.
You can take advantage of this Madden 15 deal on any of the consoles listed, even if you jump from the Xbox 360 or PS3 to the Xbox One or PS4. If you plan to upgrade to the newer consoles this year, this is a great time to do it, before all of the fall and holiday releases arrive.
When you trade in you'll be without Madden 25 for about two weeks, but you can sign up for EA Access later this month to play Madden 15 early and carry the progress over to the full game you get with this offer.
Top PS4 Games to Buy in 2014
Call of Duty Advanced Warfare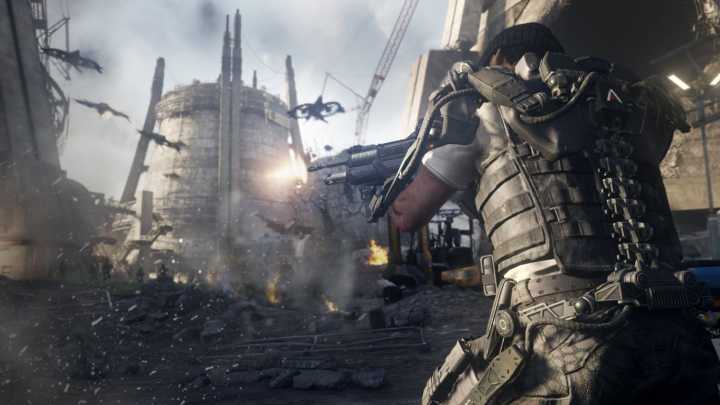 PS4 Call of Duty Advanced Warfare Details:

Call of Duty Advanced Warfare Release Date: 11/4/14
Pre-Order Bonus: Brass exoskeleton, EMP Weapon
Special Editions: Yes
Exclusive: No

Call of Duty Advanced Warfare is one of the top PS4 games to buy in 2014 not only becuase it is a new Call of Duty game, but because it is ready for a PS4 lacking fun shooters.

Yest it arrives into a fall filled with Destiny, but Killzone didn't live up to the excitement and there is no Titanfall for PS4.

Instead gamers get this Kevin Spacey filled Call of Duty Advanced Warfare release that delivers a super soldier with smart weapons and access to technology like never before including drones and hoverbikes.

Call of Duty Advanced Warfare Gameplay Video

As an Amazon Associate I earn from qualifying purchases.