Madden 16 EA Access Release Date Info
The Madden 16 release date is five days away, but if you are on Xbox One, the Madden 16 EA Access release date is here and you can play the game starting now. Here are the important details about playing Madden 16 early on EA Access.
There is no EA Access for PS4, PS3 or even the Xbox 360, but if you own an Xbox One you can start playing Madden 16 now. If you plan to upgrade you can buy a Madden 16 Xbox One Bundle that includes a year of EA Access so you can also start playing right now.
EA offers a 10-hour trial of Madden 16 on Xbox One with a paid EA Access subscription. If you choose to subscribe for $4.99 a month or $29.99 a year you can play Madden 16 for 10 hours, split up however you want, to try the new Madden 16 features.
[contextly_sidebar id="jERQTagPi41z6gIopKkEMk3gVVaTIn9Q"]
EA Access also includes the ability to play a dozen full games and a 10% discount on digital purchases including the full Madden 16 game and in-game items. There is no need to pre-order Madden 16 to get in to the EA Access trial, you just need to subscribe.
Originally scheduled to go live today, EA delivered even earlier access with Madden 16 downloads starting around 6 PM Eastern yesterday. You can start playing once the game is about 40% downloaded, though you will not get access to all the game modes and features until it is completely downloaded.
[contextly_sidebar id="tyyhq44q2aSndp5lrLhNSbWXTX9CXN5R"]The Madden 16 EA Access release date does not deliver a Madden 16 demo, which EA said is not happening. This is a full version of the game and all your progress carries over to the final release. When you get your copy of Madden 16 on August 25th you don't need to install the game, it's all there on your hard drive, just pop int he disk and play.
For users who are already subscribed to EA Access Madden 16 is available in the EA Access Hub application. Multiple gamers report that EA Access did not recognize their subscription. If this happens to you, restart your Xbox One and try again. This should fix the problem.
Another issue that users ran into was not seeing a trial option in the Xbox One Store. When you click on the trial option from the EA Access Hub, you may only see the option to buy a bundle. If this happens go back to the hub and try a few more times. Alternately you can search the Xbox One Store for Madden 16 and it should also find the trial.
For users at work or school, the Xbox One Smartglass app allows users to search for and download games, including the Madden 16 EA Access trial and have them download to their Xbox One remotely.
Once you get into the Madden 16 EA Access release you can play for 10 hours only, so make sure that you quit the game when you are done, or you can squander your trial time.
In the Madden 16 trial you can test out the new Draft Champions mode, play Madden Ultimate Team, play through the skills trainer to learn the new throwing, catching and ball playing mechanics so that you have an edge against your friends who don't have EA Access. You can also play online as all the Madden 16 gameplay modes are live.
Madden 16 Release: 10 Important Details
Madden 16 Release Date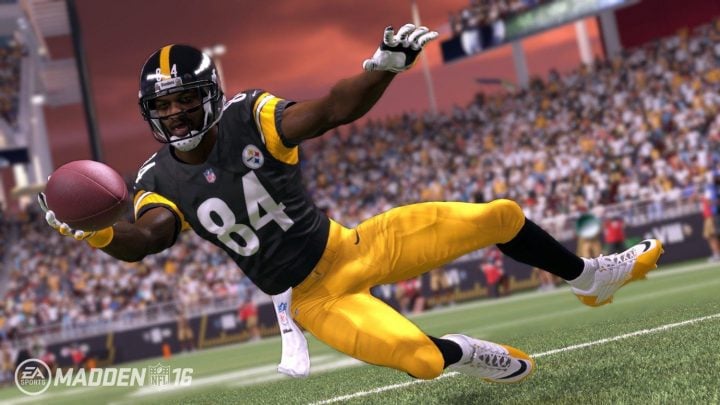 The Madden 16 release date is the same across all consoles and it arrives at the same time on disc and digital so you don't need to worry about where you buy the game from if you want to play right away.
EA Sports confirmed the Madden 16 release date for August 25, 2015. The timing is no surprise considering the new Madden game arrives every year, but this is the date you need to mark on your calendar as the start of Madden Season.
If you order Madden 16 digitally you can pre-load the game, which means you can download it to your console before the release and start playing right at 12:01 AM Eastern on Tuesday August 25th.
You can pre-order the game for release day delivery or walk into any store that sells games on the Madden 16 release date to pick the game up without a pre-order.

As an Amazon Associate I earn from qualifying purchases.