5 Must See Madden 16 Gameplay Videos
The Madden 16 release date is 92,000 minutes away and we cannot wait to go hands on with all the exciting new features. While you wait for you chance to play Madden 16, you can dive into five must see Madden 16 gameplay videos that show off new presentation, features and details. Forget the short and cinematic E3 2015 trailer, this is the Madden 16 gameplay you want to see.
EA Sports teases a large number of upgrades to Madden 16 that will allow gamers to impact the outcome of the game even more by the choices they make. This includes new catch styles that can mean the difference between a first down and stepping out-of-bounds or trying to tackle the receiver or to knock the ball lose.
Read: Madden 16 Deal Already Live
One thing that most of these Madden 16 gameplay videos highlight is the balance that EA is able to add while delivering upgraded catch mechanics. The offense is not overrated in the videos we are watching and there are caps added to penalties taken from real NFL data. Madden 16 also includes the latest point after attempts with a field goal coming from further back on the field.
The Madden 16 release date is August 25th 2015 for [easyazon_link identifier="B00W435BU0″ locale="US" tag="gbm-ea-20″]Xbox One, PS4, PS3 and Xbox 360[/easyazon_link]. There are two versions available that allow players to get added Madden Ultimate Team packs. In several videos you'll see the new Madden 16 Draft Champions mode that is similar to a Fantasy Football option where players get to draft a team that lasts for several games and then they start over with a new draft.
Here are the five most exciting Madden 16 gameplay videos you'll see, with dazzling catches, amazing defensive moves and game changing catches and interceptions.
Madden NFL 16 Walkthrough Video
In this 20-minute Madden 16 gameplay video we see Madden 16 Alpha gameplay with an EA Sports Creative Director taking control of the game. We see the process from the start of Draft Champions into a great game filled with highlights of the new features.
Madden 16 Gameplay – Browns vs Steelers
In this short video we get a look at one-quarter of Madden 16 Gameplay with the Browns vs Steelers and we see some of the new penalties in play and how they can impact a big gain. This is a work in progress so hopefully we won't see a blocker standing around doing nothing when the game ships this fall.
PS4 Madden 16 Gameplay
https://youtu.be/oXLyYtb_dHQ
Many of the videos we saw showed off Xbox One footage, but from the show floor we see a new PS4 Madden 16 gameplay video that is a nice addition. Sadly this isn't a direct capture so the audio is quiet and the video is not as good as a direct connection, but you can still get a nice look at the new game on PS4.
Madden 16 Draft Champions with Gameplay
This Madden 16 gameplay video shows us a look at Madden Draft Champions mode including information about what you will see for each player you are tempted to draft. You don't need to purchase these players like in Madden Ultimate Team, instead you draft them. After you draft you can play three games and then a championship. You can also draft a legend as part of this=, so you can choose a player who can make a difference.
Incredible Madden 16 Turnover
The ability to go big with aggressive catches is new in Madden 16, but receivers can also focus on causing a turnover when that is better than a tackle. In this short video you see two things. The first is the new go for the ball play that causes the football to bounce int eh air, and the second is the multiplayer catch that turns a bobble into a turnover.
Madden 16: 5 New Details Gamers Need to Know
Madden 16 Gameplay Trailer at E3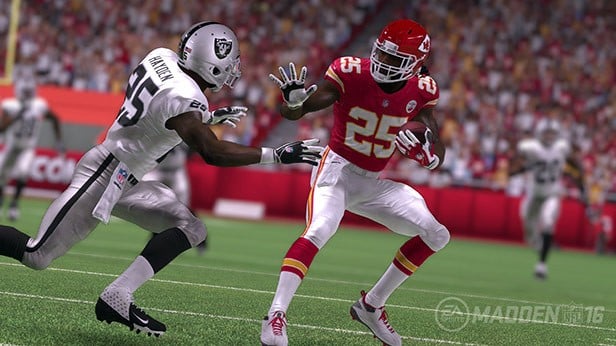 The Madden 16 gameplay trailer from E3 2015 uses in-game footage, but sticks to showing off the replay-like cinematic in-game engine style of gameplay that leaves many gamers wanting more.
The Packers vs Giants game shown in the Madden 16 E3 trailer delivers a look at some of the new gameplay, but the biggest highlight is the new Air Supremacy that includes more spectacular catches.
Without a full game to watch just yet, there is plenty of missing Madden 16 gameplay that we want to see. Very often we will see this come in the next day or two as EA shows off the new Madden to journalists and lets us play an early version of the game.

As an Amazon Associate I earn from qualifying purchases.