Madden 16 Patch Fixes Major Madden 16 Problems
The first Madden 16 patch is finally here and it fixes some of the biggest Madden 16 problems including a game-busting bug that prevented players from using the Connected Franchise Mode.
Arriving yesterday, the first Madden 16 update is now live on Xbox One and PS4. There is no sign of an update for the maligned PS3 and Xbox 360 Madden 16 game that does not offer the same features.
Gamers can connect to Xbox Live and PSN to download the free Madden 16 updates that are just over 700MB. The new Madden 16 patch comes just a few days before the first Madden 16 roster update.
Here's what the Madden 16 patch fixes, what you need to know about Connected Franchise Mode and the first Madden 16m roster update.
This is different from the Madden 16 tuning update that arrived last week and changed the power of the Aggressive Catch feature.
If you've played any no-huddle gameplay in Madden 16 you've likely run into a weird encroachment issue that would cause a 5-yard penalty when a defender bumped into an offensive player on the way back to the line. Another fix prevents players from being called down when no one touches them and a fix for QB gameplay issues.
After the Madden 16 release EA warned players not to play Connected Franchise Mode due to a number of problems. EA lists six specific fixes for Madden 16 CFM problems that arrive with this Madden 16 patch.
Addressed issue where players could receive over 100 confidence resulting in a short-term attribute boost
Improved regression tuning for offensive linemen
Tuned rookie deep accuracy rating
Tuned supersim stats where pocket quarterbacks were generating too many rushing attempts
Addressed issue where team could sign elite free agents for a low amount
Addressed issue where some free agents would disappear from the free agent pool
EA also includes fixes for missing images in Madden Ultimate Team and other fixes for the game. These additional fixes for Madden 16 problems include a quarterback injury bug that repeated presentation and commentary and;
Addressed a crash that could occur when using multiple controllers
Addressed a crash that could occur when exiting a game and the background video would continue to loop
Addressed general bugs and stability issues
While the Madden 16 update release notes do not specifically call out the Madden 16 freezes that stopped games in the middle of play, but it may be part of the stability fixes.
EA also delivered a player likeness update today to deliver a more realistic look for 180 players in Madden 16. The free update includes all these players and is live now. Check out the gallery below to see many of these new Madden 16 player likeness updates.
EA Sports plans the first Madden 16 roster update Friday September 11th. This will bring players and rosters in line with the current NFL teams.
@BIGNiftizzle Shooting for Friday for the roster update.

— Rex Dickson (@Rex_Dickson_) September 9, 2015
Rex Dickson, Creative Director of EA Sports Madden NFL confirmed the arrival on Twitter, but did not announce a specific release time.
Madden 16 vs Madden 15: 10 Key Differences
Madden 16 Catch Upgrades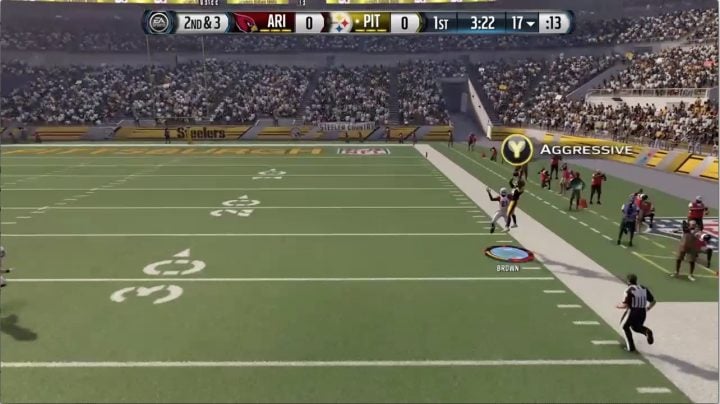 In Madden 15 catching the ball is a one choice option that either happens or doesn't -- and if you are lucky when you catch it you can still pick up some yards. The receiver doesn't play very differently from one situation to another.
In Madden 16 you can choose to catch the ball with an Aggressive Catch, a Run After Catch or a Possession Catch. This allows you to pick the right catch for the situation.
If it's a long bomb where you need to go high, you can control the receiver and go up to grab that ball for a spectacular to watch catch. Unfortunately if you are near the sideline you might end up out-of-bounds and the odds are good you won't pick up any more yards if you use this in the middle of the field.
The RAC option positions the receiver to add to the yards by catching with a focus on picking up more yards. This is perfect when throwing to a receiver that needs to pick up three or more yards after the catch to get the first down.
Other times you just need to make a catch so that you can get the first down or keep the clock running. The Possession catch option delivers a catch that you are more likely to hold on to, but you might not get any added yards and if there is a lot of pressure you may miss out.
You can control all of these after the throw and it actually works really well.

As an Amazon Associate I earn from qualifying purchases.