Madden 16 Release Date: Where to Buy to Play Early
The Madden 16 release date arrives on Tuesday and there is a major shift in when you can play from earlier Madden releases.
We all know about the popular midnight release date event that allows fast access to the game, but this year the trend continues with even earlier access for every player — not just the Xbox One owners with EA Access.
Instead of allowing users on the East Coast to play at midnight and forcing those on the West Coast to wait, or timing both up at Midnight Pacific EA is working with retailers to shift the retail Madden 16 release date to the same time across the U.S.
This means that the new game goes on sale at midnight Madden 16 release date events on the East Coast, and simultaneously on sale at events at 9:01 PM on the West Coast. Here are the details you need to know about these options and the confirmed retailers who allow you to buy the game as soon as EA allows it so you can start playing.
The Madden 16 release date is August 25th and EA allows Xbox One members with EA Access to play Madden 16 early with a $5 a month or $30 a year subscription to EA Access. Once you move into Central, Mountain and Pacific Time Zones the Madden 16 release date inches a little earlier on to August 24th for everyone.
GameStop confirmed to Gotta Be Mobile that gamers can stop in to a GameStop location starting today to play Madden 16 early on machines in the store. This is handy as there is no Madden 16 demo this year.
Where to Buy on Madden 16 Release Date
GameStop, Best Buy, the PlayStation Store and the Xbox One Store all offer an option to buy the game at 12:01 AM Eastern, no matter where you are located. This option is available for the PS4, Xbox One, PS3 and Xbox 360 and works on the standard and Deluxe versions of the game. There is no confirmation of any special events for the Madden 16 release date at Walmart or Target.
GameStop Madden 16 Release Date Plans
Nearly every GameStop location is open late for the Madden 16 release date. GameStop confirmed plans this morning to open at 9PM Eastern on Monday August 25th to process transactions and then start selling Madden 16 at 12:01 AM Eastern. You can use this tool to see if your local GameStop is part of the Madden 16 release date events.
Here is the breakdown of when you can buy Madden 16 at GameStop on the release date:
Eastern Time – 12:01 AM on 8/25
Central Time – 11:01 PM on 8/24
Mountain Time – 10:01 PM on 8/24
Pacific Time – 9:01 PM on 8/24
If you are in the Pacific time zone you should contact your local store to verify the best time to come finalize your transaction. Other stores will open at 9 PM to process transactions. You don't need to be there right at 9 PM, but you can save time if you are there before the actual release time. Normally the stores are only open for 30 minutes after the release time.
Best Buy Madden 16 Release Date Plans
Best Buy is also opening up for the Madden 16 release date at many locations. Best Buy Stores that open for the event will also observe the local time release date starts. Fewer Best Buy stores are open for the midnight Madden 16 release date events, but there is a decent number. You can check to see if your store is on the list, so you know if you should head out late, or if you need to wait for the morning.
Here's the breakdown of when you can buy Madden 16 at select Best Buy stores.
9:01 p.m. PT
10:01 p.m. MT
11:01 p.m. CT
12:01 a.m. Tuesday morning ET
There is not  a specific time to arrive at Best Buy for this event, so it is a good idea to talk to your local store to make sure when you should show up to complete the transaction.
If you are going to best Buy, make sure you check out the incredible Madden 16 deal that comes with a Madden 15 trade-in.
Xbox Store and PlayStation Store
If you buy Madden 16 on any platform digitally through the Xbox Store or through the PlayStation Store you can also play as soon as 12:01 AM Eastern arrives, no matter your time zone. This also lets you pre-load the game so it is downloaded and ready to go.
If you want to buy the game digitally, you should be sure to buy direct from the store as buying a code from a retailer may result in a slight delay and in the past prevented pre-loading.
Madden 16 vs Madden 15: 10 Key Differences
Madden 16 Catch Upgrades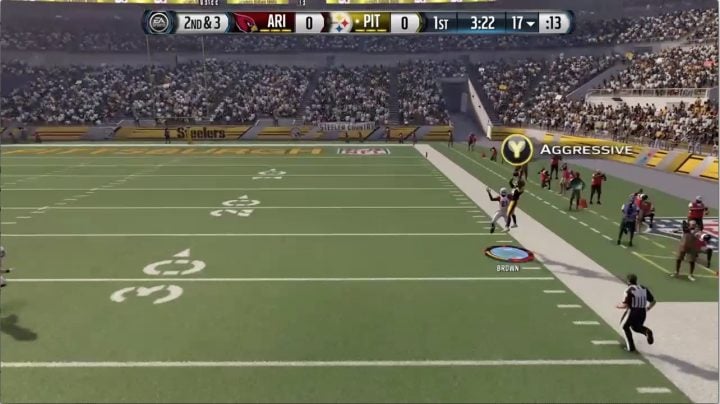 In Madden 15 catching the ball is a one choice option that either happens or doesn't -- and if you are lucky when you catch it you can still pick up some yards. The receiver doesn't play very differently from one situation to another.
In Madden 16 you can choose to catch the ball with an Aggressive Catch, a Run After Catch or a Possession Catch. This allows you to pick the right catch for the situation.
If it's a long bomb where you need to go high, you can control the receiver and go up to grab that ball for a spectacular to watch catch. Unfortunately if you are near the sideline you might end up out-of-bounds and the odds are good you won't pick up any more yards if you use this in the middle of the field.
The RAC option positions the receiver to add to the yards by catching with a focus on picking up more yards. This is perfect when throwing to a receiver that needs to pick up three or more yards after the catch to get the first down.
Other times you just need to make a catch so that you can get the first down or keep the clock running. The Possession catch option delivers a catch that you are more likely to hold on to, but you might not get any added yards and if there is a lot of pressure you may miss out.
You can control all of these after the throw and it actually works really well.

As an Amazon Associate I earn from qualifying purchases.