Midnight Destiny Release Date Events Announced
The Destiny release date arrives with at least one confirmed midnight release opening that will give gamers fast access to Destiny. We already know one midnight Destiny release date event that includes a $10 reward and a free t-shirt and expect to see another event confirmed in the coming weeks.
Gamers can stop into a midnight Destiny release date event to get the game at 12:01 AM as soon as it is available for sale, and thankfully this is a bigger budget game with more stores open late than we saw for the Madden 15 midnight release date events.
As the Destiny release date nears we'll have more info to share, but for now you can count on a Best Buy midnight destiny release day event and with GameStop offering plenty of bonuses and claiming that Destiny is their most pre-ordered game ever it's a good chance we'll see a GameStop Destiny midnight release event as well.
We even have a few details about when you can grab a digital Destiny midnight release, with great news for players on the east coast.
Compare Destiny Special Editions
On top of formal midnight Destiny release date events, it is very likely that Walmart and Target will sell the game at 12:01 AM at any store open 24 hours.
Best Buy Midnight Destiny Release Details
We already have confirmation of a Best Buy midnight Destiny release date event at many stores. Not all Best Buy locations are open late for this, including some in decent size cities, so make sure you check which Best Buy locations are open at midnight on the Destiny release date.
Best Buy offers a free t-shirt while supplies last. The free Destiny t-shirt shows the three player classes users can choose in black and blue on a heather gray shirt. The free shirt is only available at the midnight release.
Read: Destiny Multiplayer Details
Check the Destiny Midnight release store openings to see if your local store is involved in this option. There are no details on any special events, aside from the shirt, so you may end up standing outside Best Buy until midnight.
If you pre-order Destiny from Best Buy and are a MyBestBuy member you'll get a $10 reward certificate to use on your next game.
GameStop Midnight Destiny Release Details
There is nothing on the calendar for a GameStop Destiny midnight release event, but it is incredibly unlikely that the company will pass up this opportunity, especially with an incredible number of pre-orders from gamers that want to play Destiny as soon as possible.
When GameStop makes an official announcement we should see a banner on the GameStop Events page advertising the Destiny Midnight release events. Right now it is focused on Madden. The Destiny Midnight release may also share the spotlight with NHL 15, which arrives on September 9th as well. With two big games arriving on the same day expect GameStop to open up for the midnight sales.
Typically GameStop opens at 9PM for a midnight release event, completing any sales for the pre-order and then will hand out Destiny at 12:01 AM, with employees available until 12:30 at most locations.
It's possible that there will be chances to play Destiny early at the event or other festivities, depending on the store and any plans from Bungie or Activision.
Typically more GameStop stores open for a midnight release than Best Buy locations.
If you want to buy the digital Destiny release on PlayStation you should be able to pre-load the game a day early and then play right at midnight Eastern. This is not confirmed yet, with similar options for Madden 15 we fully expect Sony and Bungie will make this happen.
Read: Destiny PS4 vs PS3 Comparison
After the Destiny beta let gamers play one of the most exciting games of the year early, many users cannot wait for the Destiny release date to arrive on September 9th. We don't know of any Destiny deals just yet, aside from the $10 reward, but we could see some arrive in the coming weeks.
Top PS4 Games to Buy in 2014
Call of Duty Advanced Warfare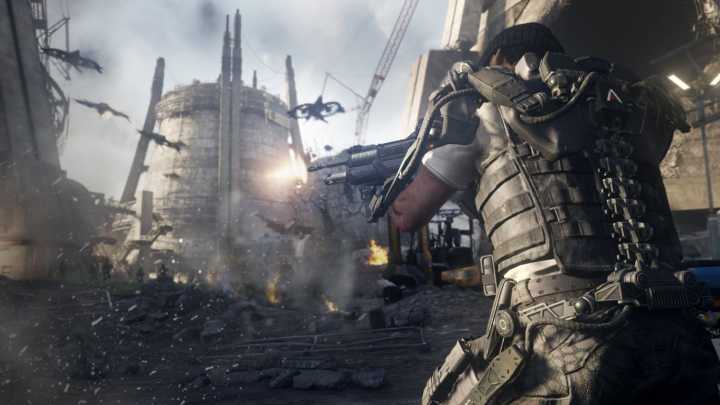 PS4 Call of Duty Advanced Warfare Details:

Call of Duty Advanced Warfare Release Date: 11/4/14
Pre-Order Bonus: Brass exoskeleton, EMP Weapon
Special Editions: Yes
Exclusive: No

Call of Duty Advanced Warfare is one of the top PS4 games to buy in 2014 not only becuase it is a new Call of Duty game, but because it is ready for a PS4 lacking fun shooters.

Yest it arrives into a fall filled with Destiny, but Killzone didn't live up to the excitement and there is no Titanfall for PS4.

Instead gamers get this Kevin Spacey filled Call of Duty Advanced Warfare release that delivers a super soldier with smart weapons and access to technology like never before including drones and hoverbikes.

Call of Duty Advanced Warfare Gameplay Video