Mophie Charge Force Review: Awesome Galaxy S8 Case & Wireless Battery
The Mophie Charge Force Galaxy S8 case adds just the right amount of protection and lets you add on battery backup when you need it with a wireless charging battery that snaps onto the back of the case. When you don't need to use it as a backup battery, it doubles as another wireless charger for your Galaxy S8+ or Galaxy S8.
Samsung includes wireless charging, so you don't need a case to enable this awesome feature, but after multiple team members broke their Galaxy S8 from very small drops, you definitely want a case on these phones.
The Galaxy S8 Charge Force case is a slim leather backed case that adds the perfect amount of grip and protection. This case also includes magnets and allows you to use other Charge Force accessories including the Charge Force powerstation mini, which wirelessly charges your Galaxy S8 or Galaxy S8+ on the go.
[letsreview]
The Charge Force case is $49.95 and theCharge Force powerstation mini is $49.95, which isn't a cheap investment, but it is a great case and the power combo delivers a lot of versatility to the Galaxy S8 phones. When you buy them together the price drops $5, which helps a little.
This case doesn't need to add wireless charging, but it does add the ability to use a host of charge force accessories like the Charge Force powerstation mini, a vent mount, desk mount or Mophie wireless charger with your Galaxy S8. The magnets in the back line up these accessories to keep your phone charged on the go and at your office.
Mophie only offers the leather case in one color, black, and it stands up well to wear. We've been testing it for over a month on multiple trips and the case shows no wear or marks from our abuse or from using the battery packs to charge up. You still have easy access to buttons and the fingerprint reader. The case works well with a Galaxy S8 screen protector.
The best part about the Charge Force powerstation mini is that it snaps right on to the back when you need power and wirelessly charges the phone without the need to plug anything in. This keeps it pocketable and allows you to use the phone easily while it is charging.
The only two downsides are that it uses a micro USB charger to charge up, so you will need a different cable in your bag if you want to charge the powerstation mini and connect your Galaxy S8 to a car for Android Auto or to a computer. The powerstation mini takes about an hour longer to charge the Galaxy S8 than if it was plugged into a normal USB power outlet and about an hour and 15 minutes longer than if it was plugged into a fast charger — but you can take this charger with you.
We love the ability to carry a backup battery that attaches to the phone and that we can remove when we no longer need extra power. This one pulls double duty by doubling as a wireless charger when you don't need a battery backup. I left one in my office and one on my nightstand so I had wireless charging everywhere and then I could just grab one when I was heading out and in need of power.
25 Best Galaxy S8 Cases
Samsung Clear View Standing Case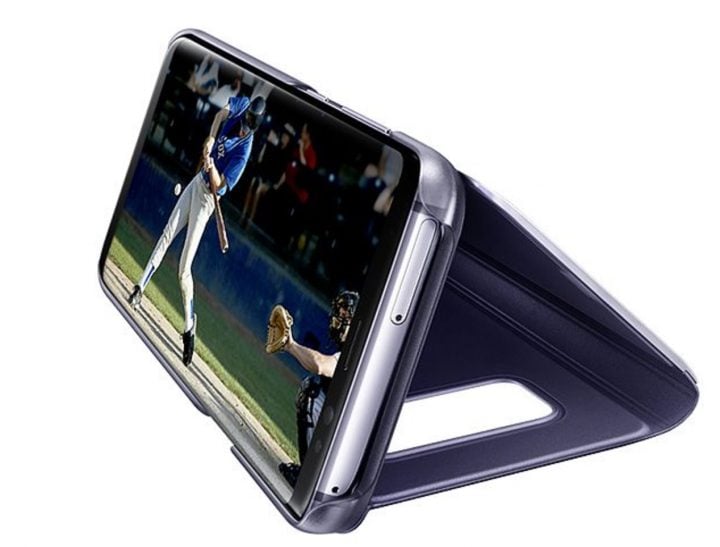 First, are a few Samsung cases then we'll move on to some of the more popular (and cheaper) brands available. As we see every year, Samsung has a decent select of great cases and accessories for the Galaxy S8 and Galaxy S8+.
Our favorite among them is the Clear View Standing Cover. It doubles as a kickstand and folds closed to protect the screen. When shut, the clear front displays the time, date, or battery levels. It's expensive but one of the better cases available.

As an Amazon Associate I earn from qualifying purchases.