Moshi Vacanza Review: Stylish, Functional Weekend Bag
The Moshi Vacanza weekend travel bag looks amazing, especially when paired with the Moshi Arcus backpack that we love, and it holds just the right amount of stuff for a short three-day trip.
Available in black or a stunning gray and brown leather combo, the Vacanza is $199.95 from Moshi and thanks to the build quality and little touches it's worth the asking price.
To test the Moshi Vacanza we took it to the home of Country Music, Nashville Tennesee, to see if it could hold everything we need, and expand on the way home to smuggle a bottle of Rye Whiskey back into Ohio. We carried the Vacanza on the flight down and checked it in on the way back to see how it holds up in both situations. We came away very pleased.
The Moshi Vacanza is light, which is great for a bag that you'll carry most of the time. The weather resistant fabric held up to a trip in the luggage hold and looks no worse for the wear. There are comfortable handles to carry the bag with as well as a detachable shoulder strap. Moshi builds in elastic at the end of the strap, which greatly reduces the impact on your shoulder as you carry the bag through a terminal. It's a really smart design.
We like that it is easy to remove the shoulder strap when you need to check the bag. We didn't like how easy the shoulder pad on the strap can come loose. It is held on by two snaps that have a way of working themselves loose over time. There is also a small loop on the back side that allows you to slide the bag over the handle on carry-on luggage. No matter how you carry the Vacanza, there's an option that works out really well.
[letsreview]
There is a lot of room inside the Moshi Vacanza. There's room for up to a 15-inch laptop in a padded compartment and another zipper compartment to stow other items for travel. We fit a pair of jeans, a pair of shorts, three dress shirts, two t-shirts, a pair of gym shorts and a dopp kit in the bag and still had plenty of room. On this trip, we carried the Arcus backpack so there was no need to use the laptop slot.
Moshi includes a reusable bag that you can seal with velcro. This tucks into a small pocket when not in use and when you need it, you can store shoes, wet clothes or dirty laundry in it. It's a small touch that we love, and it's miles better than stuffing a cheap plastic laundry bag from the hotel into the bag for the trip home.
There are also several exterior pockets for storing small items. There are open pockets on the back side that are perfect for stowing small items as you go through security or for holding a backup battery for your phone all the time. A pouch on the front holds sunglasses, power cables, and other items well thanks to internal storage areas. This stays closed with magnetic clasps. A small pocket on one end allows you to carry a water bottle with you.
The Moshi Vacanza worked out great for a short trip and is a great alternative to a rolling carry on, but it's also one a bag that you can easily use with a roller when traveling on longer trips. We really like how much the Vacanza can expand on the trip home to make room for souveniers and shirts.
13 Best 9.7-inch iPad Pro Cases
Stylefolio Pencil 9.7-inch iPad Pro Case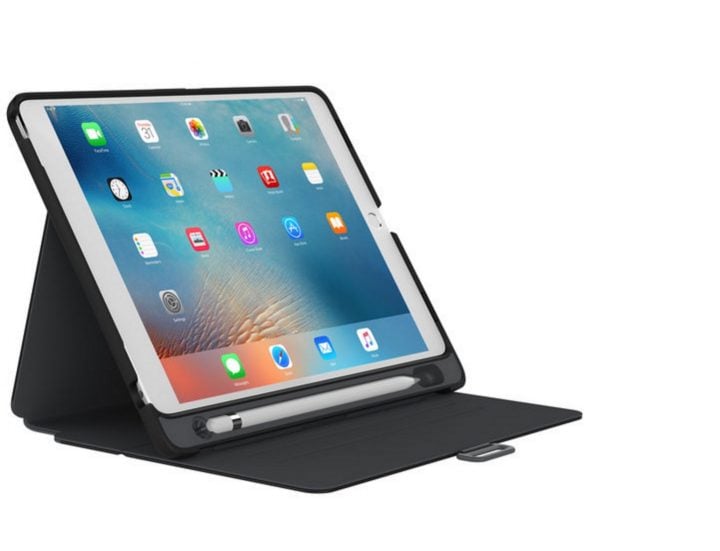 The official 9.7-inch iPad Pro cases don't include any way to carry the Apple Pencil and the smaller iPad Pro together without worrying about losing the pencil.
There is a small carrying area to store the pencil while you go somewhere with the iPad Pro, and there is also an inkwell spot to place the Apple pencil while you are switching between using it and using a keyboard.
In addition to carrying the Apple Pencil, this case protects the front and back of the iPad Pro while allowing you to use the iPad in a variety of positions. The pencil holder makes this slightly wider than other cases.
$59.95 at Speck

As an Amazon Associate I earn from qualifying purchases.