NBA 2K15 Release Nears as Major Deals Arrive
The NBA 2K15 release date is less than a week away and you can score $25 off this basketball simulator by pre-ordering today. You won't magically gain the riches of Kevin Durant, but this NBA 2K15 deal almost cuts the price in half.
Building on the success of NBA 2k14, the team at 2K adds in enhanced gameplay, a new MyCareer mode as well as other additions that basketball fans are eager to try.
It's hard to believe that the NBA 2K15 release date arrives on October 7th, less than a week from now. You can pre-order to lock in the KD MVP Bonus pack and score some extras to help you start on the right foot.
You'll need to head to Dell for these NBA 2K15 deals. You still need to pay $59.99 up front, but you get a $25 eGift card that you can use on a future purchase.
NBA 2K15 is available on PS4, PS3, Xbox One, Xbox 360 and PC through Dell and all are eligible for the $25 deal. Paying $35 for a new PS4 game is an incredible deal, even when the discount is in a gift card that arrives after the purchase. If you take advantage of this NBA 2K15 deal you'll only pay $10 more than if you bought NBA 2K14 on Amazon right now, a year after release.
Here's where you can get these NBA 2K15 release deals from Dell;
With these NBA 2K15 deals you will get a $25 eGift card 10-20 days after the game ships. This is only good for 90 days, so you'll need to use it this year. You can use this on pretty much anything Dell sells, including more video games, subscriptions to Xbox Live and PS Plus as well as various Xbox One and PS4 accessories.
When you add NBA 2K15 to your cart you'll see a notice below the game about the $25 gift card promotion.
The NBA 2K15 release brings over 5,000 new animations for smoother looking gameplay and a new defensive AI that should help casual and experienced gamers. Players who want to take control of the defense can choose how each player handles defensive roles.
Players also gain more control over shooting, blocking and rebounds in NBA 2K15. Like every sports game this year the developers pay more attention to presentation with a more realistic broadcast experience during the game.
You can see the NBA 2K15 gameplay in the video above, where the developers walk through many of the new NBA 2K15 features, calling out new camera modes, cheerleaders, updated collision graphics and explaining why some changes were made, including a reduction in easy blocks that came from chasing down a breakaway.
If you pre-order NBA 2K15 you get access to the KD MVP Bonus pack that includes 5,000 in virtual currency, a Kevin Durant throwback card for MyTEAM, two MyTEAM card packs and MyPLAYER Leg sleeves.
Top PS4 Games to Buy in 2014
Call of Duty Advanced Warfare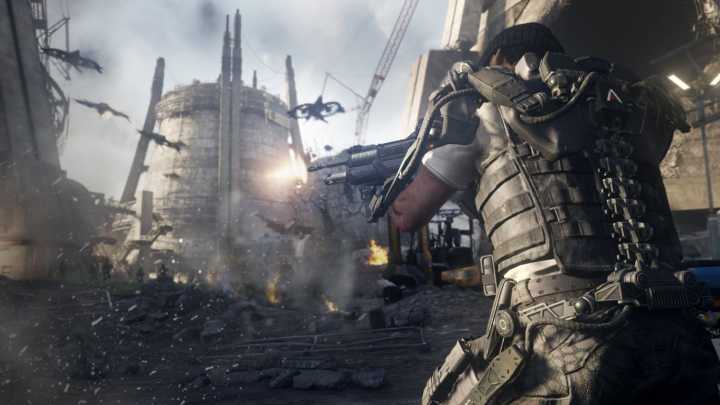 PS4 Call of Duty Advanced Warfare Details:

Call of Duty Advanced Warfare Release Date: 11/4/14
Pre-Order Bonus: Brass exoskeleton, EMP Weapon
Special Editions: Yes
Exclusive: No

Call of Duty Advanced Warfare is one of the top PS4 games to buy in 2014 not only becuase it is a new Call of Duty game, but because it is ready for a PS4 lacking fun shooters.

Yest it arrives into a fall filled with Destiny, but Killzone didn't live up to the excitement and there is no Titanfall for PS4.

Instead gamers get this Kevin Spacey filled Call of Duty Advanced Warfare release that delivers a super soldier with smart weapons and access to technology like never before including drones and hoverbikes.

Call of Duty Advanced Warfare Gameplay Video