New FIFA 15 Video Shows Smart Keepers, Incredible Goals
The latest FIFA 15 gameplay video shows major improvements that are sure to excite fans who are eagerly waiting for the FIFA 15 release in September.
EA shared new FIFA 15 details that highlight smarter goal keepers who are able to react to attacks faster and smarter, which means vastly better defense.
This is great news for gamers who don't want to lose an important game in stoppage time, but better keepers also mean it is tougher to score goals.
Don't worry though, EA detailed other changes to help deliver incredible goals and more realistic ball physics that make rebounds and deflections more lifelike. The new goalkeeper animations in FIFA 15 also open up exciting goals like a nutmeg to score the game winner.
Watch the FIFA 15 gameplay video to see what's new with smarter keepers, better ball physics and witness some of the incredible new goals coming n FIFA 15.
In the Xbox One and PS4 FIFA 15 release goalkeepers now come with 50 new save animations, better artificial intelligence and a more realistic model. Although FIFA 15 comes to Xbox 360 and PS3, not all of these features will be present.
Although EA calls this video Gameplay it looks like there is some cinematic being done here, so keep that in mind before you start drooling too much.
FIFA 15 Smart Goalkeepers
As part of the new smart goalkeepers in FIFA 15 gamers will see new save animations and the keepers will now read and react to the play with increased efficiency and saves.
The new FIFA 15 video shows off a variety of exciting keeper saves with more dives, kick saves and realistic grabs to keep the ball out of the goal.
Don't count on an experience where you are never scored on, but smarter keepers should help prevent obvious scores.
That's not the only way your keeper is smarter in FIFA 15. Keeper AI means your goalkeeper knows where he is in relation to the goal and to the ball, to prevent obvious mistakes from letting a goal in.
EA also delivers Pro Decision Making in FIFA 15, which leads to better choices and could lead to a keeper aggressively attacking the ball, instead of settling back to take on a lone striker.
All of the new EA Sports games boast improved AI, and it is a PS4 and Xbox One exclusive feature, made possible by the increased processing power. That's how EA describes the same upgrades in Madden 15 and NHL 15.
Incredible FIFA 15 Goals
Even though FIFA 15 delivers smarter keepers, the offense isn't left wanting. Realistic parries and deflections mean more chance for an opportunistic striker to punch a save right back on goal, but into the back of the net this time.
EA is making a major push for more realistic ball and puck physics in the new FIFA and NHL releases, which can deliver more chances to score off of a save that isn't brought under control fast.
In the FIFA 15 video we see incredible goals including a nutmeg, that slides between a keeper's legs, a behind the back goal and other incredible animations that highlight how you'll be able to score in FIFA 15.
The FIFA 15 release is set for September 23rd in the U.S., September 25th in Europe and the 26th in the UK. Watch the FIFA 15 gameplay videos above to see what else is new in FIFA. It's not clear if there is a FIFA 15 demo release in the works or if the only way to play early will be with EA Access that will let Xbox One players play FIFA 15 up to 5 days early with a paid subscription.
Top PS4 Games to Buy in 2014
Call of Duty Advanced Warfare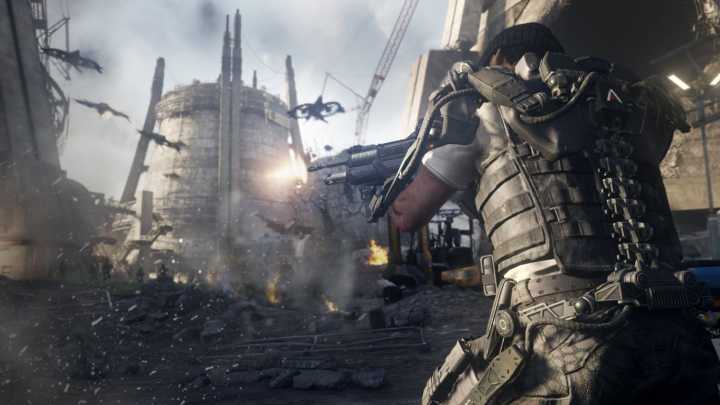 PS4 Call of Duty Advanced Warfare Details:

Call of Duty Advanced Warfare Release Date: 11/4/14
Pre-Order Bonus: Brass exoskeleton, EMP Weapon
Special Editions: Yes
Exclusive: No

Call of Duty Advanced Warfare is one of the top PS4 games to buy in 2014 not only becuase it is a new Call of Duty game, but because it is ready for a PS4 lacking fun shooters.

Yest it arrives into a fall filled with Destiny, but Killzone didn't live up to the excitement and there is no Titanfall for PS4.

Instead gamers get this Kevin Spacey filled Call of Duty Advanced Warfare release that delivers a super soldier with smart weapons and access to technology like never before including drones and hoverbikes.

Call of Duty Advanced Warfare Gameplay Video