Nexus 5X Price Slashed to Only $299
Google's Nexus 5X smartphone released in October is arguably one of the best smartphones for under $400. However, the price was recently lowered to $349 making it a decent deal, but today Google really delivered. Cutting the price down to only $299, making it hands-down the best phone for under $300.
In September, Google announced two new smartphones instead of one. Those being the smaller 5.2-inch Nexus 5X and a more premium Nexus 6P, all running the latest Android 6.0 Marshmallow software release. Both phones have received glowing reviews, and now potential Nexus 5X buyers have another reason to grab one.
Read: Nexus 5X Review
One of the best smartphones with a smaller screen under 5.5-inches, the Nexus 5X has everything most would want. Stock Android, a great camera, good battery life, the latest features like Android Pay and a fingerprint scanner, and much more. Here's what you need to know, and where to buy one.
In our Nexus 5X review above we gave the phone an overall good score. And while the lightweight plastic design makes it feel like a cheaper phone, not a premium metal device, that's what Google and LG wanted. It's smaller than most phablets available these days, lightweight, portable, but also extremely powerful and feature-packed.
The Nexus 5X launched at the end of September for $379 for the 16GB model, and a little more for the 32GB variant. We've seen a few deals here and there for the holidays, but earlier this month Google slashed the price for good. Lowering it by $30 making it just $349. That's a good price for a great phone, one that will receive the latest software updates for the next 18 months or two years, and is one of the most well-rounded "budget" phones on the market today.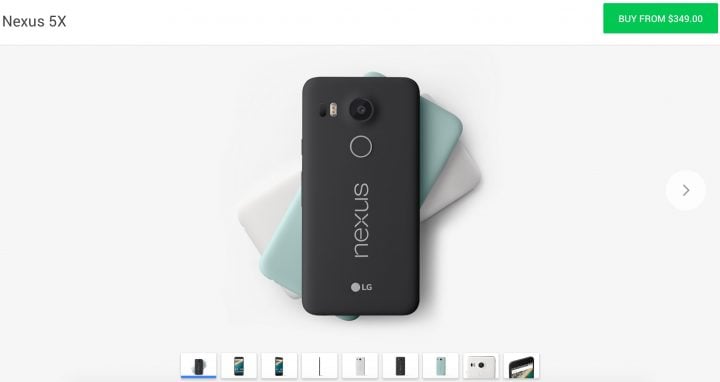 Update: Now on January 26th Google's lowered it yet again. This is either a bad sign it isn't selling well, or they're feeling generous. Heading to the official Google Store shoppers will notice the Nexus 5X is now just $299, and available in all three colors. Those being Black, White, and Mint Blue. At the same time, the 32GB model is also now down to only $349, essentially doubling buyers storage for less than the 16GB model a few weeks ago. This could be permanent, or only temporarily, so get it while you can.
Price cuts are nothing new, but this was rather quick after the release of the phone. Users are still buying it up, even with an incoming Galaxy S7 and LG G5. And now this week the Nexus 5X is on eBay for just $312. Making it the lowest price we've seen yet.
The Nexus 5X still has a great 12.3 megapixel camera on the back, dual front-facing speakers, a powerful and fast fingerprint scanner on back, Android 6.0.1 Marshmallow, USB Type-C for faster charging and universal charging (cord works both ways) and has all the latest cutting edge technology inside. It may not have the newest 8-core processor, but it's still plenty fast, smooth, stable, and a great phone for just $299. As a reminder, the Nexus 5X works on all carriers in the United States, including Verizon Wireless.
Read: Android 6.0.1 Marshmallow Update: What's New
At the same time, those who want a bigger screen can get last years impressive Nexus 6, with a huge 5.96-inch Quad-HD display from Amazon for only $299 for the 64GB model, which originally retailed for $699. We've seen this sale before, and it's a great price. Both phones are hard to beat for the price, but the Nexus 5X has more going for it right now and in the long run. Get one now before they're all gone.
13 Official Nexus 5X & Nexus 6P Accessories
Nexus 6P Folio Case
Google doesn't have the best track record when it comes to cases or accessories, but they're working hard to change that with the Nexus 5X and Nexus 6P. Tons of cases are available now, or will be coming soon.
The Nexus 6P Folio Case comes in a beautiful refined leather design in brown or black color options. This is one of the few that is listed as coming soon, and arguable one of the best. It features cutouts for the front speakers, fingerprint scanner, all the ports, and has a magnet on the flip out cover to instantly wake the screen. It's an elegant case, but will be expensive.