Just like Google said, "the all around champ is back." Of course we're talking about the Nexus 5X. With a big 5.2-inch screen, an excellent camera, dual front-facing speakers, improved battery life and more, this smartphone delivers an awesome overall Android experience for under $400. This is our LG Nexus 5X review.
It's the successor to arguably the most popular Nexus smartphone ever released, and those are pretty big shoes to fill. So how did it do? Pretty good actually. While the Nexus 5X has a few flaws, and isn't as good as the Nexus 6P, Google's flagship smartphone, for $379 on the Google Store it's hard to beat and below we'll explain why.
Read: Nexus 5X Unboxing & First Impressions
A lot of excellent phones are available for under $400 these days, but Google's Nexus 5X is one of the best. It has features most budget phones can't deliver, like a fingerprint scanner or dual front-facing speakers, runs the latest Android 6.0 Marshmallow, and has an excellent camera. That said, there are a few compromises that come along with that low price tag.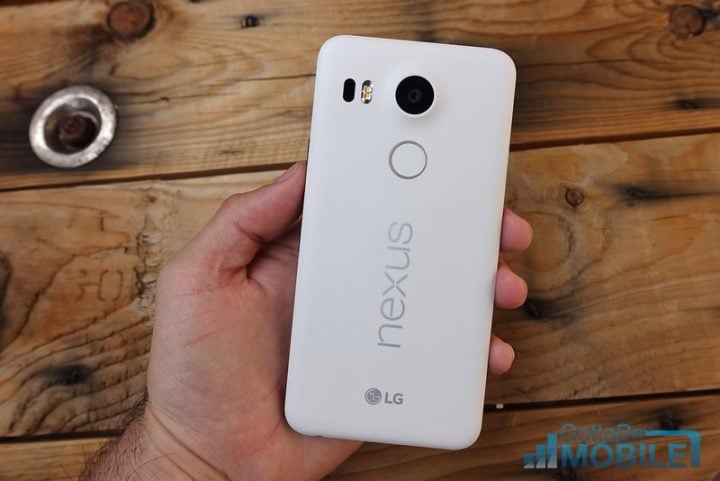 The Nexus 5X might not have a huge screen with Quad-HD resolution or the latest 8-core processor, but not everyone needs or wants that. Google learned this last year with the whale-sized Nexus 6. This year Google released two phones: the budget-friendly Nexus 5X and the Nexus 6P. The Nexus 5X will please all the original Nexus 5 fans. The big Nexus 6P is doing a great job taking on the Galaxy Note 5 or iPhone 6s Plus.
The Nexus 5X sits somewhere in the middle. It's perfect for those that want everything an Android smartphone can offer yet don't want to spend $700 to get it. Below we'll go over all the details and what buyers need to know about it.
What We Like:
Smaller 5.2-inch screen that's easy to use with one hand
Nexus Imprint (Fingerprint Scanner)
Great Camera
Low Price Tag
What We Don't Like:
Display could be better
Average battery life (at best)
Feels somewhat cheap
Laggy performance
Bottom Line:
We had high hopes for the Nexus 5X. It has all the makings for an excellent smartphone, and for the most part it delivers. At the same time, the performance issues we'll mention below, average battery life, and frequent stutters with the camera all have us waiting for an update from Google.
At the end of the day though, the Nexus 5X is a solid phone for the price users are paying. Buyers will get a pretty great camera, one of the best fingerprint scanners on any smartphone, pure stock Android 6.0 Marshmallow with the promise of quick updates, and it works on any and all carriers in the United States. With that in mind, unless Google can fix a few issues with battery life and the camera, it's hard to recommend over the Moto X Pure Edition. We'd even suggest users spend a little extra on the 32GB Nexus 6P for only $499.
Nexus 5X Display
The Nexus 5X is a well-rounded and pretty great phone. However, the display is one of the weakest links, but that's typically the case with smartphones at this price point. It's also worth mentioning that most buyers will absolutely love it, and will only notice a difference when it's sitting next to the Nexus 6P, Galaxy Note 5, or other more expensive smartphones.
This year Google increased the Nexus 5X screen to 5.2-inches, rather than 5-inches on the original Nexus 5, and kept the same 1920 x 1080p HD resolution LCD display. It's big enough to satisfy buyers' needs, and is great for gaming or browsing the web, but it's clear that this is a budget display.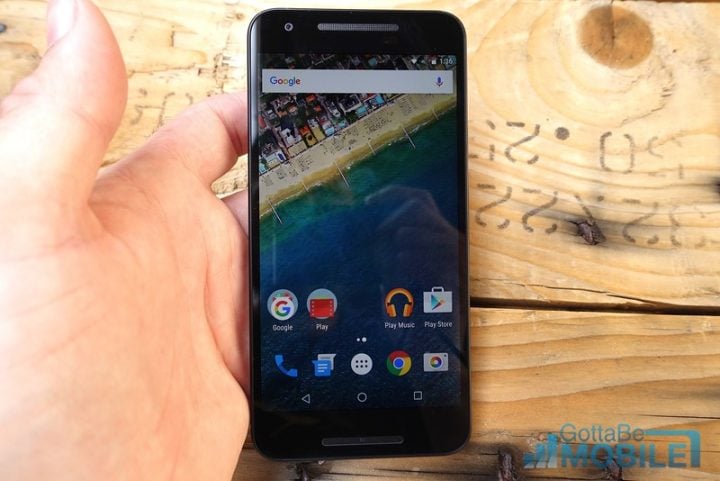 The high resolution means that pixels are crisp and clear, so no matter what users do, it looks good. It's only when compared to other phones that the difference be noticeable.
For $379,  the screen on the Nexus 5X is fine. It looks good, gets pretty bright, has decent viewing angles and comes with a full 1080p HD resolution. It's also small enough to use with one hand. At the same time, sitting next to the Nexus 6P it's really no match. The colors are downright boring and a little washed out, it doesn't get nearly as bright, and viewing angles are average at best. We even noticed a slight brownish tint to whites, which is odd.
Of course the vibrant colors of an AMOLED display will always outdo an LCD panel, but not everyone likes the bright colors of Samsung's AMOLED screens either. So it's kind of a toss up. On one hand it looks good, but when compared to others, not so much. Below is a comparison of the blue Clock app on the Nexus 6P compared to the Nexus 5X. The Nexus 6P looks vivid, bright, alive and blue, while the Nexus 5X looks almost dull and purple. The image below doesn't capture the color difference, but the blue looks washed out and purple in real life on the Nexus 5X.
It's not a bad screen, but it's not a very good one either. It's what you should expect when paying $379.
Nexus 5X Design
The Nexus 5X is pretty plain, simple, and almost boring. That isn't necessarily a bad thing though. It replaces the Nexus 5 before it, and looks very similar. Users will enjoy a simple all-plastic design that is lightweight and easy to hold. It's also the same soft-touch matte black or white color as the original. They added a Mint Blue option as well.
The phone is made entirely of plastic, which is lightweight and somewhat cheap, but it also feels like it was put together very well. It doesn't feel like a premium phone, but it doesn't feel like a super-cheap piece of junk either. Again, it's somewhere in the middle. The front 5.2-inch screen is covered in last year's Gorilla Glass 3. It should resist scratches and hold up to wear and tear, but doesn't have the absolute latest and greatest technology either. There are a few compromises, as we said earlier, and that's one of them.
In terms of the actual design, the phone is excellent. It's perfectly sized and easy to hold. The buttons are nicely placed so users won't accidentally hit them while picking it up.
The power and volume rockers are on the top right side, out of the way, yet easy to find and press. The headphone jack and new USB Type-C port are on the bottom, and there's nothing on the left or top. On the front we have what looks like dual front-facing speakers, which are better than the original Nexus 5, but nothing special. The Nexus 6P, Moto X, HTC One M9 and even the Nexus 6 from last year all sound much better. The Nexus 6P has two speakers and they sound great. The Nexus 5X only has one. This lone speaker is ported to the other speaker grill and sounds ok. They could be better, but we'll take front speakers over a rear facing speaker any day.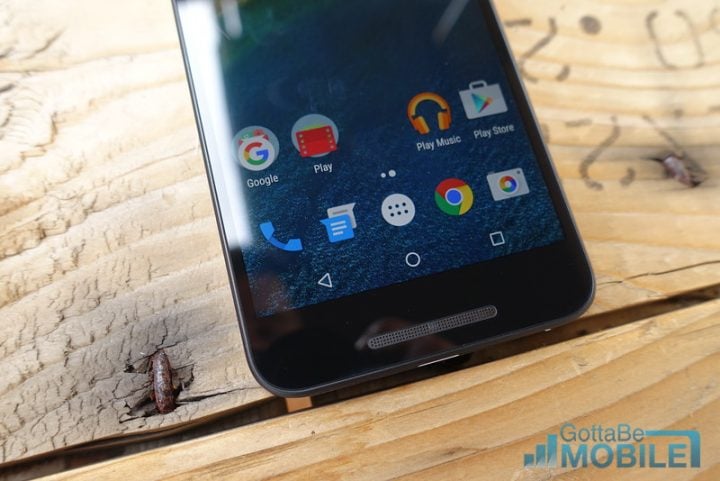 Around back is the best part of the design. Like most smartphones released over the past few years, there is a camera bulge here, but the subtle curve makes it less of an eye-sore than pictures would have you believe. The improved 12.3 megapixel camera, dual LED flash, laser auto-focus, and fingerprint scanner are all perfectly placed on back.
Google nailed the design, and buyers are going to love it. If the plastic isn't a concern and you're on a budget, this is the phone for you.
Nexus Imprint
There is one more design aspect to talk about and that's the fingerprint scanner, which Google is calling Nexus Imprint. It's a simple circle on back surrounded by a small aluminum ring that is easy to find and use.
Just like Apple's TouchID or recent Samsungs, the fingerprint scanner on back is one of our favorite features. Google's decision to put it on back may bother some, but it's so perfectly placed you'll have no problem using it. While holding the phone, most users' index fingers neatly rest right where it should, which is on the imprint fingerprint scanner.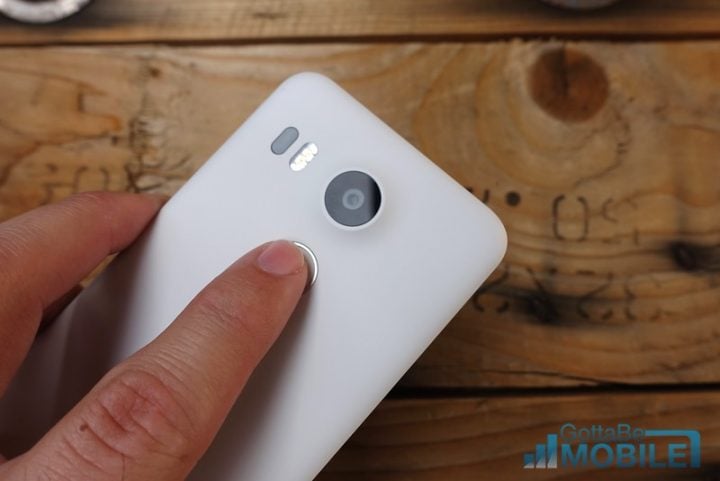 A quick tap of a finger instantly unlocks the phone. No passwords, pins, patterns or anything. Hitting the power button will take users to the lockscreen to view notifications, check the time, weather and more, without unlocking the phone. Users can't use Nexus Imprint while the phone is laying on a table or desk, which is a problem Samsung and Apple users don't have.
Read: Nexus 5x Setup Guide: 10 Steps to Get Started
Nexus Imprint works amazingly well, and is one of our favorite aspects of the Nexus 5X and Nexus 6P. It's faster than the Galaxy Note 5 or iPhone 6s, easier and faster to setup and extremely accurate. Six taps of a finger is all it takes to save during setup. Marshmallow learns the fingerprint more during use, which means it continues to get more accurate over time. As a result, the phone unlocks on the first try every time.
Nexus Imprint is lightning quick. It unlocks in less than a second, but if a finger isn't placed long enough, users may get an error. Being so fast, this is rarely an issue. It's one of the best implementations of a fingerprint scanner we've used to date.
Then, of course, the fingerprint scanner has other functions. Owners can sign into apps, websites, make purchases on the Google Play Store or Android Pay wireless payments by placing the phone to a terminal and tapping a fingerprint for security. It's just like Apple Pay, works amazingly well and is very secure.
Nexus 5X Camera
This is where things get interesting. The Nexus 5X and Nexus 6P are the first Nexus phones to have a great camera. Not just good, but great. The Nexus 6P even beat the iPhone 6 in camera reviews. The same 12.3 megapixel camera is in the Nexus 5X. The 6-core processor inside this phone makes it perform slightly lower than the Nexus 6P, but it's still very good. However, the software did give us problems on occasion.
In 2015, Google worked with Sony to use a brand new 12.3 megapixel camera with a big 1.55μm sensor. It's a sensor typically not used for smartphones. It takes amazing photos and pretty good video too.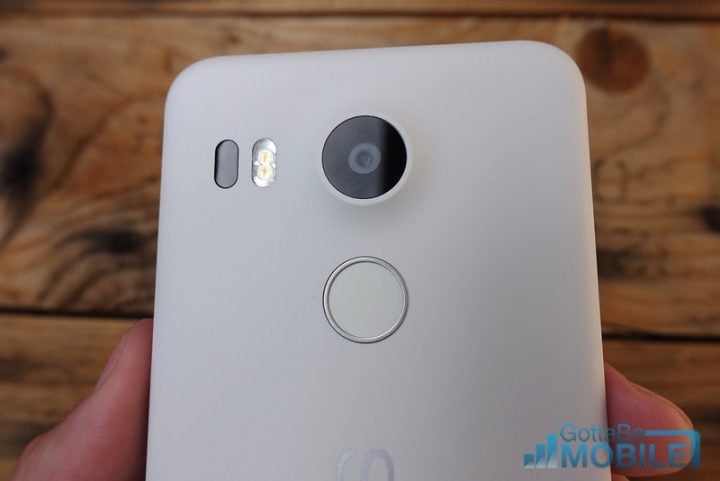 Like many other manufacturers this year, Google stepped it up and delivered a pretty great camera for these phones. While the Nexus 5X doesn't have optical image stabilization, the bigger sensor lets in more light, more quickly, which results in great photos without OIS.
Whether we took photos inside or outside, at night, or even at dawn, the photos always turned out better than expected. Double-tapping the power button instantly launches the camera. It's even faster than the quick-launch on Samsung devices. The laser auto-focus works its magic and great photos can be captured almost instantly. Below are a few samples indoors and out.
However, we do have some complaints. For whatever reason, the stock Google Camera app, or the camera in general, isn't as good on the Nexus 5X as the Nexus 6P. The 8-core processor allows for 240 FPS slow-motion video and burst mode, which the Nexus 5X doesn't have, but that isn't what we mean.
The Nexus 5X camera would occasionally lag while opening, stutter, and the auto-focus would lose track and not focus right. Our experience with the camera has been inconsistent. When it works, it takes amazing photos that are almost as good as any other phone on the market, but those lag issues need to be addressed.
Oddly, the same amazing experience from the Nexus 6P didn't fully transfer to the Nexus 5X. It's still great, and better than any Nexus before it, but hopefully Google can fix a few of these laggy moments with a software update.
The Nexus 5X also has a wide-angle 5 megapixel front camera that takes pretty darn good selfies, and works great for video chat. It's the best front camera of any Nexus, and should make all buyers plenty happy.
Nexus 5X Specs
Some like to know the finer details about a phone. All you really need to know is that with pure stock Android 6.0 Marshmallow this is one fast and smooth phone, most of the time. It isn't the most powerful device on the planet, but for $379 it delivers more than most. Here are the details.
Nexus 5X Specs
5.2-inch 1920 x 1080p Full HD AMOLED Display
6-core Snapdragon 808 processor with 2GB of RAM
16 or 32GB of storage (no micro-SD slot)
Android 6.0 Marshmallow
12.3 Megapixel Camera (1.55 um), Laser auto-focus, 120 FPS Slow-motion
5 Megapixel front
Rear Fingerprint Scanner
Dual front-facing speakers (single speaker, ported)
2,700 mAh battery
Fast Charging
USB Type-C port
more
As you can see the Nexus 5X cut back in a few areas, but nothing that should sway buyers from seriously considering it. It has the same powerful 6-core processor as the LG G4 or Moto X, a better camera than the original Nexus 5, a big battery, faster charging and more.
The Nexus 5X doesn't have the latest Quad-HD display or a stylus, nor does it have a powerful 8-core processor and a micro-SD slot. It doesn't need those things though. Buyers wanting a pure Android experience without spending $500-700 on phones from the competition got exactly what they wanted from the Nexus 5X.
Nexus 5X Software
While we have a full Android 6.0 Marshmallow review and comparison to Android 5.1 already, users will want to know a little about the latest version of Android and how it runs on the Nexus 5X.
Read: Android 6.0 vs Android 5.1 Lollipop: What's New in Marshmallow
Android 6.0 Marshmallow took Lollipop and made it better, faster, smoother, more polished, fixed battery life and squashed some bugs. There are a few new things here and there, but most of the changes are under the hood.
It's Google's best experience to date, but for some reason that same lag we experienced on occasion with the Nexus 5X camera, is also visible throughout Android 6.0 Marshmallow. Most of the time this runs like a well-oiled machine. It's as smooth as the more powerful Nexus 6P and others, but there is some occasional lag. I found myself rebooting the Nexus 5X every other day or so just to get things working as they should. This isn't a problem on the Nexus 5, Nexus 6, or new Nexus 6P, so most likely there are a few fixes or more polish coming in a future update. We've seen this reported on various forums from Nexus 5X owners, so we're not alone here.
Day to day the Nexus 5X runs great. However, sometimes we have little moments of lag where buttons will freeze for a moment and there is some slowness that isn't seen on other Android 6.0 devices. The slowness could be due to the 2GB of RAM, even though Android 5.0 was built to run on cheap Android One devices. The powerful Nexus 5X should have no problems, but it does.
Android 6.0 Marshmallow has new permission controls for better security, more animations, smooth transitions from window to window or while opening apps. It is faster, more efficient than ever and has a feature everyone will love called Google Now on Tap.
With Google Now on Tap Google search and multi-tasking becomes one. Long-press the home button and Google reads and analyses what's on the screen, and gives users information relative to what's being shown.
Find out about movie times after a friend suggests it during a chat on Facebook Messenger or in a text, watch the trailer, read what it's about and then find it playing at a nearby theater all without leaving the app you're already in. It's very powerful, and the best part of Marshmallow.
Google made a lot of small changes to fine-tune the experience. Everything from a slightly improved application drawer, widgets selection, settings and storage menu and more, just to name a few.
The Nexus 5X isn't bad, but it isn't the performance king we expected. Again, it's only $379, but we expected a little more out of the software & performance. Especially considering Android 6.0 runs great on the 2-year old Nexus 5.
Nexus 5X Battery & Charging
We have more bad news, and that's battery life. Yes, this year the Nexus 5X has a 2,700 mAh battery, compared to only 2,300 in the original, but it still is barely enough to last an entire day. It's the second best Nexus in terms of battery life, behind the Nexus 6P, but we wanted a little more.
Android 6.0 has a new feature called "Doze" which puts apps into a deep sleep state, when the phone isn't being used. It works great.Overnight we'd see hardly any battery drain. Using the Nexus 5X though for games or watching video, the battery drained quicker than expected for a 2,700 mAh battery. A big 3,000 mAh battery like the LG G4 would have been better, but again, Google had to cut costs somewhere to reach this low price point.
I was able to make it from 8AM to 8PM on several occasions after pretty heavy usage, so it's certainly much better than the Nexus 5 and will make any old Nexus user happy. One morning I spent 45 minutes on a phone call, played some Clash of Clans, checked Twitter, sent a few texts on AT&T's network, let it sit idle at my desk, then used it more that evening and had 38% come 8PM. That's more than enough for most.
There is a silver lining: quick charging. This is both a pro and a con though. The Nexus 5X uses a new USB Type-C port which is great. The cord is universal and can be plugged in either direction, has faster charging speeds and faster data output, but all your old cables and quick chargers won't work. Users have to use what came in the box.
Google also didn't put a regular USB to Type-C adapter in the box, so plugging the Nexus 5X into a computer to transfer files is impossible without another purchase.  While USB Type-C is very versatile and allows the Nexus 5X to go from 0-50% in under 25 minutes, it's also a hassle. Google is leading the way into the future, but owners won't be able to borrow a friends' USB cable to recharge their phone since almost no one has USB Type-C chargers yet.
On the plus side, the Nexus 5X goes from 0-100% in about an hour, making it one of the fastest phones to recharge. So, while battery life could be better, owners can quickly recharge it and continue enjoying the phone with ease. Well, as long as a USB Type-C cable is laying around.
Competition
With 2015 nearly over all of the competition for this phone has already been released. The Moto X Pure Edition gives it a run for its money with a similar price tag. It has a bigger screen and more customization. The OnePlus 2 is a good choice, and even the Nexus 6 from last year could be a good alternative if the screen size isn't too big.
We don't want to tell people what to buy, but below are a few comparisons and info about the competition to help users make the right decision.
Nexus 5X vs iPhone 6s: What to Know
Nexus 5X vs Galaxy S6: 5 Key Differences
Nexus 5X vs Nexus 5 (2013): What to Expect
Nexus 5X vs Nexus 6P: 5 Key Differences
Final Thoughts
Despite the issues with the screen being average, performance not always being 100% perfect and the lack of wireless charging, the 5X is still the second best Nexus smartphone ever released by Google. Just behind the Nexus 6P. It's a great all around phone, perfect for those replacing the original Nexus 5, and should make any buyer pretty happy. This year Google is in a completely different league.
Sure, there are other phones that are better, like the Galaxy Note 5, but they are also nearly twice the cost at over $600.
It's hard to recommend the Nexus 5X when the Moto X Pure Edition and Nexus 6P are so close in price. At the end of the day it all comes down to a users preference of screen size, frequency of updates, the fingerprint scanner or their budget.
All said and done the Nexus 5X is a great phone that many will enjoy, and it's one of the best phones under $400. For those who don't want a big phone, the 5.2-inch form factor is the best in its class, making it a must buy in this size category. Google's done it again. This is a great phone, for a great wallet-friendly price.
13 Official Nexus 5X & Nexus 6P Accessories
Nexus 6P Folio Case
Google doesn't have the best track record when it comes to cases or accessories, but they're working hard to change that with the Nexus 5X and Nexus 6P. Tons of cases are available now, or will be coming soon.
The Nexus 6P Folio Case comes in a beautiful refined leather design in brown or black color options. This is one of the few that is listed as coming soon, and arguable one of the best. It features cutouts for the front speakers, fingerprint scanner, all the ports, and has a magnet on the flip out cover to instantly wake the screen. It's an elegant case, but will be expensive.

This article may contain affiliate links. Click here for more details.