NHL 15 Deal Chops Price to $35
The first NHL 15 deals are already live offering big savings on all versions of the popular game that brings hockey to the PS4 and Xbox One for the first time. This NHL 15 deal drops the price down to $35 after you count up a $25 gift certificate.
The NHL 15 release date is nearly here and a new NHL 15 deal is one that you can't pass up if you can't wait to play the newest hockey video game on Xbox One, Xbox 360, PS4 or PS3.
One of the best parts about this NHL 15 deal is that you don't need to trade in NHL 14 to cash in on the savings. Most deals inflate a trade in price to help you upgrade cheaper, but with this one you can save even if you already sold NHL 14 when you upgraded to a new console.
NHL 15 deals are still sparse two weeks before the NHL 15 release date and based on the limited Madden 15 deals we saw, it's unlikely that you'll find a better time or place to buy NHL 15.
You'll need to order online, but you should still get the game on the NHL 15 release date thanks to this pre-order. You'll also get a $25 eGift card to Dell that you can use towards one of the many Xbox One and PS4 releases late this year. The gift card arrives by email 10-20 days after the game ships.
This means you can't use it to buy FIFA 15, but there is a similar FIFA 15 deal. If you buy both of these games at Dell you'll get $50 towards another game, which means you'll be sitting good to buy Call of Duty Advanced Warfare in November or one of the many other games coming out this fall.
Dell offers NHL 15 for the Xbox and PlayStation and the company sells the standard edition for $60 and the NHL 15 Ultimate Edition for $69.99. This includes $40 worth of NHL Ultimate Team pro packs.
There is no coupon code needed to get this NHL 15 deal, but if you have one in your email you may be able to save even more. You just need to go the to Dell Gaming Deals page and then add NHL 15 to your cart. You should also see a $25 eGift card in your cart as well.
The NHL 15 release date is on September 9th and the order from Dell should arrive on the release day, like most pre-orders. While Dell is not the primary name in video games the company has a long history of offering discounts like this that include gift certificates to use on the next game or purchase you make.
Best Buy offers a $10 reward certificate with an NHL 15 pre-order but that is not close to the deal that Dell is offering. You can get $15 for your NHL 15 trade in at Best Buy right now thanks to a 50% trade in bonus, which sweetens the deal at Best Buy, but you're better off just using that towards a different game.
The NHL 15 demo release is here, and available to everyone with a Xbox One, Xbox 360, PS4 or PS3. There is no need to be an EA Access member to play the demo. You'll need to download the large demo so be sure to start that before you want to play.
EA delivered a big focus on NHL 15 for Xbox One and PS4, with a many key features arriving on the newer consoles only. You can check out five key differences in NHL 14 vs NHL 15 to see what is new, and what to expect this fall.
Top PS4 Games to Buy in 2014
Call of Duty Advanced Warfare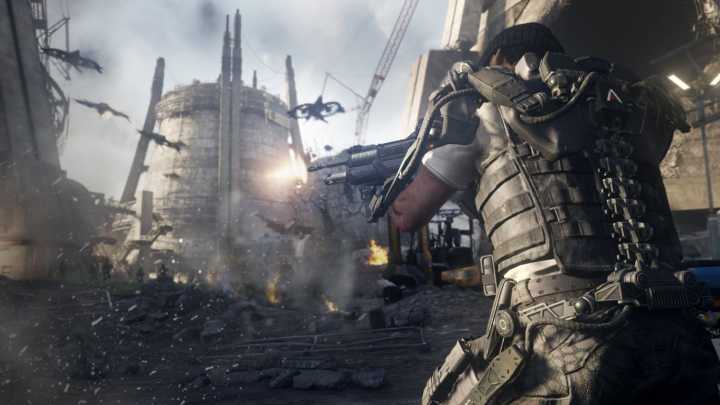 PS4 Call of Duty Advanced Warfare Details:

Call of Duty Advanced Warfare Release Date: 11/4/14
Pre-Order Bonus: Brass exoskeleton, EMP Weapon
Special Editions: Yes
Exclusive: No

Call of Duty Advanced Warfare is one of the top PS4 games to buy in 2014 not only becuase it is a new Call of Duty game, but because it is ready for a PS4 lacking fun shooters.

Yest it arrives into a fall filled with Destiny, but Killzone didn't live up to the excitement and there is no Titanfall for PS4.

Instead gamers get this Kevin Spacey filled Call of Duty Advanced Warfare release that delivers a super soldier with smart weapons and access to technology like never before including drones and hoverbikes.

Call of Duty Advanced Warfare Gameplay Video

As an Amazon Associate I earn from qualifying purchases.