OnePlus 5T Release: 5 Things You Need to Know
The next big smartphone coming soon to take on the Galaxy S8 and iPhone X is the OnePlus 5T. The company just announced its latest high-end phone with an affordable price tag will be available starting November 21st. With that in mind, here's everything you need to know about the impressive OnePlus 5T release.
Back in June, the OnePlus 5 hit store shelves. Offering an experience like flagship phones but at a lower price point. It had one thing missing though, a bezel-free display like the LG V30, Pixel 2 XL or Galaxy S8.
However, that all changes today. The new OnePlus 5T delivers a large 6-inch screen with smaller bezels, an improved camera, high-end specs, and Face Unlock to rival the iPhone X. If the Pixel 2 XL display problems have you looking elsewhere, this could be a great alternative.
Over the past few weeks, we've seen countless leaks revealing key details. However, today OnePlus took the stage in New York City and made it all official. Revealing its new phone, the early release date, low price, and instant availability. There is no invite system to buy this phone.
OnePlus 5T Release Date
Following the big live stream on YouTube on November 16th, the impressive OP5T will be available starting November 21st. That's just five days from announcement to release date, which is one of the fastest we've seen in the mobile industry.
So, starting November 21st you can get one online in two different variants, colors, and storage sizes.
Last year the company did something similar. Adding key upgrades to the OnePlus 3 like a better camera, faster processor, and a bigger battery, then released it on November 15th.
OnePlus 5T Display
The biggest change we're seeing is with the display. Instead of once again offering a 5.5-inch 1080p display, the company can finally compete with Samsung, Apple, and LG. By delivering a device with a 6-inch tall and skinny screen. Similar to the LG V30 or Google Pixel 2 XL.
The OnePlus 5T features a 6-inch 2160 x 1080p LED display that's tall and skinny. Basically a 2:1 aspect ratio like the Galaxy S8. It's not Quad-HD, but even phones like the Galaxy S8 ship set at 1080p, not Quad-HD.
This updated design puts the OnePlus 5T on par with other popular smartphones on the market. One thing to keep in mind is this design leaves no room on the front for a fingerprint scanner. As you can see from the photos, the company put it on the back similar to most other smartphones as of late.
Here's how the OnePlus 5T compares to the Galaxy S8, and another bezel-free phone.
As soon as we get the OnePlus 5T we'll be sure to test out the display and report back. From what we're seeing so far, it looks pretty impressive.
OnePlus 5T Specs & Features
Aside from the bigger 6-inch screen and new aspect ratio, the OnePlus 5T has specs and features similar to its predecessor. There are a few notable changes though, and here's what you can expect.
OnePlus 5T Specs 
6.01-inch 2180 x 1080p HD Edge-to-Edge Display
Snapdragon 835 Processor with 6 or 8GB of RAM
64 or 128GB of storage with no microSD slot
Improved Dual 16 Megapixel and 20 MP Rear cameras with f/1.7 on both, no more zoom lens
16 Megapixel Front-facing camera
Android 7.1.1 Nougat with OxygenOS (Oreo coming soon)
Rear fingerprint scanner, Face Unlock (unlocks in 0.4 seconds)
3,300 mAh battery with Dash Fast Charging
Single bottom-firing speaker
3.5 mm headphone jack, BT 5.0, NFC, 4G LTE, alert slider
more
Last year the OnePlus 3T had upgrades across the board. However, for the new OnePlus 5T it looks like the main changes are the screen and camera. That said, those are two important factors for most buyers.
A big change, however, is with the camera. Instead of offering one main camera and a secondary telephoto lens, OnePlus is taking a different approach. The phone now features a 16MP main f/1.7 aperture camera and a secondary f/1.7 20 Megapixel lens. The idea here is to improve photos overall, instead of just giving you a zoom. OnePlus says that this 20MP camera "merges four pixels into one" to help reduce noise and enhance clarity. Boasting impressive low-light photography and significantly improved Portrait mode.
OnePlus 5T vs the Competition
Each year OnePlus releases an impressive phone with high-end specs and undercuts the competition. Just as expected, the new OP5T does it again. Delivering an experience similar to the LG V30, Galaxy Note 8, or Pixel 2 XL for only $499.
If you're considering this over some of the other Android alternatives, here's what you need to know. Below, we've compared it to the original OP5, the Pixel 2 XL, and the Galaxy S8.

OnePlus 5T Price
The last thing we need to talk about is pricing and availability. OnePlus is known for great phones at an affordable price, and surprisingly enough the price is still just as low as everyone expected.
With a big new screen and better cameras, the OnePlus 5T still comes in at an affordable $499. You get the OnePlus 5T with 6GB of RAM and 64GB of storage in Midnight Black for $499. Then, the model with 8GB of RAM and 128GB of storage is only $549. Nearly 50% cheaper than the Galaxy Note 8. Buy the OnePlus 5T here.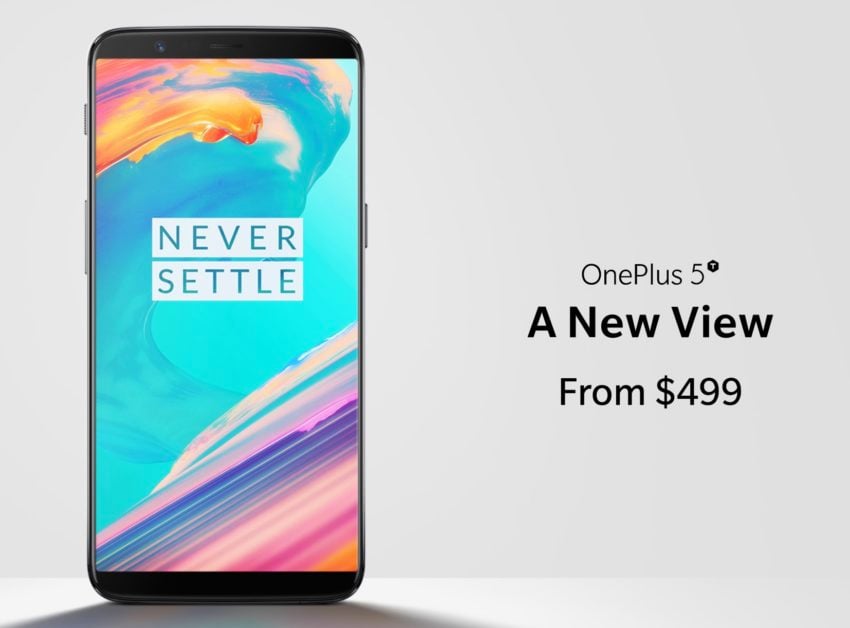 Either way, this looks like an impressive phone that could give the Galaxy S8, iPhone X, and others a run for their money. Get yours starting November 21st, and stay tuned for more details and a full review.
If the new Google Pixel 2 XL or iPhone X isn't your style or are too expensive, consider the much cheaper OnePlus 5T.