OnePlus 6T Release: 5 Things You Need to Know
The impressive new OnePlus 6T is finally official and here's what potential buyers need to know. We'll explain features like the beautiful bezel-free display, nearly no notch, and the in-display fingerprint scanner. This is the future of smartphones, and it starts at $549.
OnePlus, known for making flagship smartphones comparable to the latest Galaxy or iPhone, for half the cost, is at it again. The OnePlus 6T offers a striking design and a premium experience for those on a budget.
Read: Galaxy Note 9 vs OnePlus 6: Which One to Buy?
In fact, this phone delivers an experience similar to the Galaxy Note 9 or iPhone Xs Max, then tops them in a few key areas. If you're considering this phone, and you should, here's what to know now that it's finally official. We'll go over the release date, carrier support, colors, and pricing for each model.
The OnePlus 6T is official with a November 1st Release Date 
Available in Europe and other regions from November 6th
The OnePlus 6T starts at just $549
OnePlus 6T Release Date
In a surprise turn of events, the company confirmed its new OnePlus 6T will arrive faster than any phone they've ever released. While select users can buy it today in New York City, the OnePlus 6T release date is November 1st.
Then, outside of the US, you'll be able to buy the impressive new OnePlus 6T starting on November 6th in places like Europe from the official OnePlus website.
OnePlus 6T Specs & Features
While the OnePlus 6T looks very similar to the OnePlus 6 released earlier this year, it's a completely different phone. The company managed to pack in some meaningful changes and upgrades many didn't expect until 2019.
The biggest changes or most important specs and features for current or new OnePlus users is the display, tiny notch, in-display fingerprint scanner and battery life. You're getting a bigger and beautiful 6.41-inch AMOLED display in the same small and easy-to-hold package. Here's a quick list of the specs for those interested and some key details.
Bigger 6.41-inch AMOLED Display with a tiny notch (86% screen-to-body ratio)
Screen Unlock with an In-Display Fingerprint Sensor that's ultra fast and secure
Latest Android 9 Pie software
Bigger 3,700 mAh all-day battery with super-fast charging
Basically, the OnePlus 6T matches or tops all the best Android smartphones available right now. Delivering the same Snapdragon 845 processor as the Galaxy S9, Note 9, or the new Pixel 3 XL. Then, they offer more RAM than most flagship phones, 128 or 256GB of storage (not 64GB) and in-display fingerprint scanner starting at $549.
Google's Pixel 3 XL has a smaller display, bigger notch, only 4GB of RAM and 64GB of storage yet costs $900. See the difference?
This will once again be OnePlus' biggest, fastest, best and most powerful smartphone. Well, until the OnePlus 7 in early 2019.
OnePlus 6T Carrier Support
Perhaps the biggest news from OnePlus is carrier support in the United States. For the first time ever, the OnePlus 6T is available online and in thousands of stores from T-Mobile. Instead of only buying it online, you can walk into a T-Mobile store and try the fast in-display fingerprint scanner, dual cameras, or feel the speedy performance before you buy one.
Furthermore, the OnePlus 6T works on Verizon! Yes, in another first for the company, OnePlus has the latest Qualcomm Snapdragon 845 and an updated modem chipset that allows it to work on more carriers and more networks around the globe.
This is huge news for OnePlus. Not only is the new OnePlus 6T the best phone they've ever released, the first flagship device in the US with a fingerprint scanner under the display, and a high-end experience with a low price, but now you can buy it at T-Mobile or get it unlocked and take it to Verizon, AT&T and more.
OnePlus 6T Price, Colors & Storage
This is a big phone with a lot to like, and that includes the price. Each year the company has slowly increased the price of its devices, which some aren't very happy about. However, this year they managed to add things like a far bigger battery and an in-display fingerprint scanner without an increase in price.
The OnePlus 6T delivers an experience as good as, or better than almost every other high-end $1000 Android phone. Additionally, it has more RAM, storage, and a smaller notch than the iPhone Xs Max. It does all of that and only costs $549-$629.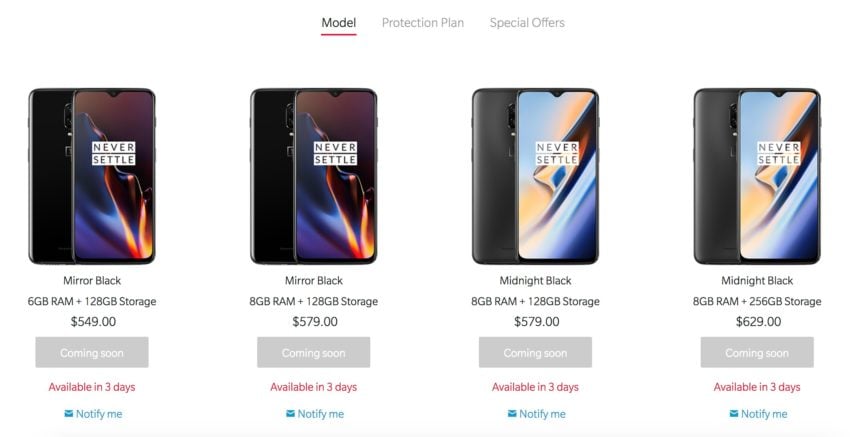 Base OnePlus 6T with 6GB RAM and 128GB storage – $549
OnePlus 6T with 8GB RAM and 128GB storage – $579
OnePlus 6T with 8GB RAM and 256GB storage for only – $629
The important thing to know is the baseline OnePlus 6T comes with 6GB of RAM instead of 8, yet still has 128GB of storage all for only $549.
As an example, the OnePlus 6 earlier this year started at $529 for only 64GB and 6GB RAM. That's a fair price for the 6T considering all the upgrades, and it's a good $200 cheaper than the Galaxy S9. Or for an even better comparison, the Galaxy Note 9 with a similar 6.4-inch screen is $999. Making the OnePlus 6T a compelling option and $450 less than its closest Android competitor.
For now, the OnePlus 6T is available in Mirror Black or Midnight Black, but we expect at least one more color later this year or in early 2019.
Final Thoughts & Other Details
Along with the phone, OnePlus released an upgraded pair of USB Type-C Bullet headphones with a built-in amp for improved audio, more accessories, and the OnePlus Explorer Backpack.
In closing, this looks like one of the best and most exciting Android phones released so far in 2018. Not to mention the specs and in-display fingerprint scanner will be able to rival most new phones in early 2019. They're ahead of the curve, essentially. Even if some OnePlus 6 users feel like this isn't enough of an upgrade, it's still an excellent phone worth cosndering.
And, if you have an old OnePlus 5 or even the original OnePlus One, send it to T-Mobile and they'll give you $300 off the new OnePlus 6T. Essentially making the phone $249 for some.
Stay tuned for more details, hands-on photos, and a full review in the near future.

This article may contain affiliate links. Click here for more details.