OnePlus 7 Pro Release Date Breakdown
In our OnePlus 7 Pro release date breakdown we'll tell you everything you need to know about this impressive new phone. With a big 6.67-inch notchless display, four cameras, and a premium design, the new OnePlus 7 Pro is absolutely worth considering over the competition.
While OnePlus still isn't a household name, they're growing in popularity thanks to flagship devices comparable to the latest Galaxy or iPhone for hundreds of dollars less. The new OnePlus 7 Pro is only $669 and competes with the Galaxy S10+.
Now that it's finally available to buy we'll go over the release details, carrier support, colors, pricing and what makes this phone so impressive.
OnePlus 7 Pro Release Date
Just as we heard from countless leaks and rumors, the OnePlus 7 Pro release date is May 17th around the globe. T-Mobile offered early sales on the 14th, but it's now readily available around the globe.
There are no long waits or an invite system like prior years, either. You can walk into a T-Mobile store and see if the huge 6.67-inch Quad-HD display is too big, test out the cameras, then buy one for yourself. The OnePlus 7 Pro comes in three different colors, three RAM and two storage configurations. It'll be extremely popular at the $669 and $699 price points, and we're not sure how long it'll stay in stock.
OnePlus 7 Pro Display
The first thing we want (and need) to talk about is that big beautiful display. OnePlus is aiming directly for Samsung with this phone. The OnePlus 7 Pro has a big 6.67-inch Quad-HD Fluid AMOLED display with curved edges, NO notch, and a 90Hz refresh rate.
They did this by hiding the front-facing camera inside a mechanical pop-up mechanism at the top of the phone. Rather than put a huge notch or a cutout in the screen, they put the camera up top. It's a smart move, especially for all those people that rarely, if ever, use the front-facing camera.
OnePlus phones while great, have always come with inferior 1080p HD screens in an effort to keep the price down. This year that all went out the window. The 6.67-inch Super AMOLED screen has a 3120×1440 resolution and a stunning 516 pixels per inch (ppi). The screen covers 93% of the front body of the phone. It's a stunner.
OnePlus 7 Pro Specs & Features
With the OnePlus 7 Pro you're getting a phone that's more powerful than the best of the best, in most areas. This phone matches or beats Samsung's Galaxy S10+ almost across the board, although it doesn't have wireless charging or an IP68 water-resistant rating. Everything else is top-notch.
OnePlus 7 Pro Specifications
6.67-inch Quad-HD 3120×1440 Fluid AMOLED Display with 90Hz refresh rate, no notch
Snapdragon 855 Processor with 6, 8, or 12GB of RAM (option to buyer)
128 or 256GB of faster UFS 3.0 storage (no microSD slot)
Triple 48MP f/1.6 OIS + 8MP f/2.4 telephoto zoom with OIS + 16MP Ultra-wide angle PDAF sensor
16 Megapixel f/2.0 front-facing Pop-up selfie camera (and yes, it's strong)
Android 9 Pie with Oxygen OS 9.5
Screen Fingerprint Unlock (Optical, not ultrasonic)
4,000 mAh battery with 30w Fast Dash Charging
Dual Stereo Speakers (a first for OnePlus)
Splash-Resistance, BT 5.0, NFC, 5G, alert slider
NO 3.5mm headphone jack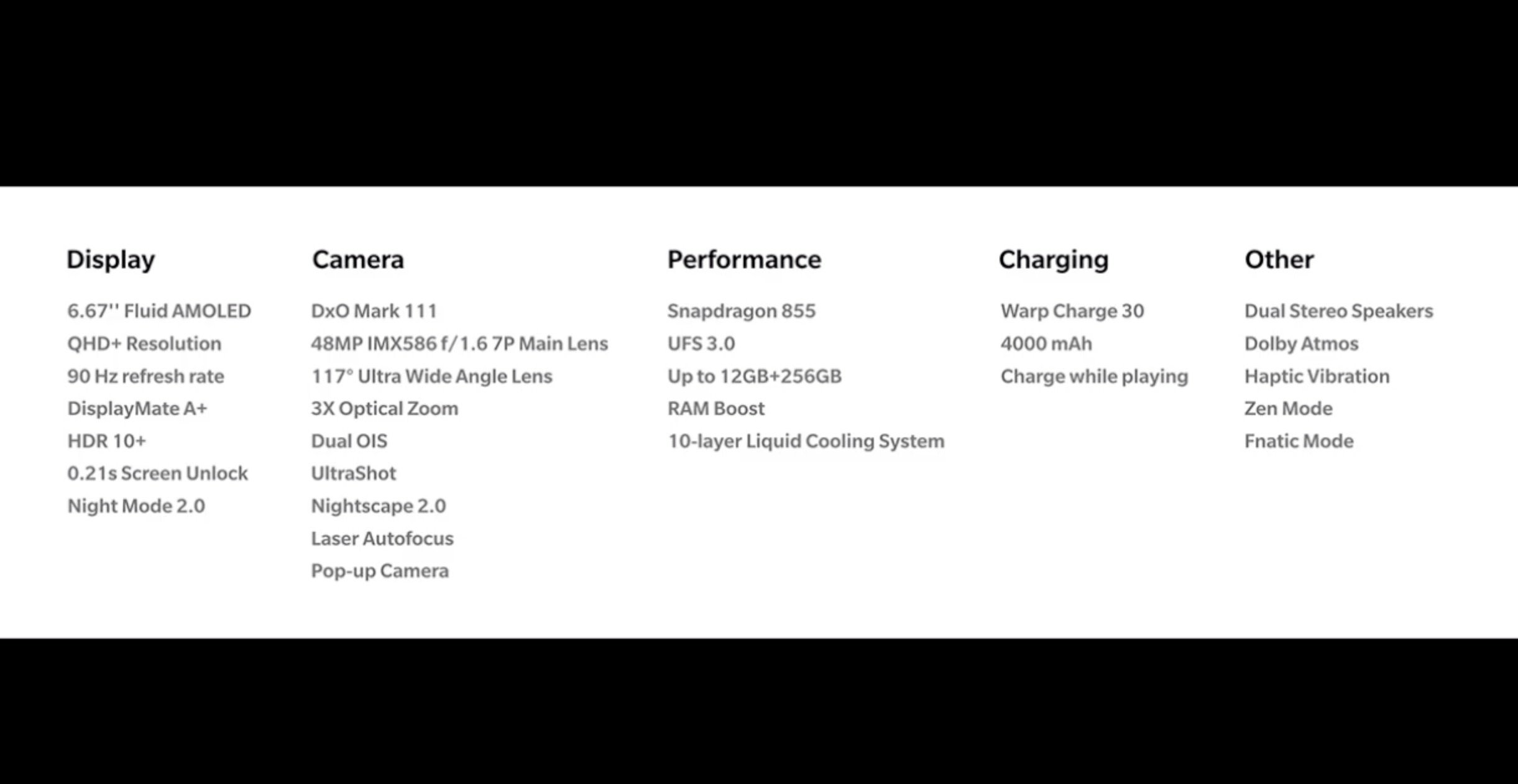 In case you didn't notice, this is one big, fast, powerful smartphone that gives Samsung a run for their money, and will likely match or top the upcoming Pixel 4 XL in several areas too. Keep in mind that the fingerprint sensor inside the screen is Optical, a camera, and not the new Ultrasonic sensor technology we're seeing from Samsung. OnePlus claims they made it better and faster than the OnePlus 6T from last year, but we'll have to test it ourselves to confirm.
Two main areas to focus on with the specs is the 90HZ refresh rate in the screen and the brand new UFS 3.0 storage. Most smartphone displays refresh the content we see at 60Hz a second, or 60 times a second. The iPhone Xs and Galaxy S10 have 60Hz screens. OnePlus' new phone packs a special new display that offers a 90Hz refresh rate, which should help the phone feel fast and butter smooth with less lag. Whether that's opening apps, gaming, or doing regular tasks. The UFS 3.0 storage chips are also substantially faster than older internal storage, which should also make this device run and feel faster.
This is likely the best phone of 2019.
OnePlus 7 Pro Price, Color, and Storage
How much will this impressive OnePlus 7 Pro cost? All of these upgrades will make it crazy expensive, right? Wrong.
The OnePlus 7 Pro starts at only $669, and the most expensive best version with 12GB of RAM and 256GB of storage is only $749, which is the same price of Samsung and Apple's budget phones, the iPhone Xr or Galaxy S10e.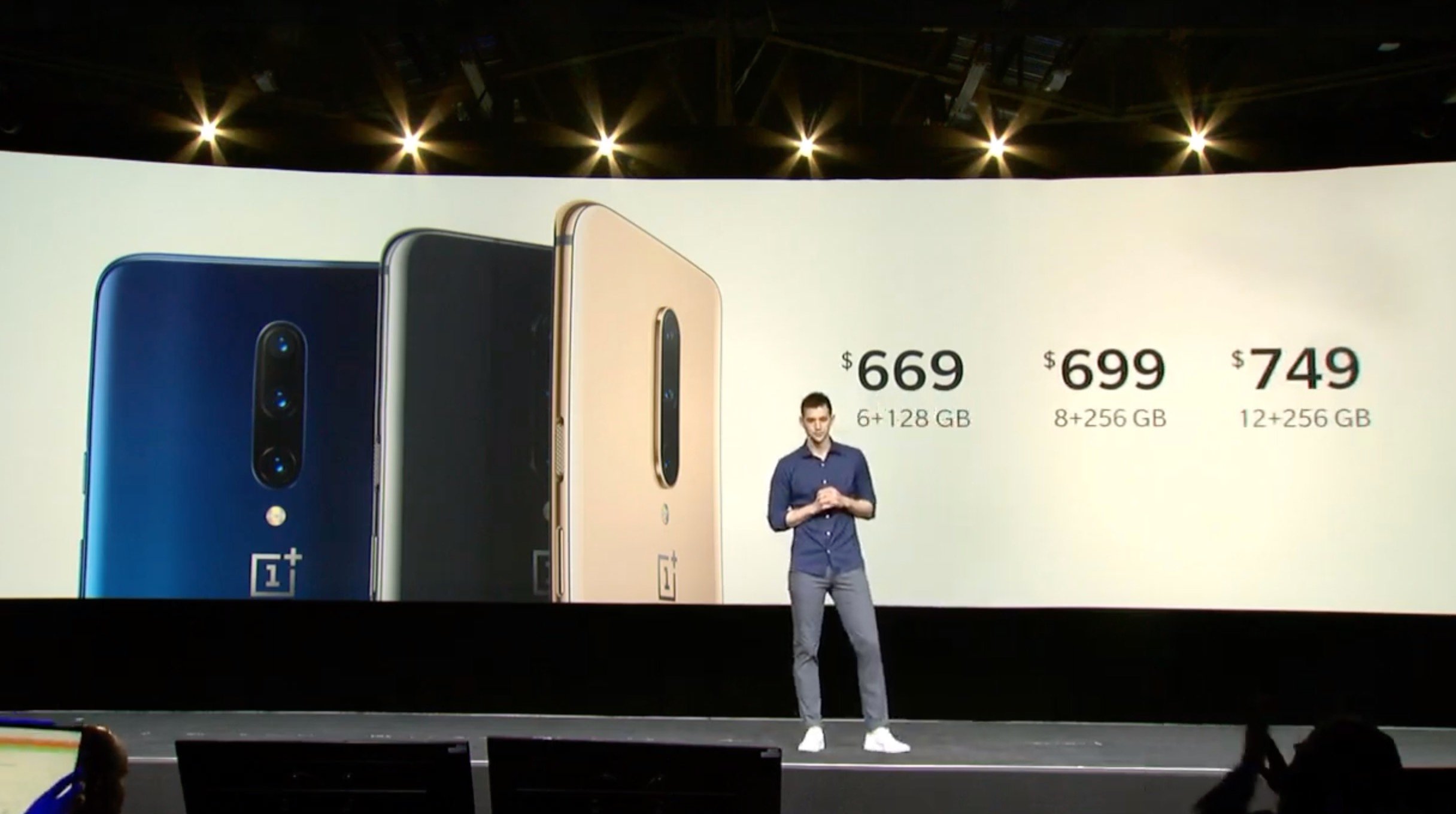 Each year the company has slowly increased the price of its devices, which some aren't very happy about. That said, you're getting a lot of phone for a lot less than the competition would charge. In fact, the OnePlus 6 competes with or beats most phones available today, and it's 50% cheaper.
OnePlus 5 – $479
OnePlus 5T – $499
OnePlus 6 – $529
OnePlus 6T – $549
OnePlus 7 Pro – $669
The important thing to know is the baseline OnePlus 7 Pro comes with 128GB of storage, 6GB of RAM, and is only $669. Again, that's UFS 3.0 storage and still more RAM than the Pixel 3 XL. As a comparison, that's still $329 cheaper than the Galaxy S10+.
So far the OnePlus 7 Pro is only available in Mirror Grey and Nebula Blue, but a White Almond is coming at a later date. If you want that fancy blue color, you'll have to buy the 8GB model as the base option only comes in the black-ish Mirror Grey.
OnePlus 7 Pro Carrier Support
A lot of potential buyers choose OnePlus for the stock Android experience, premium design, and wallet-friendly price tag. However, a big question is always carrier support. Luckily, this phone works with most carriers around the globe. Unfortunately, the phone is only being sold online or at T-Mobile stores. That said, it works on all US carriers and that includes Verizon Wireless.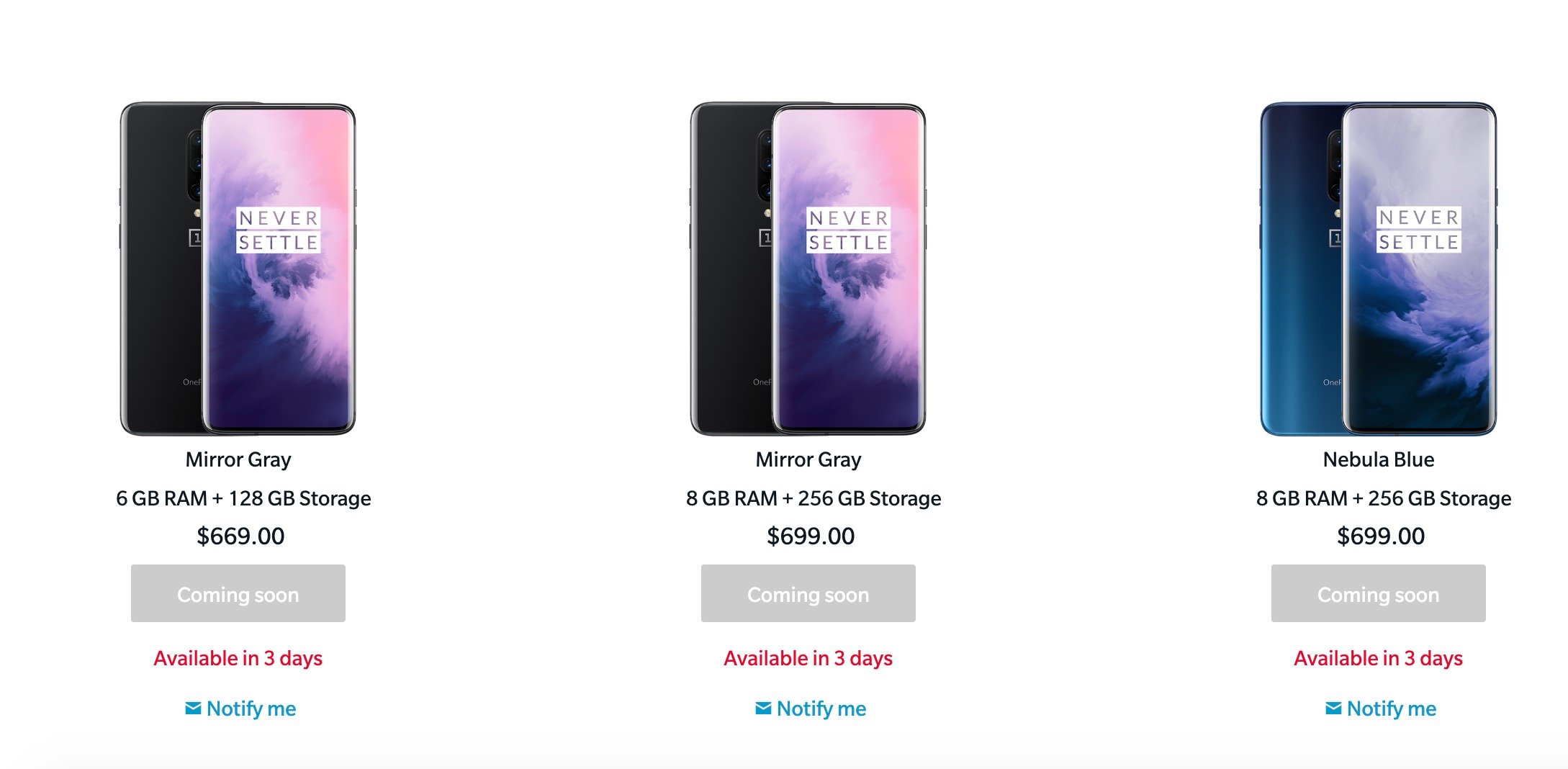 Buy yours unlocked at OnePlus.com and use it with Verizon, T-Mobile, AT&T, Cricket, and just about any carrier in the United States and around the globe. Or, go to a nearby T-Mobile store and pick it up today.

As an Amazon Associate I earn from qualifying purchases.