OnePlus 7 vs OnePlus 7 Pro: What You Need to Know
Now that the fancy OnePlus 7 Pro is readily available and still affordable buyers have some decisions to make. Especially considering this year the company released an even cheaper regular OnePlus 7 at the same time. Here's what you need to know about both.
Is the OnePlus 7 worth choosing over the Galaxy S10? Should you get the bigger better OnePlus 7 Pro instead, or something else entirely. It's a tough decision and we'll help you make the right choice.
OnePlus 7 vs OnePlus 7 Pro: Two Display Sizes
Typically OnePlus releases one phone in the first half of the year, and a second "T" model in the second half. However, for 2019 they released two phones right away, and a third is still coming. That said, the regular OnePlus 7 isn't available in the United States, and most people only have one choice, the OnePlus 7 Pro. If you live outside the US, this post will help you decide. Or, wait until the OnePlus 7T arrives later this year.
As you can see above, the bigger Pro model is a substantial upgrade over current models from the company. It has a big, beautiful bezel-free display with no notch or cutout for the camera. Instead, that camera pops out the top. Then, it's packing triple rear cameras.
OnePlus 7: 6.4-inch 1080p Optic AMOLED Display (60 Hz)
OnePlus 7 Pro: 6.67-inch Quad-HD 90Hz AMOLED Display
The bigger 6.7-inch Quad-HD AMOLED display is a big deal by itself. This year the 7 Pro display sports a 90Hz refresh rate. Almost every other phone on the market refreshes 60 times per second. The OnePlus 7 Pro does so 90 times per second, making everything faster and more smooth. We've seen something similar on the Razer phone and the new iPad Pro. You'll want the Pro model.
OnePlus 7 vs OnePlus 7 Pro: Design
During the announcement, OnePlus almost didn't mention the regular OnePlus 7 at all, and that's because it looks identical to the OnePlus 6T from late 2018. The company kept the small teardrop notch in the display to house the front-facing camera, stuck with dual cameras on the back, and the screen is still 6.4-inches. It's the same phone as the OnePlus 6T, with upgrades in all the right areas for 2019. They applied all the changes to the Pro.
The OnePlus 7 is nearly identical to the OnePlus 6T from late 2018. You're simply getting a faster processor, more RAM and storage, faster internals, a better camera and a bigger battery. Basically, the important stuff.
The real change in terms of design comes with the OnePlus 7 Pro as you can see above. It's packing a massive 6.67-inch screen, and all the changes we just mentioned, including that mechanical pop-up front camera. Check out the video below for a better understanding of the design.
As you can see, the front is ALL screen. 93% screen-to-body ratio, to be exact. Customers will get to enjoy that big, beautiful, fast, smooth 6.67-inch screen without a notch of any kind. Something we don't expect Samsung or Apple to offer until 2020. It's pretty impressive, really, and a daring move for the company that we think will pay off.
Buyers will be able to walk into a T-Mobile store, use this big phone, see how fancy it is, then notice it's hundreds of dollars less than the competition. It's a bold move.
OnePlus 7 Pro Specs, Camera & More
So, with two phones how are they different, what are the specs, and how much will you save if you get the regular 7? Here's what you need to know.
OnePlus 7 Pro Specs 
6.67-inch Quad HD+ Curved AMOLED Display (90Hz Refresh Rate, No bezels, no notch)
Snapdragon 855 Processor with 8 or 12GB of RAM (option to buyer)
128 or 256GB of UFS 3.0 storage, no microSD slot
Triple 48MP f/1.6 OIS + 8MP f/2.0 telephoto zoom with OIS + 16MP Ultra-wide angle PDAF sensor
16 Megapixel f/2.0 front-facing selfie camera
Android 9 Pie
Screen Fingerprint Unlock
4,000 mAh battery with 30w Fast Dash Charging
Splash-Resistance
Dual Stereo Speakers, BT 5.0, NFC, 4G LTE, alert slider, NO 3.5mm headphone jack
5G Technology
In case you didn't notice, this is one big, fast, powerful smartphone that matches or beats the Samsung Galaxy S10+ across the board. Keep in mind that the fingerprint sensor inside the screen is Optical, a camera, and not the new Ultrasonic sensor technology we're seeing from Samsung.
The smaller regular OP7 will still be a solid upgrade over previous models, even if they look identical.
OnePlus 7 Specs 
6.4-inch 2440 x 1080p Full HD Optic AMOLED Display (teardrop notch)
Snapdragon 855 Processor with 6-8GB of RAM
128 or 256GB of storage, no microSD slot
Dual 48-Megapixel main camera and a secondary 5MP telephoto zoom lens
16 Megapixel f/2.0 front-facing selfie camera
Android 9 Pie
Screen Fingerprint Unlock, Fast Face Unlock, more
3,700 mAh battery with 20w Fast Charging
Splash-Resistance
BT 5.0, NFC, 4G LTE, alert slider, NO 3.5mm headphone jack
5G Technology
As you can see the smaller regular 7 is similar to last years 6T. That said, everything else received an upgrade on the inside. You're getting a 3,700 mAh battery to power that big 6.4-inch screen, faster processor in line with flagship devices for 2019, and a better camera. It doesn't have Dash fast charging, wireless charging, or a headphone jack, but it's an otherwise great budget phone.
As a comparison, the 6.1-inch Galaxy S10 only has a 3,400 mAh battery and the bigger S10+ has a 4,100 mAh cell. Potentially making the OnePlus 7 a perfect middle ground. The company re-used the old OnePlus 6T design, screen, notch and a few other things in order to deliver a cheaper phone to customers. It's a win-win for them and you.
How Much is the OnePlus 7 and 7 Pro?
Here's where things start to get interesting. Each year OnePlus has increased the price of its phone a little bit, while still remaining cheaper than most of its competition. And while the OnePlus 7 varies by region, the bigger OnePlus 7 Pro is a little more than we're used to paying for OP phones. Still, it's very aggressively priced and an excellent deal.
OnePlus 5 – $479
OnePlus 5T – $499
OnePlus 6 – $529
OnePlus 6T – $549
OnePlus 7 – Varies ($200 cheaper than the 7 Pro in most markets) 
OnePlus 7 Pro – $669, $699 or $749 (different RAM and storage configurations)
The base OnePlus 7 Pro with 6GB of RAM and 128GB of storage is $669. Then, you can get 8GB of RAM and 256GB of storage for only $699, which is $300 cheaper than the Galaxy S10+. And finally, a stunning 12GB of RAM and 256GB storage OP7Pro is available for only $749. We're seeing the regular 7 cost around $200 to $250 less than the bigger brother in regions like India.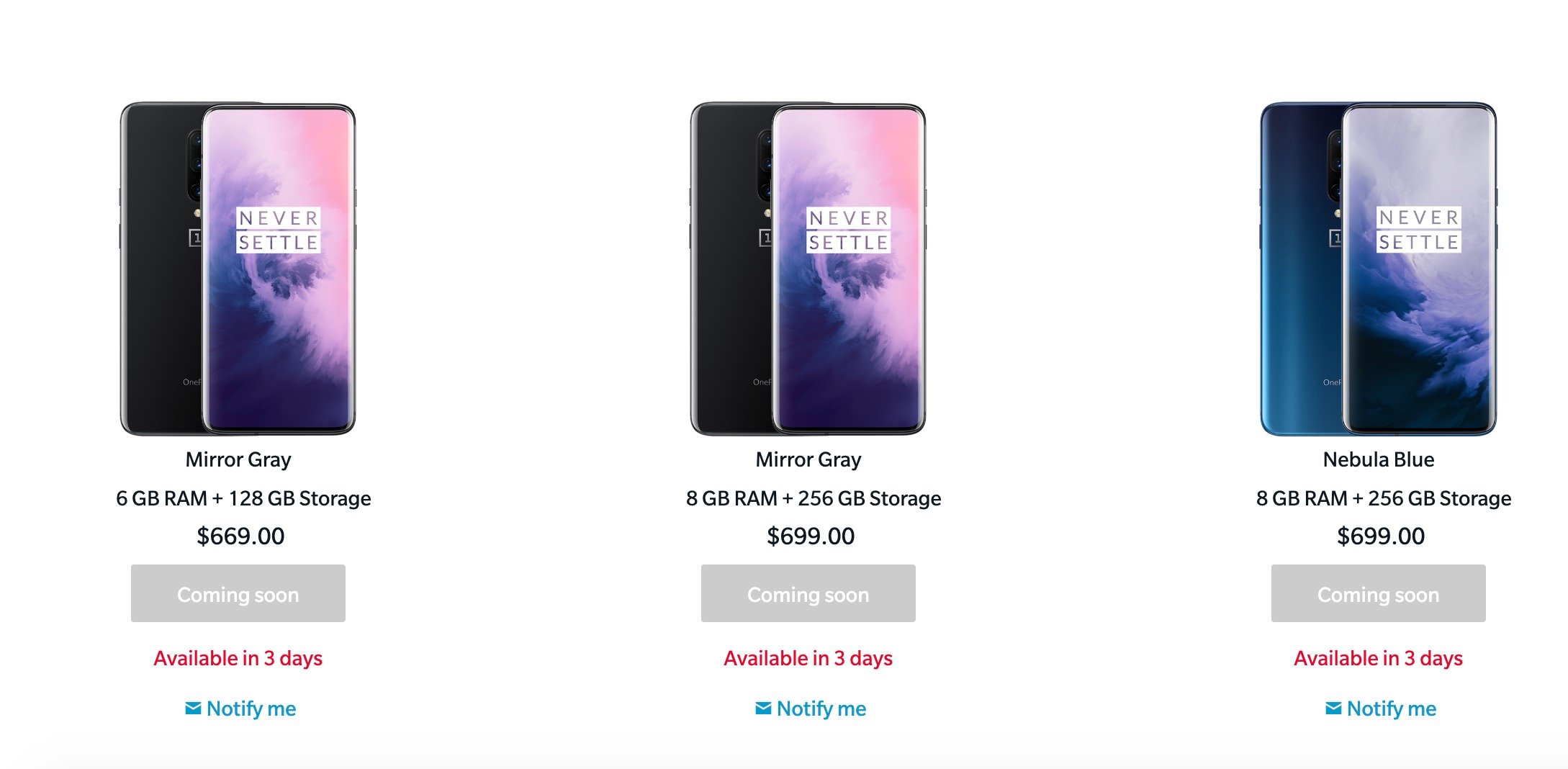 We don't have full information about the smaller OnePlus 7 pricing, as each market and region has different pricing and it's hard to compare them to US pricing. Either way, the bigger Pro model severely undercuts the Android and iPhone competition while arguably delivering a bigger and better experience. Then, the regular phone is a great value proposition.
OnePlus 7 and OnePlus 7 Pro Release Date
And finally, last but not least, is the OnePlus 7 release date. After a bunch of rumors, leaks and other things, the phone eventually arrived on May 14th and May 17th in the US and around the globe. Then, about a month later, the regular smaller OnePlus 7 is finally available as June comes to a close.
That all said, just know that the wait for the OnePlus 7 and 7 Pro is over. Those in the US don't get to choose which model they want, but the Pro is what most people were likely interested in anyways. You can walk into a T-Mobile store and try it before you buy, and the OnePlus 7 Pro works on all major carriers in the US and around the globe, including Verizon Wireless.
Are you buying one, or looking to snag the cheaper OnePlus 7 instead?