OnePlus 7T Release Date Details
The new OnePlus 7T is finally official and available now. Thanks to a bigger screen, stylish design and multiple rear cameras, it's worth considering over the competition too. In this breakdown we'll tell you everything you need to know about this impressive new phone before you go buy one.
While OnePlus still isn't totally a household name, they're very popular thanks to flagship phones comparable to a Galaxy S10 or iPhone 11 Pro for hundreds of dollars less. The new OnePlus 7T is only $599 and competes with Samsung's Galaxy Note 10 that costs $1,000.
Here are all the release details, carrier support, colors, pricing and what makes this phone so impressive.
OnePlus 7T Release Date
All the leaks and rumors were correct and OnePlus released its all-new OnePlus 7T on October 18th in the United States and around the globe. It's available in T-Mobile stores the same day, too.
There are no long waits or an invite system like a few years ago, either. You can walk into a T-Mobile store and try that 6.55-inch 90 Hz display or make sure the design isn't too big for you. Personally, I like the overall feel of it. The OnePlus 7T comes in two different colors and unlike previous years the US model only has one RAM and storage configuration. For just $599, the base model comes with 8GB of RAM and 128GB of storage, which are both double what you'll get from the iPhone 11 Pro. There is a 256GB option available outside the United States.
OnePlus 7T Display
The OnePlus 7T has a good size 6.55-inch 1080p HD AMOLED display with a fast 90 Hz refresh rate. There's a tiny water-drop notch at the top for the front-facing camera, and it slightly curves on the edges like an iPhone, but it isn't as curved as a Galaxy S10.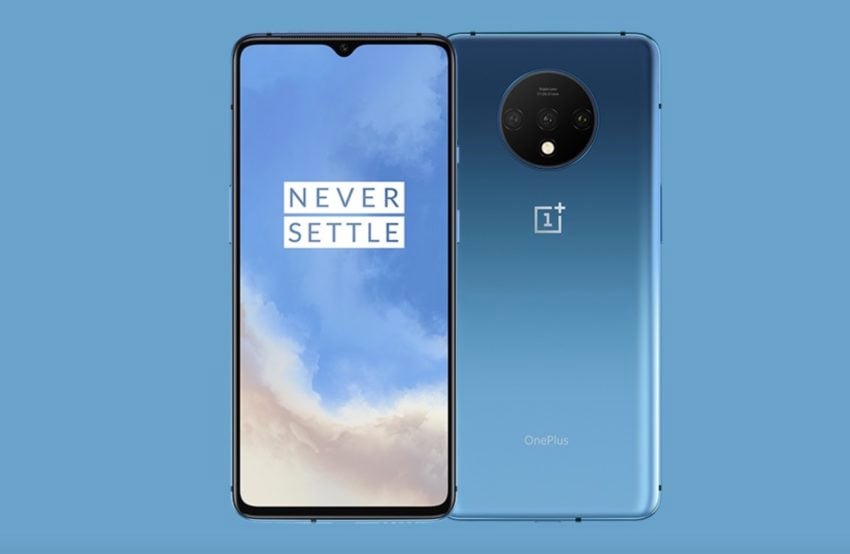 As a comparison, the OnePlus 7 Pro from earlier this year is 6.67-inches and has a 2K resolution. So this smaller more affordable OnePlus 7T isn't quite as big and sticks to 1080p to keep the price down. Either way, it still looks amazing and has 402 PPI and uses a quality AMOLED screen.
OnePlus 7T Specs & Features
This phone delivers specs and features rarely found in this price category, let alone any phone on the market. Even Samsung's latest Galaxy Note 10+ has a regular Snapdragon 855 processor, and not a faster 855+ like the OnePlus 7T does. Basically, this phone has it all (almost) without costing an arm and a leg.
OnePlus 7T Specifications
6.55-inch Full HD 1080p Fluid AMOLED Display with 90Hz refresh rate, small notch
Snapdragon 855+ Processor with 8GB of RAM and 128GB of fast UFS 3.0 storage (no micro-SD card expansion)
Triple 48MP f/1.6 OIS + 12MP f/2.2 telephoto zoom with OIS + 16MP Ultra-wide angle PDAF sensor
16 Megapixel f/2.0 front-facing selfie camera
Android 10 running Oxygen OS 10
Screen Fingerprint Unlock (Optical)
3,800 mAh battery with Warp Charge 30T (watt) fast charging
Stereo Speakers, Dolby Atmos, BT 5.0, NFC, 5G, alert slider, etc
N0 3.5mm headphone jack, no wireless charging, no water-resistance rating
In case you didn't notice, this is a pretty excellent smartphone for the price, and a phone that seriously gives Google's Pixel 4 and Pixel 4 XL a run for their money. OnePlus claims the screen is better, the processor is faster, and the fingerprint scanner is even better and faster than before too. Even areas that didn't get a specification bump should be better than the OnePlus 6 or 6T from 2018.
Two main areas to focus on are the 90 Hz refresh rate display, and the faster UFS 3.0 storage. Only high-end devices like the OnePlus 7 Pro, Galaxy Fold, and Galaxy Note 10+ have UFS 3.0, so it's great to see them offer it in such an affordable phone. For those unaware, UFS 3.0 is the type of storage you're getting, and all 128GB of storage in this phone is faster than most others on the market.
Then, most smartphone displays refresh the content we see at 60Hz or 60 times a second. The iPhone 11 Pro and Galaxy S10 have 60Hz screens. OnePlus' new phone packs a special new display that offers a 90Hz refresh rate, which should help the phone feel fast and butter smooth with less lag. Whether that's opening apps, gaming, or doing regular tasks. Pair that with UFS 3.0 storage, the faster Snapdragon 855+ and a big screen, and this is a pretty complete (and fast) package. This is likely the best phone of 2019, and hands-down the best phone you can buy under $600.
OnePlus 7T Price, Color, and Storage
How much will this impressive OnePlus 7T cost? All of these upgrades will make it crazy expensive, right? Wrong.
The OnePlus 7T manages to stay affordable and only costs $599. As a comparison, the 8GB of RAM and 128GB OnePlus 6T last year was $579. So, you're getting a substantially better and faster phone with triple rear cameras, a stunning screen, and great performance for only $20 more than previous years. They aren't offering the 256GB model in the United States, sadly, but other regions can pay a little extra to get 256GB of space.
Your color choices are Frosted Silver or Glacier Blue, and they both look great. Remember, even though it's $20 more than last year, you're getting a lot of phone for a lot less than the competition would charge.
OnePlus 5 – $479
OnePlus 5T – $499
OnePlus 6 – $529
OnePlus 6T – $549
OnePlus 7 Pro – $669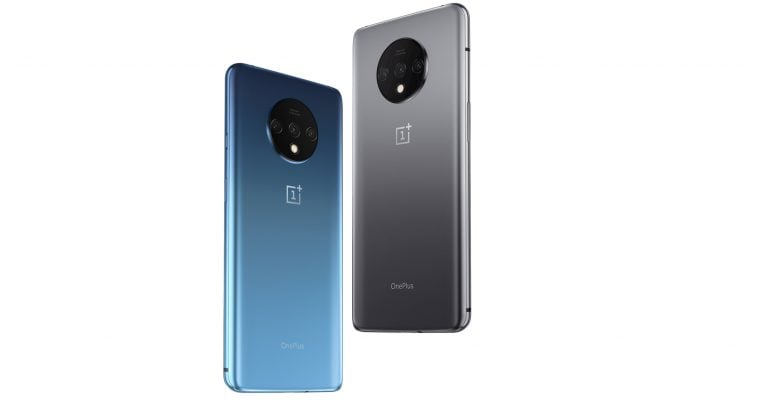 As a comparison, the iPhone 11 Pro Max with a similar 6.5-inch display and triple cameras on the back starts out at $1,099 and only comes with 4GB of RAM and 64GB of storage. You could literally buy two OnePlus 7T phones for the price of a single 256GB iPhone 11 Pro Max.
OnePlus 7T Carrier Support
A lot of potential buyers don't know much about OnePlus but keep hearing about them and don't see the phones in carrier stores. That's because it is only available unlocked at OnePlus.com or from T-Mobile. We thought this model might be sold by Verizon, but it looks like the two companies won't work together until 2020. However, the OnePlus 7T works anywhere you want to use it.
Yes, the OnePlus 7T works with Verizon, AT&T, and almost any other carrier. It's a globally unlocked phone with the carrier bands and internals to work almost everywhere.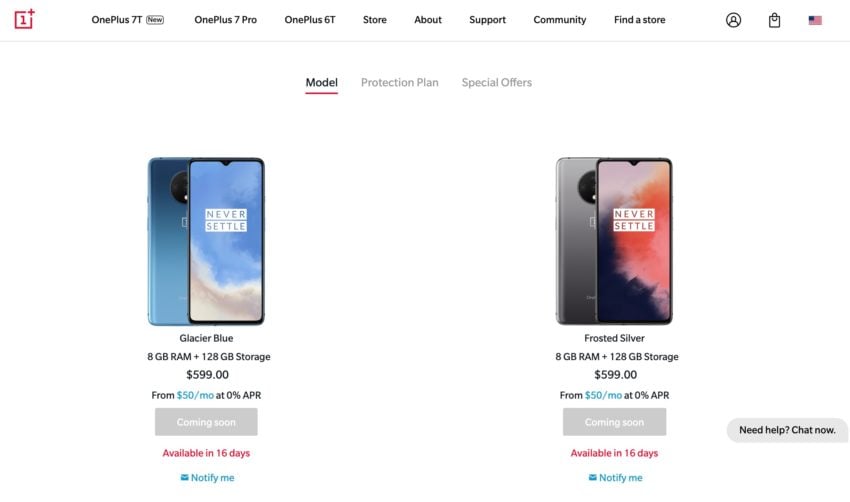 Buy yours unlocked at OnePlus.com and use it with Verizon, T-Mobile, AT&T, Cricket, and just about any carrier in the United States and around the globe. Or, go to a nearby T-Mobile store and pick one up today.