Plantronics Backbeat 500 Review: Amazing, Affordable Wireless Headphones
It's a wireless world, but you don't want to spend $300 just to get your foot in the door. Forget the super cheap, and frankly bad wireless headphones that you'll see sitting on store shelves for $40 or $50 and go with a tried and tested pair. The Plantronics Backbeat 500 look, feel and sound like a more expensive set of wireless headphones.
At $79.99 the Plantronics Backbeat 500 wireless headphones aren't going to break the bank, but they pack in impressive sound at the price, an eye-catching design and all the features you need in a good pair of wireless headphones.
[letsreview]
For less than $80 you get wireless headphones with 18-hour battery life, the ability to connect to two devices at the same time and you can go cord-free for up to 33 feet from your Bluetooth device. Like more expensive models, the Plantronics Backbeat 500 earcups fold flat so you can store them easier in a backpack and there is an included cord to plug in when you don't want to go wireless.
Plantronics Backbeat 500 Design
The Backbeat 500 design is bolder than the Backbeat Sense headphones with sharper angles on the ear band that carry over from the Plantronics gaming headsets. Combined with the sharp white/orange, gray/green and gray on black color options you end up with a nice looking set of headphones.
A small red Plantronics tag is the only standout branding on the head band. A soft memory foam style cushion keeps the headphones from weighing on your head and soft fake leather ear cups are comfortable even for longer listening sessions. The earcups connect to a metal arm that clicks satisfyingly into place at set positions.
It's easy to know which direction to put the headphones on since there are large indicators inside the earcups. A small button on the right earcup lets you access Siri, Google Now, Google Assistant or Cortana. Thre is a power toggle and pairing switch on this earcup as well.
Controls for volume, play and pause and track control are on the left earbud where you will also find a Micro USB port to charge and a 3.5mm headphone jack that you can connect the included cable with to plug into a game controller or simply to use without Bluetooth for some devices.
Plantronics Backbeat 500 Sound
The Plantronics Backbeat 500 wireless headphones deliver warm and balanced sound. If you are looking for good bass, give these headphones a listen. At the price point, the sound quality is quite impressive across the board.
Even at full volume  Kanye West's bass heavy Love Lockdown doesn't distort. These are not a one-trick pair of headphones. Mids and highs ring through and Plantronics manages to put together headphones that deliver complex vocals, guitar tracks, and bass together.  On Roundabout by Yes, the vocals, bassline and guitar all come through individually. On many cheaper headphones this track comes across as muddled or lacking at least one of these components.
In Good Mystery by Amber Rubarth the headphones do a great job of placing the strings and percussion off to the right as the song starts and then bringing them around as everything builds. Rubarth's voice sounds like it's coming in just over your left shoulder.
On Electronics music the bass punch in One More Time by Daft Punk punches in nicely but doesn't overpower the rest of the track, leaving enough room for small details to come through.
There is a microphone that allows you to talk to people using the heaphones. Callers report that we sound good. Most of our calls are indoors on a cell phone or over FaceTime Audio.
The Plantronics Backbeat Pro 2 headphones and the Bose QC35 wireless headphones sound better, but they are double and quadruple the price of the BackBeat 500 and both include active noise canceling.
Plantronics Backbeat 500 Features
Plantronics packs in enough power to last up to 18 hours, depending on how loud you listen. We're still working on wearing down a full charge, but this certainly seems accurate and Plantronics is generally spot on with battery life claims. A Deep Sleep option saves the battery up to six months by automatically turning the headphones off when out of range of a paired phone or tablet. When you turn on the headphones a voice tells you how much battery life is left so you have plenty of warning when you need to charge.
It's easy to pair with your phone using the on headphone controls and you can connect to up to eight devices total. You can stay connected to two devices and seamlessly switch between your phone and tablet or phone and laptop without re-pairing or switching around.
Best Wireless Headphones & Earbuds
Bose QC35 Wireless Noise Cancelling Headphones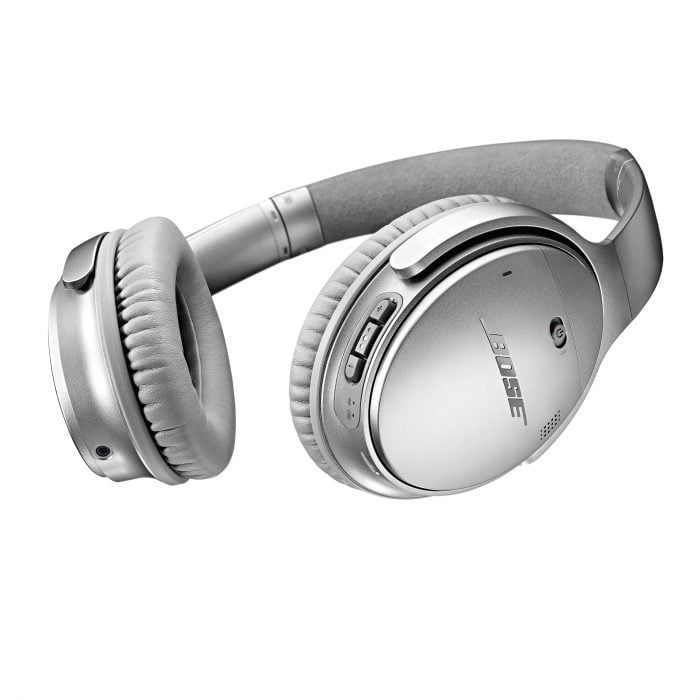 Bose sets the standard for noise cancelling headphones, delivering an instant reprieve from the noise and distractions at home, in the office and on an airplane. Now, the Bose QC35 bluetooth headphones offer this all without the need to plug a wire into your iPhone or Android smartphone. Sound quality is impressive and the range is great.
The Bose QC35 headphones are comfortable, block out distracting noises better than any other headset on the market, deliver 20 hour battery life and an option to use wired after the battery dies. Excellent call quality even in windy or noisy environments.
$349 at Amazon in Black and Silver