Pokémon Sun and Moon Release Date Tips: Deals, Midnight Release & More
Today, Nintendo's 20 Years of Pokémon Celebration comes to its conclusion. After months of giving away legendary Pokémon at retail stores and a summer dominated by the launch of Pokémon GO for iPhone and Android, Nintendo will bring an end to the reign of the 6th Generation of Pokémon games and replace them with two all-new titles. Months of hints, tons of leaks and lots of excitement have all come down to tonight's events and the Pokémon Sun and Moon release date.
When clocks strike midnight, gamers with a Nintendo 3DS and Nintendo 2DS will be free to go to the region of Alola and check out all of its wonders. They'll find new types of Pokémon, from regional takes on creatures they've seen in past games to new Ultra Beasts that could be more dangerous than whatever they've faced before. They'll ride transport Pokémon to every region of the island chain looking for an opportunity to fill their Pokedex. Pokémon Sun and Moon boast enhanced multiplayer, a new competition system and a new PokeBank system. Once they Z-Ring is found; they can unleash the most powerful attacks the game series has ever had.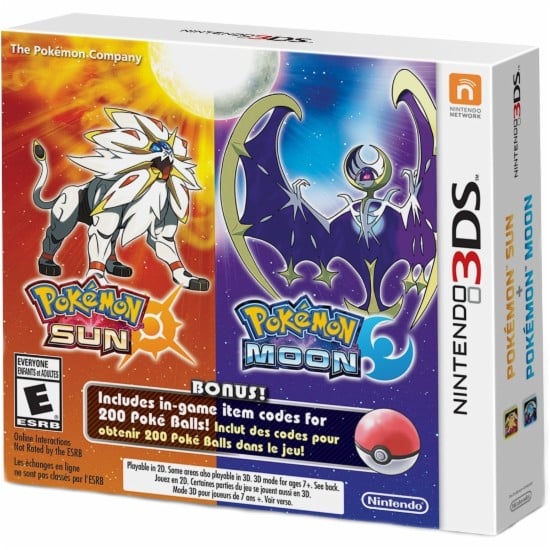 Read: Pokémon Sun and Moon Starter Pokémon Breakdown
Tomorrow is the Pokémon Sun and Moon release date. Tonight you can head to stores to pick up the game. Here are some Pokémon Sun and Moon release date tips to get you ready for this evening's festivities.
Pokémon Sun and Moon Pre-Orders
The chances of you missing out on the game because you didn't pre-order a copy are slim. Most game stores usually have enough copies on-hand to ensure that everyone that wants a game on release day can have it. Theoretically, the same is true of Pokémon Sun and Moon.
Without a pre-order you won't be able to take advantage of savings that at least one retailer is offering. You also won't get a poster or any collectibles that those who placed a pre-order get.
Read: Pokémon Sun and Moon Pre-Orders Breakdown
Buy Pokémon Sun and Moon at the Nintendo eShop
Like living room consoles, the Nintendo 3DS does offer a way to purchase your games without having to head to a store. You can avoid the crowds and noise by pre-purchasing Pokémon Sun and Moon directly from the Nintendo eShop. Just be sure that you've cleared enough space for the game. You'll need a credit or debit card attached to your account. Buying this way gets you 40 points on your My Nintendo account. My Nintendo is the company's rewards program.
Pokémon Sun and Moon Midnight Release
GameStop will stay open past midnight to celebrate the Pokémon Sun and Moon release date. Anyone that pre-orders there will be able to pick up their copy after midnight local time. That last bit is important because the retailer typically begins handing out copies at midnight Eastern Standard Time, not local time. You can use this tool to find a GameStop in your area that'll stay open.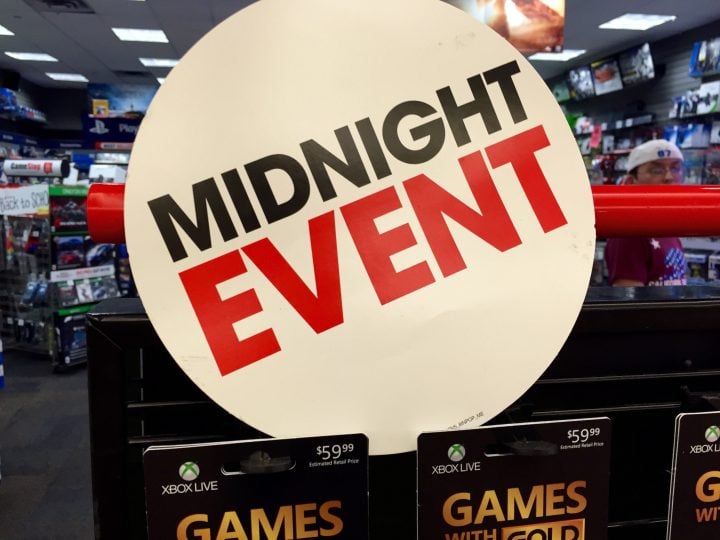 Of course, most Wal-Mart locations are open all night. You should be able to walk into a store and pick up a copy of either game after midnight local time there.
Best Buy took Pokémon Sun and Moon pre-orders, but it's not staying open past midnight to hand out copies. At least, it's video game events page on BestBuy.com doesn't show any of its stores staying open late. As such, shoppers there will need to wait until their stores open tomorrow morning to get the game.
Pokémon Sun and Moon Release Date Deals
GameStop's boost in trade-in value is one of the best Pokémon Sun and Moon deals around, it's also the best excuse to pre-order the game you'll find around.
Anyone that trades games or accessories towards the purchase of either of the game gets a 40% boost in trade-in value when applied toward their pre-order. The deal ends when the game launches. The retailer won't have savings like that tomorrow.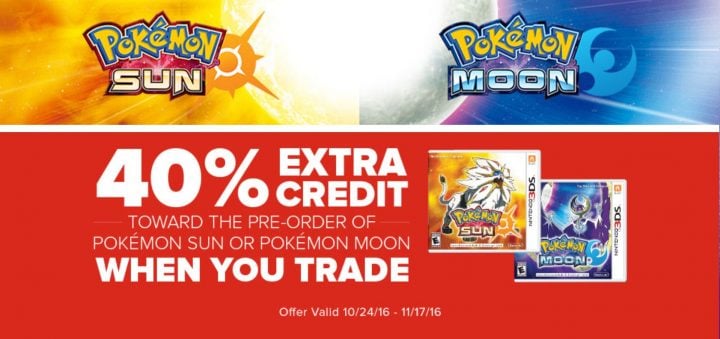 Additionally, it's a good idea to keep the savings programs of two other retailers in mind too. Best Buy's Gamers Club Unlocked gets shoppers that purchase a physical copy of the game 20% off. The same goes for those that subscribe to Amazon's Prime service. If you've already got either, consider taking advantage of that savings.
Read: Pokémon Sun and Moon Deals: All the Ways You Can Save
Pokémon Sun and Moon Z-Ring & Guides
Finally, remember to check out some of the other Pokémon Sun and Moon related items that are launching alongside the game.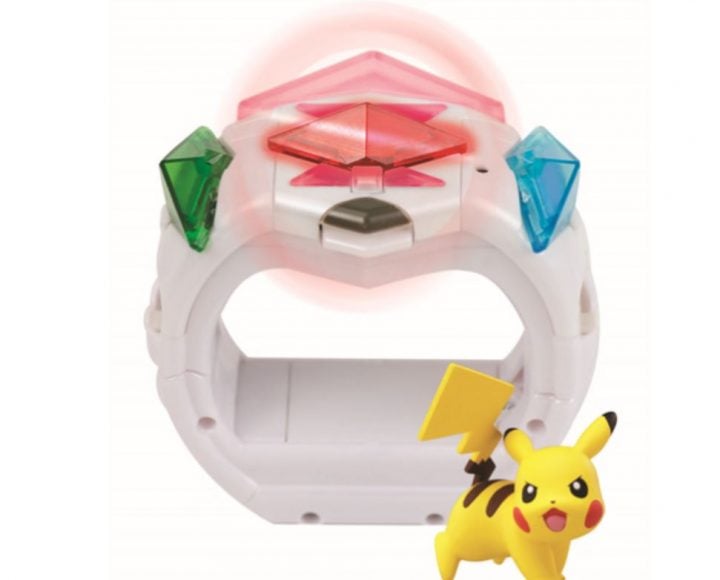 Read: Pokémon Sun and Moon Buying Guide
If you're picking up your copy at a GameStop, you'll have plenty of time to check out these other items; the company is big on pushing extras when shoppers come out to get their games on release night. Expect collector's edition journals and the Z-Ring add-on from Tomy. You can decide if you want to purchase both of the games together in a dual pack.
Good luck with the Pokémon Sun and Moon release date.
24 Exciting Pokémon Sun and Moon Feature Details
Pokémon Sun and Moon Release Date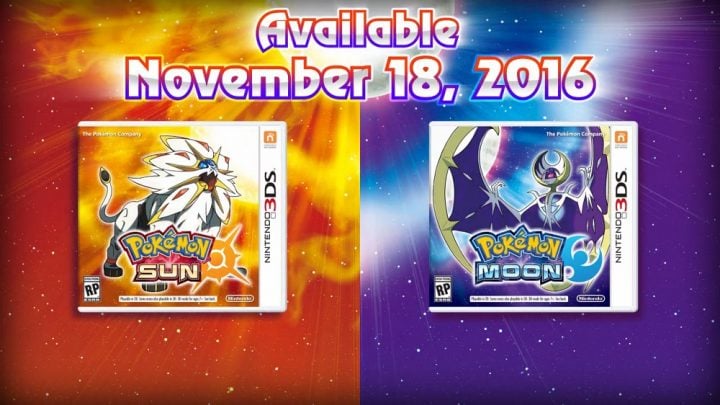 Rather than come out and immediately announce the Pokémon Sun and Pokémon Moon release date, Nintendo opted to tease users along. It wasn't until today that we learned more about the upcoming role-playing game and when we can expect it on store shelves. The Pokémon Sun and Pokémon Moon release arrives in North America on November 18th. Europe will get the game on November 23rd.

This article may contain affiliate links. Click here for more details.