PS4 Black Friday 2014 Deals Include GTA 5, Last of Us Remastered
The first true PS4 Black Friday 2014 deals are appearing and the first doorbuster is listed for Thanksgiving day with $120 in savings that includes a free copy of the PS4 GTA 5 release and The Last of Us Remastered.
In our PS4 Black Friday 2014 deals predictions we shared that you can expect to see some consoles for $50 to $60 off, but that you might see bigger savings with bundles.
For shoppers who aren't against buying things on Thanksgiving, Dell offers an impressive PS4 Black Friday 2014 deal that is a perfect fit for users looking for two of the best games on consoles in recent history.
This PS4 Black Friday doorbuster is online only, so you don't need to spend any time waiting in lines or leaving your family. Just open your computer or smartphone up shortly before 6 PM Eastern on Thanksgiving to buy this PS4 deal.
Read: PS4 Review
Dell may seem an unlikely place to find a PS4 deal, but the company routinely offers $25 off new video game releases and they are going big on Black Friday 2014 deals according to the ad scan posted on BFads.net.
The PS4 Black Friday 2014 bundle includes the same PS4 that is on store shelves right now, but with it you get the PS4 GTA 5 game that arrives on store shelves the week before and you get The Last of Us Remastered. Both of these games offer a lot of replay-ability, but they aren't great for young kids.
If you are buying the PS4 Black Friday 2014 deal for your kids, you can sell these games or trade them in and get $60 or more in combined value. If you sell them outright you may be able to get closer to $100 for the games, which you can use to buy a bigger library of used games.
For older games, this is a great starting set of games, and if you upgrade form a PS3 and purchased the digital copy of Call of Duty: Advanced Warfare, you get a free upgrade to the PS4 version.
With $120 in added value from recently released PS4 games, this is an excellent PS4 Black Friday 2014 deal, and there is no need to stand in line for it. Keep in mind quantities may be limited and sometimes web sites cannot handle the load from shoppers trying to buy big deals like this, so it's smart to have a backup plan from other PS4 Black Friday 2014 deals.
Read: Walmart Black Friday 2014 Deals Predictions
You can expect to see other PS4 Black Friday 2014 deals arrive with bundles including recent releases and older games. Don't assume the value listed for the game in the ad is the best deal. It's a good idea to search online and see how much the game is selling for to figure out if you are looking at $120 in savings or $70 in savings from a bundle.
We'll likely see some retailers offer cash discounts or gift cards when you buy just the PS4 on Thanksgiving day or Black Friday 2014. The best options will be to look online and avoid going to stores unless there is a guaranteed in stock deal.
Top PS4 Games to Buy in 2014
Call of Duty Advanced Warfare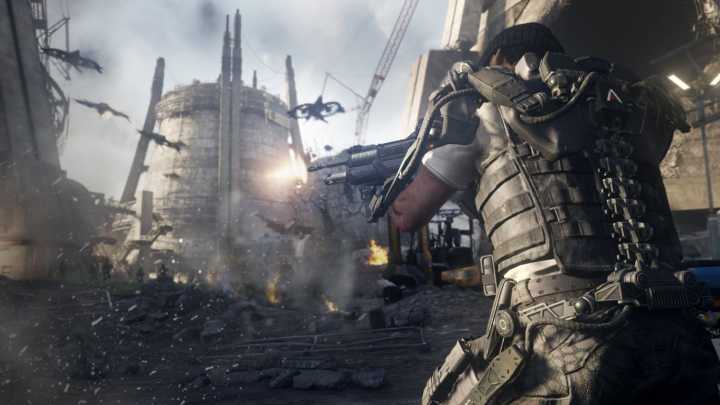 PS4 Call of Duty Advanced Warfare Details:

Call of Duty Advanced Warfare Release Date: 11/4/14
Pre-Order Bonus: Brass exoskeleton, EMP Weapon
Special Editions: Yes
Exclusive: No

Call of Duty Advanced Warfare is one of the top PS4 games to buy in 2014 not only becuase it is a new Call of Duty game, but because it is ready for a PS4 lacking fun shooters.

Yest it arrives into a fall filled with Destiny, but Killzone didn't live up to the excitement and there is no Titanfall for PS4.

Instead gamers get this Kevin Spacey filled Call of Duty Advanced Warfare release that delivers a super soldier with smart weapons and access to technology like never before including drones and hoverbikes.

Call of Duty Advanced Warfare Gameplay Video