PS4 Deal Cuts Price by $40 for Limited Time
A new PS4 deal drops the price of a brand new PS4 to $360 without the need for any coupons or hoops to jump through. The only limit is that you need to act fast because this PS4 deal is almost over.
This is a brand new, unused PS4 that you'll need to buy on eBay, but it comes from Buy, which is an authorized Sony reseller with great feedback so you don't need to worry about getting a broken or fake PS4.
In a store the PS4 will cost you $399 plus tax, but if you get in on this PS4 deal you can walk away with a PS4 for $359.99 and free shipping to the U.S.
There is a 30 day money back guarantee, and if you want to use the savings on a warranty you can buy a 3-year SquareTrade warranty for just $53, so you are only spending a little more than if you purchased in a store.
The only catch we can find to this PS4 deal is that you cannot ship to a PO Box or APO/FPO with your order and it ends at 11 AM Eastern today.
Read: PS4 Review
The PS4 is less than a year old and while this isn't the first PS4 deal we've seen it is the best and it may be a while before we see a repeat.
The next big time to expect a PS4 deal is around Black Friday when stores will likely offer gift card deals and game bundles as doorbusters and limited online sales. If you want to upgrade now, before all of the exciting games like Destiny, GTA 5 for PS4 and all the rest of the fall games arrive this is a deal you need to check out.
To buy this PS4 deal, head to eBay and use the Buy it Now button. This is not an auction, so the price isn't going to spike at the last minute.
Unless you pay extra, you can expect the PS4 to arrive in 11 to 14 business days, which means you'll get it in time for FIFA 15 and to join in on the Destiny release a little late. There are options for faster delivery if you want to pay for it.
Read: PS4 vs Xbox One – What Matters in 2014
The Sony PlayStation 4 is in the lead in the new console race, and Sony is spending big money to secure exclusive add-ons for games like Destiny and others, but there is no EA Access like on the Xbox One that lets gamers pay $5 a month to play EA games five days early and get access to older games.
A PS Plus membership does allow PS4 owners to play some games for free and to jump on PS4 game deals to build a library of games without breaking the bank.
Check out the top PS4 games to buy in 2014 below to get an idea of what's coming in the next several months.
Top PS4 Games to Buy in 2014
Call of Duty Advanced Warfare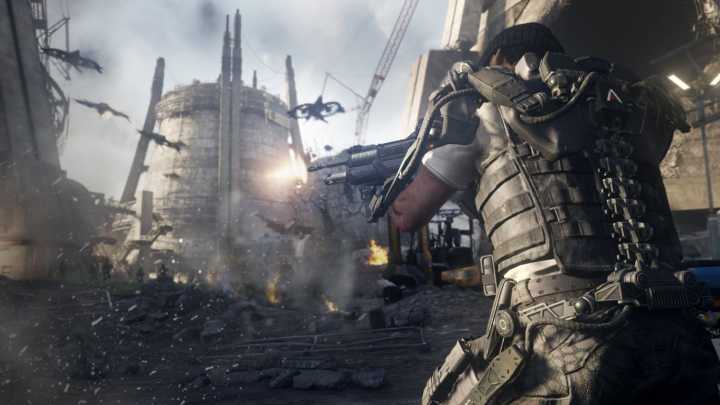 PS4 Call of Duty Advanced Warfare Details:

Call of Duty Advanced Warfare Release Date: 11/4/14
Pre-Order Bonus: Brass exoskeleton, EMP Weapon
Special Editions: Yes
Exclusive: No

Call of Duty Advanced Warfare is one of the top PS4 games to buy in 2014 not only becuase it is a new Call of Duty game, but because it is ready for a PS4 lacking fun shooters.

Yest it arrives into a fall filled with Destiny, but Killzone didn't live up to the excitement and there is no Titanfall for PS4.

Instead gamers get this Kevin Spacey filled Call of Duty Advanced Warfare release that delivers a super soldier with smart weapons and access to technology like never before including drones and hoverbikes.

Call of Duty Advanced Warfare Gameplay Video

This article may contain affiliate links. Click here for more details.