Lack of PS4 Tomb Raider Ticks Off Fans, But There's Hope
There will be no PS4 Rise of the Tomb Raider release this year because Microsoft just pulled off a deal to make the new Tomb Raider an Xbox One Exclusive. This did not sit well with fans who instantly took to Twitter and Facebook to vent about the lack of a new PS4 Tomb Raider game.
Buried in the anger and early news comes new information that suggests there will be a PS4 Rise of the Tomb Raider game, but PS4 owners will need to wait to play the game.
Tomb Raider is a long running franchise that started out on PlayStation and other platforms, and was an exclusive on the original PlayStation. Later versions arrived on other consoles, but if you wanted to play Tomb Raider 2 the PlayStation was your only option.
Although not limited to one console forever like Mario, Lara Croft and the Tomb Raider franchise have a loyal following of fans. Upon hearing that there would be no PS4 Rise of the Tomb Raider release due to Xbox One exclusivity these fans took to social media to complain.
Some fans are shocked by the Xbox One Tomb Raider exclusive news, but still civil.
What's this I hear about the new Tomb Raider being Xbox 1 exclusive? I've been playing these games for over 15 years, wtf? More crap news :(

— Debbie T (@DebWonda) August 12, 2014
https://twitter.com/papierhache/status/499194010708508673
https://twitter.com/DylserX/status/499205748841136128
Rise of The Tomb Raider *o*
Why only on Xbox One? :( #LaraCroft pic.twitter.com/oXmoirxXyS

— Ilhem (@IlhemLM) August 12, 2014
https://twitter.com/PianoWalrus/status/499208488867069952
@tombraider Why are you doing that to your fans? :(

— John Doe (@N7JohnnyDoe) August 12, 2014
I'm actually gutted that Rise of the Tomb Raider is an XBox One exclusive. I've been so excited :(

— Spider-Fran (@FranPan) August 12, 2014
Other fans were not as understanding sharing the news on Facebook with complaints about the deal.
Larry Brown calls the Rise of Tomb Raider exclusive a"crock of BS." and Lúcia Correia describes the situation as, "*expletive ridiculous." Amir Tamannai sums up most responses asking, "What the F**k!?!?"
Darrell Gallagher Head of Studios at Crystal Dynamics explains the decision telling fans, "This doesn't mean that we're walking away from our fans who only play on PlayStation or on PC." Gallagher explains the decision outlining the reason as  Microsoft's backing, which is a nice way of saying, money. 
"Our friends at Microsoft have always seen huge potential in Tomb Raider and have believed in our vision since our first unveil with them on their stage at E3 2011. We know they will get behind this game more than any support we have had from them in the past – we believe this will be a step to really forging the Tomb Raider brand as one of the biggest in gaming, with the help, belief and backing of a major partner like Microsoft."
The anger is understandable, but there is some good news that didn't make it into the initial reports. The Xbox One Tomb Raider exclusive may not be a complete exclusive. We're starting to hear that the exclusivity is only for the holiday 2015 season. Geoff Keighley reports the official wording of the announcement, which offers hope for a PS4 Rise Tomb Raider Release in 2016.
Spoke to many people here at Xbox press conference on Tomb Raider. Official line is that the game is "exclusive on Xbox for holiday 2015."

— Geoff Keighley (@geoffkeighley) August 12, 2014
We'll certainly learn more as we get past this holiday season and into the 2015 release cycle, but it's clear fans are upset and with a long history of PlayStation and Tomb Raider there's at least a chance the game will arrive on the PS4.
Top PS4 Games to Buy in 2014
Call of Duty Advanced Warfare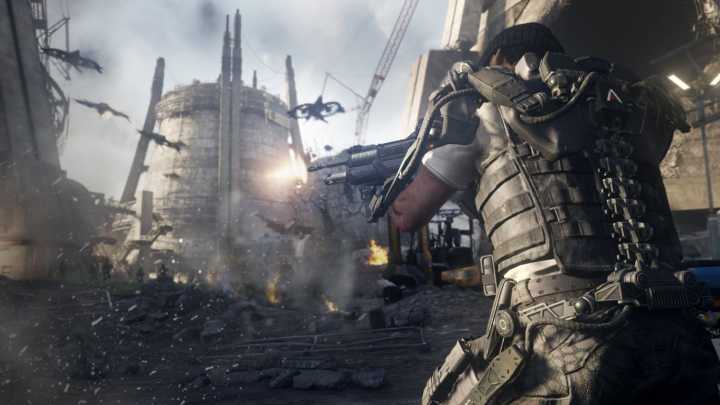 PS4 Call of Duty Advanced Warfare Details:

Call of Duty Advanced Warfare Release Date: 11/4/14
Pre-Order Bonus: Brass exoskeleton, EMP Weapon
Special Editions: Yes
Exclusive: No

Call of Duty Advanced Warfare is one of the top PS4 games to buy in 2014 not only becuase it is a new Call of Duty game, but because it is ready for a PS4 lacking fun shooters.

Yest it arrives into a fall filled with Destiny, but Killzone didn't live up to the excitement and there is no Titanfall for PS4.

Instead gamers get this Kevin Spacey filled Call of Duty Advanced Warfare release that delivers a super soldier with smart weapons and access to technology like never before including drones and hoverbikes.

Call of Duty Advanced Warfare Gameplay Video

This article may contain affiliate links. Click here for more details.