Real Racing 3 Apple TV Release: What You Should Know
The new Apple TV already has a handful of games to choose from, but the latest addition is Real Racing 3. Here are some things you should know about the Real Racing 3 Apple TV release.
If you're not familiar with the Real Racing series, it's racing simulator game that's been available on iOS and Android for several years, and it's arguably the best racing simulator mobile game we've played.
Read: 6 Exciting New Apple TV Games
Of course, there are a ton of racing games out there for iPhone and Android, but many of them aren't true simulators, and Real Racing does its best to give you this on a mobile device.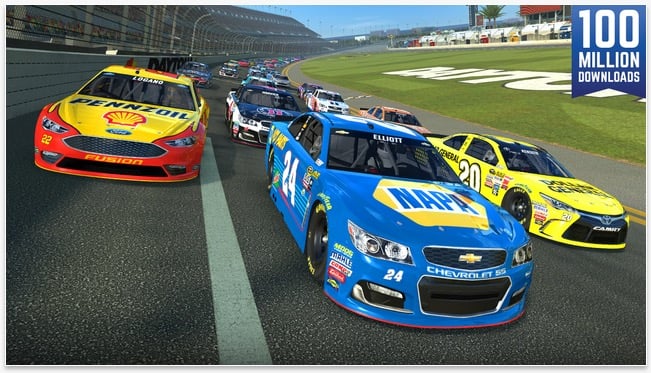 Unfortunately, while Asphalt 8 has been available on the Apple TV for a while, there hasn't been a true racing simulator available for the new set-top box, until now. Electronic Arts has released an Apple TV version of Real Racing 3, as well as updated the game with a new Nascar mode of sorts.
Here are some things you should know about the new Real Racing 3 Apple TV release, as well as the new features in the latest update.
Real Racing 3 Apple TV Features
While gamers have been able to play Real Racing 3 on their living room TV, it required AirPlay and using your iPhone or iPad. However, the game is now available right on the new Apple TV and doesn't require your iOS device.
The Apple TV version of the game comes with the same great features of the mobile game, but perhaps the biggest feature to come to the Apple TV version is split-screen multiplayer called Party Play, allowing you to play with remotely with friends over the cloud.
The game is played using your Apple TV remote and taking advantage of its motion sensors by turning it sideways and using it as a steering wheel. Real Racing 3 also works using a third-party Apple TV-approved game controller, which will give you closer to a gaming console experience.
Real Racing 3 Nascar Update
On top of the new Apple TV support, Real Racing 3 is gearing up for the Daytona 500 with a big update that brings Nascar into the game.
To celebrate the biggest Nascar race of the year, Real Racing 3 has added a new track to its repertoire. Daytona International Speedway is now playable in the game and you can choose from a handful of different Sprint Cup cars and drivers, including Joey Logano, Chase Elliott, Kevin Harvick, and Matt Kenneth.
Furthermore, from February 16 through March 4, you can compete in the Daytona 500 in an effort to unlock four NASCAR Sprint Cup cars.
This is the first time that Real Racing has featured Nascar, as the game has usually focused on other international racing series, like Le Mans. Nascar doesn't receive a whole lot of attention in various racing games, so it's certainly nice to see stock car racing getting its own spotlight in Real Racing 3.
9 Awesome Apple TV Accessories
Griffin Survivor Play
The Griffin Survivor Play is a protective sleeve for the Apple TV remote that can save it from potential damage.
The Survivor Play is geared toward Apple TV gamers that will likely use the remote as a game controller, providing maximum grip so that the remote doesn't fall out of your hands, especially when you're playing a game that requires you to fling around the remote to activate the motion sensors inside.
The protective sleeve is made out of silicone and has extra-thick grips on the back to make it easier to hold. It's priced at $19.99 and is available now.