Samsung Android Pie Release: 6 Things to Expect & 3 Not To
We expect Samsung's first version of Android Pie to roll out in the near future.
Some Galaxy users are still focused on Android Oreo and rightfully so. Samsung's Android Oreo update is still pushing out and the company will likely push out several new updates this fall.
But now that many Galaxy users have successfully upgraded to Android Oreo they're wondering about the future and what's coming next.
You can expect new Android 8.1 Oreo updates and monthly security patches. You can also expect an Android 9.0 Pie update for some, but not all, Galaxy smartphones and tablets running Android Oreo.
Google's Android Pie operating system is a substantial update and it delivers an assortment of changes including new features, enhancements, tweaks, and fixes. It's an exciting upgrade for Google Pixel users and it should be an exciting upgrade for Samsung Galaxy users as well.
Many Galaxy users are curious about what might happen down the road so we've put together an early Samsung Galaxy Android Pie roadmap.
In this early guide to the Samsung Galaxy Android Pie update we'll take you through some things you should, and shouldn't, expect from the update and the release.
Some parts of the release are extremely difficult to predict at this stage, but we can make some educated guesses using the Samsung's standard release protocol for Android updates.
Expect Android Pie to Arrive a Little Faster Than Oreo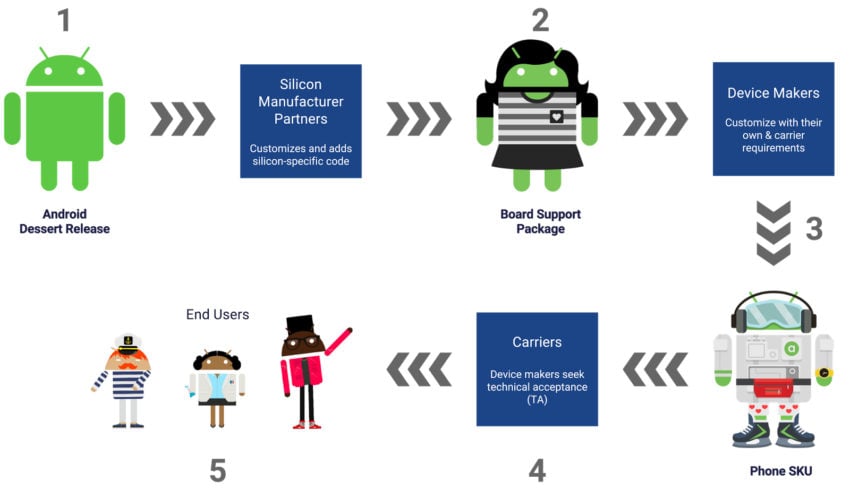 It's not on board the Galaxy S8/Galaxy Note 8/Galaxy S7 Android Oreo updates, but Google's Project Treble, one of Oreo's key ingredients, is on board the Galaxy S9 and Galaxy S9+ and that's excellent news.
In a nutshell, Project Treble's goal is to help cut down the amount of time it takes for companies to release major Android software updates. This is obviously a huge problem with Samsung and its Galaxy smartphones.
Android Oreo started rolling out for Pixel and Nexus devices back in August, 2017. Samsung's first Android Oreo update landed in early 2018.
According to Google "Project Treble separates the vendor implementation (device-specific, lower-level software written by silicon manufacturers) from the Android OS framework via a new vendor interface." A formal vendor interface doesn't exist in earlier versions of Android .
So what does Project Treble mean for Galaxy devices like the Galaxy S9 that come with Project Treble? It means Samsung will be able to release Android updates without having to wait for its chip manufacturers (Qualcomm) to send an update. And that could translate into a much faster Android Pie upgrade for the Galaxy S9 and other Galaxy devices.
Qualcomm's also promised "fast commercial availability of the next version of Android." The company says that by "having early access to Android P, Qualcomm Technologies optimized its software on Snapdragon 845, 660 and 636 Mobile Platforms to ensure readiness for OEMs to upgrade to Android P at the time of launch." The Galaxy S9 and Galaxy S9+ both utilize Qualcomm's Snapdragon 845 chip.
Samsung has reportedly started working on the Galaxy S9 Oreo update in most regions around the world, a sign that a release could indeed come faster than Oreo. An early version of the update has also leaked out for the Galaxy S9 and Galaxy Note 9.
We'll believe it when we see it, but the days of getting Android updates months and months after Nexus and Pixel devices could end with Android 9.0 Pie.

As an Amazon Associate I earn from qualifying purchases.