10 Common Galaxy Note 5 Problems & How to Fix Them
The Samsung Galaxy Note 5 is nearly three years old and still going strong, but it's not perfect. Now that it's 2018 the phone is showing its age and owners are experiencing more and more problems. Here we'll detail some of the most common Galaxy Note 5 problems and how to potentially fix them.
We know a new Galaxy Note 9 is on the way, but that doesn't mean you should give up on the Note 5. It's a great phone, and we're even hearing reports that it'll even get the Android 8.0 Oreo update. Breathing new life into Samsung's older phablet.
Read: 45 Galaxy Note 5 Tips & Tricks
There are a lot of potential problems Galaxy Note 5 owners will run into. With it being so old you might experience fingerprint scanner problems, random reboots, GPS problems, wireless charging issues and more. Not to mention random problems after years of software updates. We'll address all that and more below.
For starters, you can solve almost any small problem by simply rebooting the phone. A step most owners don't do nearly enough. Simply press and hold the power button and hit reboot. This usually fixes signal issues, text messages not coming through, slow performance, battery problems and other weird issues.
You'd be surprised how often a quick reboot will get the phone running smoothly again. That said, more serious problems take some extra effort. Here's how to get started.
Fingerprint Scanner Problems
A problem we've heard from the first few months, to now three years later, is over the fingerprint scanner. It's something every phone released deals with. Whether it's not accurate, you're getting errors, or something else. Either way, we can help.
Read: How to Fix Galaxy Note 5 Fingerprint Scanner Problems
The post above goes over tons of possible scenarios about the fingerprint scanner not working, being inaccurate, or other issues.
If users are experiencing problems with it not being accurate and failing to read a finger, delete everything and try again. Simply head to settings > personal > lockscreen & security > Fingerprints > tap your finger to allow access, and long press any of the saved fingerprints and tap "Remove". This will delete any saved fingerprints, and let you start over and add them again.
Some forum members suggest doubling the same finger in the system for a better chance of success. Personally, this just makes the system more confused, so we recommend only doing one entry for each finger. Move it multiple different directions and angles during setup for the best result. If you have a case or a screen protector, re-learn your fingerprint after it's installed for the correct angle you'll be using it most. This will yield the best results.
If you still have problems make sure it's clean and scratch free. Sometimes it can struggle for a minute, but usually works after that.
Note 5 Battery Life Problems
The Galaxy Note 5 still has pretty good battery life, but these days it's starting to show its age. If so, here are a few tips to try.
First off you'll want to make sure no rogue apps are draining the battery. Head into settings > system > battery and see what's at the top of the list. If there's a random app there, delete it, or open it and make changes so it can't drain the battery like it is. Typically the Android system, Google services, screen, or games are at the top. If it's something else, that could be the problem.
Try rebooting the phone, as something could be keeping the phone on and a quick reboot will clear things out. Also, close unused apps that are big by following this guide.
Read: 5 Best Quick Chargers for the Galaxy Note 5
Additionally, after years of updates and changes the phone might just need a fresh start. That's where it's helpful to do a factory data reset and start it over fresh.
Galaxy Note 5 GPS Problems
Some users have reported Galaxy Note 5 GPS problems, which could also be a part of the above battery life issues. The best situation here is to turn off GPS when you don't need it, or head into settings > location > and for "locating method" select "WiFi & Mobile networks". This will turn GPS off for apps like Facebook, FB Messenger, Google Maps and more and save battery life. Turn-by-turn navigation may not be as accurate, so toggle it back to full mode with GPS when needed.
A few updates over the past year have aimed at fixing GPS and connectivity. At this point most shouldn't have any problems with the Note 5.
Note 5 WiFi or Connectivity Problems
Another thing we hear about a lot are WiFi issues, or connectivity and data problems. People not being able to access the internet, use Facebook, browse the web and other things. This can often by solved by a reboot, turning WiFi off and back on, or a little "quick-setting" you accidentally hit in the notification pulldown bar.
When you slide down the notification bar on the Note 5 there are tons of little icons near the top of the screen. Make sure you didn't accidentally hit Airplane mode or even the "data" button. If you did, you won't be able to make calls, send texts, or browse the web.
If you're having WiFi or Bluetooth issues it's always a good idea to reboot the phone, reboot the wireless router in your home, or turn Bluetooth off and back on. Another idea is to forget a wireless network, then reconnect, which will redo the connection and pairing and fix any issues. Same goes for Bluetooth.
Note 5 Performance Problems
After owning the device for a while, playing games, downloading apps and accepting updates things can often times start to slow down a bit. This is typically because the phone is just used too much, and often a reboot will fix it. If not, we have a few other more extreme measures that can improve performance.
Download Clean Master from the Google Play Store and clear the "cache" on the phone. Don't let this app delete photos, video, or apps, but clear the cache, then uninstall the app. Another way, which we'd recommend, is boot into safe recovery mode and clear the cache right on the phone.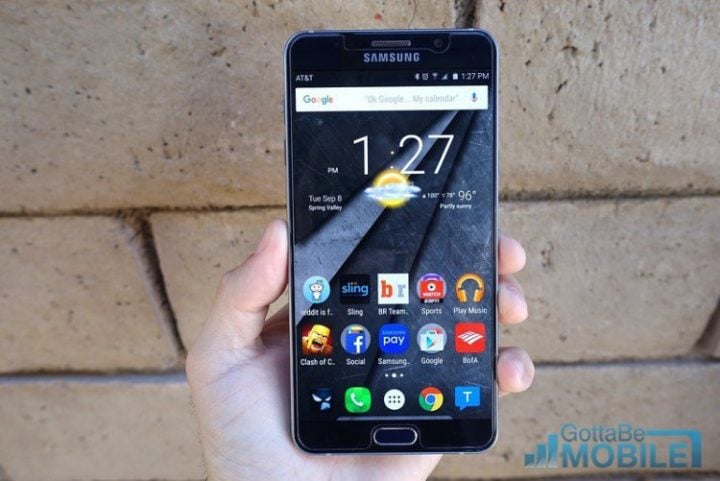 The first potential fix that we recommend is a process that will clear the cache partition. To clear the cache partition on the Note 5, follow these steps:
Turn the Note 5 off.
Press and hold Home, Power and Volume Down buttons simultaneously until the device vibrates.
When the Samsung logo appears, release them.
Tap Volume Down repeatedly until you reach Wipe Cache Partition. Select it with the power button. Select Yes. (do not wipe data, or this erases the entire phone)
Wait for the process to complete. It could take a while.
Reboot your Galaxy Note 5.
It's also a good idea to not have too many apps installed, pay attention to how much "internal storage" is leftover on the device. Since there's no micro-SD slot if you use all the internal storage, the phone could slow to a crawl. Especially now that many have owned it for over two years.
If you're running out of internal storage, here's how to free up space and make your Galaxy Note 5 run better. However, if you really want to make the phone feel fast, try this trick that takes less than one minute and has big results.
Galaxy Note 5 Camera Failure
"Warning: Camera Failed" is a notification we're hearing a few users are having problems with at times. This could be due to a wide array of things, and we have some potential fixes. A software update in 2017 made this start happening, and we still hear it occasionally in 2018.
We're hearing Samsung's own "Smart Stay" feature causes this problem. Smart Stay keeps the screen on when you're looking at it, but it's interfering with the camera somehow too.
Head to Settings > Display > and turn off Smart Stay, and then try the camera again. If it still doesn't work reboot the phone, or do a hard reset by holding down power and the home button for 7 seconds. Also, try heading into Settings > app manager > and force stopping the camera application as well.
Stuck S-Pen
Headline news surfaced during the release of the Galaxy Note 5 about people putting the S-Pen stylus in backwards, and it getting stuck. This is obviously a design flaw, and Samsung should have made it so the pen cannot go in backwards, but it can. Due to the clicking mechanism to easily click the pen in and out of the phone, if you put it in backwards it will get stuck, and likely be broken forever when you pull it out. Later they improved the design on the manufacturing floor, so most should never have this problem.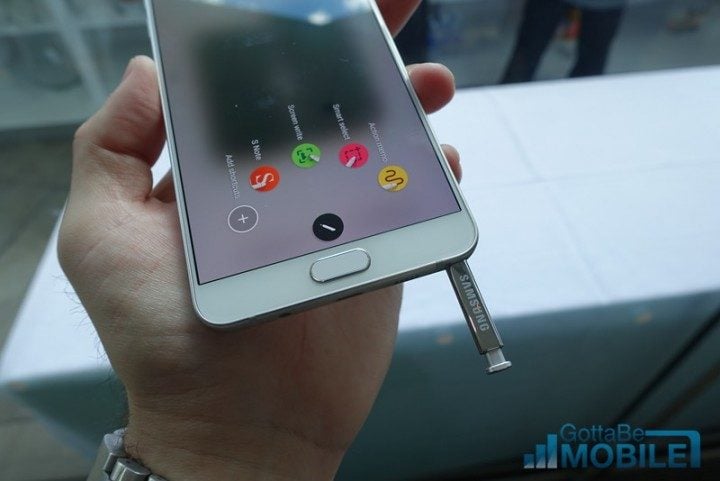 Obviously don't put the S-Pen in backward, just like you shouldn't use the wrong oil in your car or vehicle. Be careful, cautious, and don't let kids mess with the S-Pen, or you could find yourself in trouble. If the stylus goes in backwards and gets stuck, we've heard some users had success retrieving it using this guide.
Note 5 Wireless Charging Problems
The Galaxy Note 5 is one of the first phones that worked with fast wireless charging. It's a fancy feature, but still doesn't charge as fast as a wired connection like what comes in the box.
If you're dealing with problems while trying to use wireless charging we have a few potential solutions.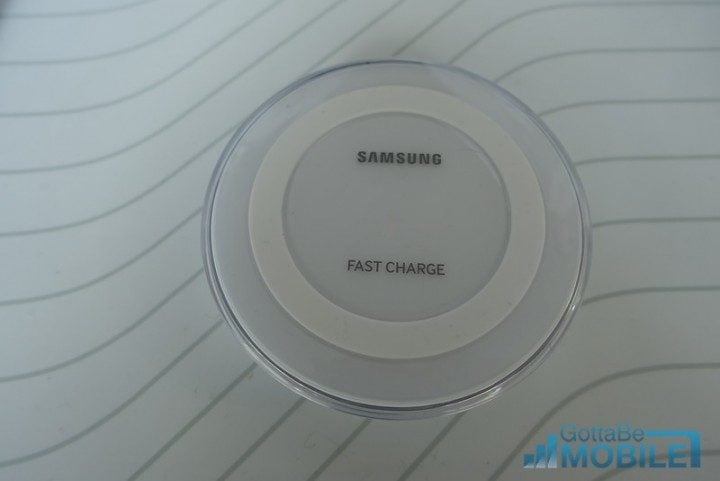 For one, only use a thin case if you want to use wireless charging. Otherwise, there's a gap between the phone and the coils in the charger, and it won't work. Or, it'll work but stop every few minutes and you'll think it's broken.
Also, make sure you bought a "fast wireless charger" that outputs 10w of power. Most regular wireless chargers are only 5w, and that's the older slow method. Even the new iPhone X only does 7.5w wireless charging. Basically, make sure you get the right type, make sure the phone is placed flat, and don't use a big case.
Galaxy Note 5 Reboot
Of course, some users may have other small problems here and there. Like screen glitches or rotation, lag, app crashes, or other minor things that can often be solved by a simple reboot. Actually, a quick reboot fixes most problems I'm asked about daily.
You can easily reboot the phone by long-pressing the power button, and then hit "restart". It will quickly turn off and restart back to working order. This will likely solve any small problem you're experiencing.
Read: How to Reset a Frozen Galaxy S7 and Galaxy S7 Edge
Also, above is another method to do a hard reset. This is helpful for a frozen or unresponsive Galaxy device, which works the same way on the Note 5. Press and hold the power button and home button, together, for 7-8 seconds until your phone vibrates and reboots.
Other Note 5 Problems & Fixes
If you're facing other types of problems feel free to leave us a comment below. Remember, most of these will go away after a reboot. We also recommend slowly uninstalling apps if you have major problems, as one might be what's causing your issues. If you find an app misbehaving, uninstall it.
If nothing else works, you have two options. Either root the phone (Android's version of Jailbreak) and flash custom software from sites like XDA Developers, or do a factory data reset. A factory reset wipes out everything and returns the phone to stock software. Basically, the way it was the day you bought it. This is what I do after every major update (and what I did after the Android 7.0 Nougat update) or if I'm having issues on a phone.
This is a last resort, and will erase everything on the phone.
To factory reset the Samsung Galaxy Note 5, go into Settings > Personal > Backup and reset. From there, select Factory Data Reset. Then just select Reset Device. It will reboot and be brand new again. Sign into Gmail, start over, and be more cautious of what you download and how you use the phone.
Updates have either fixed problems, or you've learned to deal with them. You shouldn't have to though, and hopefully, our tips are helpful. If you're experiencing a big problem or mechanical failure contact Samsung for further support. We also recommend browsing the XDA Developer Samsung forums for tips and help or visit the AndroidCentral's forums. These are two helpful resources worth looking over.

As an Amazon Associate I earn from qualifying purchases.