Samsung Galaxy S10 Release Date, Price, Leaks & News
The Samsung Galaxy S10 release date is right around the corner and here's everything potential buyers need to know. We've gathered all the latest Galaxy S10 news, leaks, pricing info, rumors and facts into one place.
If you're asking yourself, "when does the Galaxy S10 come out?" or "should I buy the Galaxy S10?" we have all the details.
The Galaxy S9 was underwhelming, but we're expecting big things from the South Korean company and all four models of the Galaxy S10. Yes, four models, including one with a flat-screen and one with a giant 6.7-inch display.
Samsung Galaxy S10 Release Date: March 8th after a February 20th launch event
What is the Galaxy S10?: Samsung's 10th flagship high-end Galaxy S smartphone
What to expect?: 3-4 phones, triple cameras, in-display fingerprint sensor & edge-to-edge displays
How Much Will it Cost?: Anywhere from $649-$999+ depending on the model
It's a milestone year and the 10th anniversary for the Galaxy S, so Samsung will be pulling out all the stops. These new devices must compete with three new iPhones from Apple, Google's powerful Pixel 3, and the latest Chinese phones with neat features like in-display fingerprint scanners.
Now that you know a few of the basics and we've answered some important questions, here are the latest Galaxy S10 details to get you excited.
Latest Galaxy S10 News (February 2019)
Where do we even begin? Leaks and rumors are everywhere for the Galaxy S10. Now that Samsung confirmed the Galaxy S10 launch event at Samsung Unpacked on February 20th, a few last-minute details are hitting our inbox. Including a leaked TV ad a day before the launch event. Here's the Galaxy S10, Galaxy Buds and more.
Then, Samsung recently confirmed the Galaxy S10 release date is March 8th, and they've already opened a Galaxy S10 pre-order and reservation system. Sign up today to get $50 in free accessories credit when it arrives, and up to $550 off if you trade-in your old phone.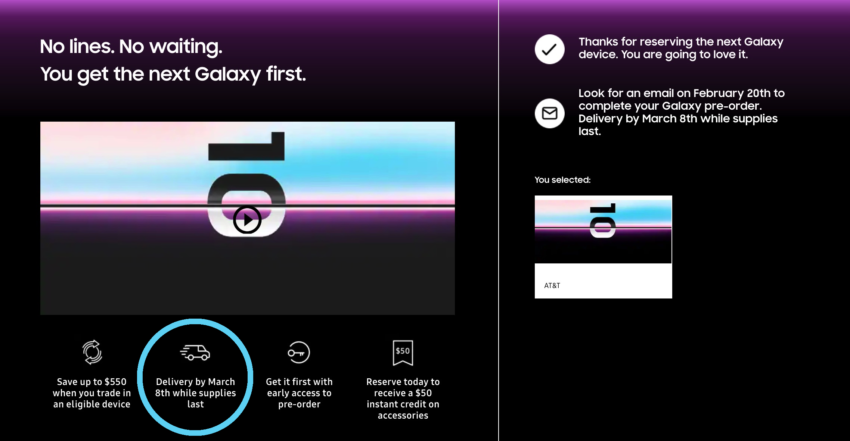 Then, on February 11th we received our best look yet at the Galaxy S10E, S10 and the bigger S10+ from famed leakster Evan Blass. Evleaks shared official press photos in high-resolution, without watermarks.
Here we see the smallest Galaxy, the S10E, along with the two regular yet bigger models. We've even received images confirming Black, Green and Pearl White for the S10 and S10+, while the smaller E model comes in Blue, Green or Yellow, in addition to Black. If you're worried about the dual camera cutout in the S10+, here's how it'll look.
Plus, and potentially even more exciting, is a new leak from Twitter suggesting the bigger S10+ will come in a few different variants, and storage sizes, with one being very premium. Ice Universe on Twitter claims Samsung will offer a 12GB model with 1TB of storage, which is insane. It'll have a scratch and shatter-resistant ceramic back instead of glass.
The Galaxy S10+ 12GB/1TB version will have a ceramic back cover. This ceramic has a special process that is not only scratch resistant but also resistant to falling, but the weight will increase. This is the most advanced version of the S10+ . There is a metallic luster.

— Ice universe (@UniverseIce) January 19, 2019
Most likely the Galaxy S10+ version sold in the United States will simply have glass on the back and come with 128, 256 or 512GB storage options and 8-10GB of RAM. Without further delay, here's everything else you'll want to know before these phones hit the streets.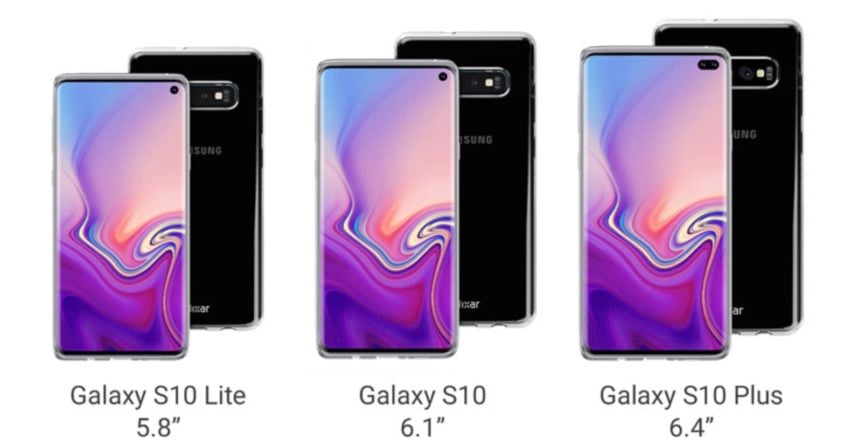 Galaxy S10: What You Need to Know (All the important stuff)
We could go on and on about a sleek new design, talk about the big curved AMOLED displays and those cutouts in the screen, or explain all of the specs, but that's all just rumors so far. The Galaxy S10 and S10+ will be Samsung biggest, fastest, and best phones ever released. And no, Samsung will NOT copy the iPhone X notch. Instead, we'll get a small cutout in the actual screen to house the camera.
The Galaxy S10 will come in three main screen sizes (5.8-flat, 6.1-inch curved and 6.4-inch curved 2k displays)
A camera cut-out in the screen will house the front-facing camera(s)
All three phones will have 2-3 rear cameras, 2K Super AMOLED displays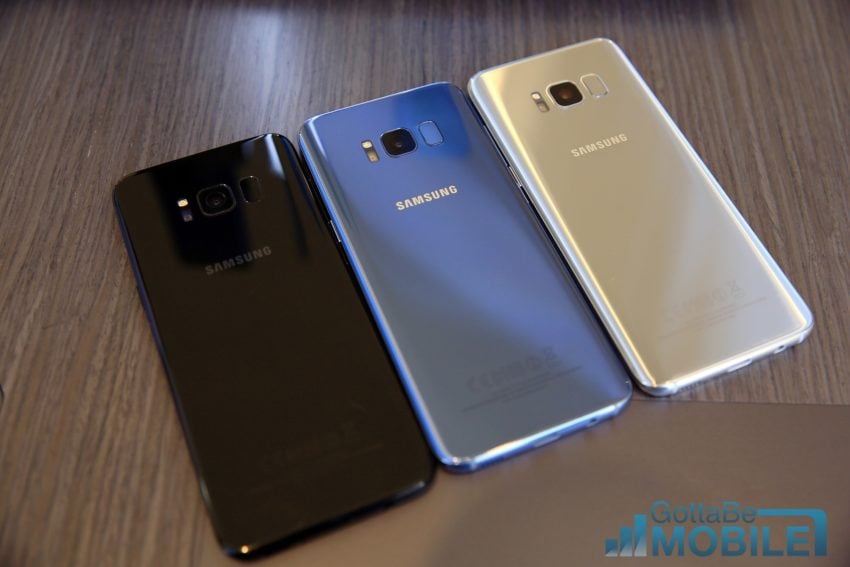 For the past four years Samsung has released two phones, then a bigger Galaxy Note later in the year. For 2019 they're going to offer an affordable flat-screen Galaxy S10E (or Lite) for those that hate curved screens, then two more Galaxy S10 phones similar to what everyone knows and loves. Then, a month or two later this year, a 6.7-inch 5G Galaxy S10 X.
The big Galaxy S10+ will have the iconic curved 6.4-inch Quad AMOLED display, dual cameras inside the screen, a bigger battery, and a unique triple camera system on the back. It's the phone you'll probably want.
Galaxy S10 Specifications
Here are some potential specs and hard numbers for Samsung's new phones, which you'll be able to buy in within the first week or so of March. This info is now confirmed.
5.8-inch Flat Screen, 6.1-inch Curved Infinity Display, & 6.4-inch Curved Quad-HD Infinity Displays (Bezel-free)
8-core Qualcomm Snapdragon 855 Processor in the US and Samsung Exynos in select regions
6-8GB of RAM and 128/256/512GB storage with microSD expansion (8-12GB RAM on S10+)
Android 9 Pie With Samsung One UI
Triple Rear Cameras: 12, 12, 16MP (Regular f/1.5 variable aperture, f/2.4 telephoto, and super wide-angle) Dual OIS, 960 FPS slo-mo, 4K, 10-scene optimizer and more
10MP Front Selfie Camera with Portrait Mode & Improved 3D AR Emoji (Dual 10/8MP front cam in S10+)
Stereo Speaker tuned by AKG
3100 mAh, 3500 mAh and 4100 mAh (S10+) batteries with Fast Charging, Faster Wireless Charging 2.0 and Powershare Reverse Wireless Charging
IP68 Dust & Water-resistance, USB Type-C, Bixby 2.0, Bixby AI, 3.5mm headphone jack
Heart-rate sensor, In-Display Fingerprint Sensor, more
As you can see, the Galaxy S10 series will be thin, sleek, yet extremely powerful and last longer than any previous generation. Multiple leaks have all but confirmed the bigger 4,100 mAh battery in the Galaxy S10+, too, which is exciting.
Samsung Galaxy S10 Price
With three different Galaxy S10 phones in 2019, Samsung could really shake up its pricing strategy. Especially considering the flat sales in 2019 and if the company wants to compete with Apple's iPhone Xr, or budget Chinese phones.
Devices like the Galaxy S8 and Galaxy S9 came in at $720, while the bigger Galaxy S8+ and S9+ are around $850 or so. That said, the big Galaxy Note 9 is $1,000. Here's what we think:
Galaxy S10 Lite – $649
Regular Galaxy S10 – $799
Galaxy S10 Plus – $899 (or more, multiple versions upwards of $1,100)
Galaxy S10 5G – $1,249 or more
My guess is the budget Galaxy S10 Lite will cost roughly $649 to take on the iPhone Xr. While the other Galaxy S10 models have prices slightly higher than previous years yet undercut the iPhone Xs and Xs Max. That said, $899-$999 makes more sense when you compare the S10+ to high prices of the Note 9 and iPhone Xs Max.
#GalaxyS10 budget-model:

Flat "Infinity-O" Display
Dual camera
Side-mounted fingerprint sensor
4+64GB / 6+64GB / 6+128GB
Snapdragon 845 or 8150
$650-750

— Ben Geskin (@VenyaGeskin1) November 12, 2018
Unfortunately, several leaks and rumors suggest these phones will be extremely expensive, with even the regular Galaxy S10 costing around $1,000. However, I doubt Samsung will make that big of a leap from 2018 to 2019. We'll know for sure soon enough.
Galaxy S10 Cameras
All the leaks we've seen so far confirm the Galaxy S10+ will come with 5 cameras. Not three or four, but five total, and the S10 X will have six. That's three on the back and two on the front. Then, the smallest S10 Lite will only have a single front and a dual rear camera setup.
Galaxy S10+ will have 5 cameras: Triple rear cameras with the main 12 Megapixel f/1.5 variable aperture camera, a 12MP f/2.4 telephoto zoom lens, and 16MP super-wide angle camera. Will feature dual optical image stabilization, 960 FPS slo-mo, 4K, etc. Dual 8 and 10MP f/1.9 front-facing cameras with 4K, portrait mode, face unlock & more.
Only 4 cameras on the Galaxy S10: Same triple rear camera array with a single upgraded 10MP f/1.9 front selfie camera.
Galaxy S10E will stick with 3 cameras: Dual 12 & 16 Megapixel rear cameras (Regular and wide-angle) and a single 10MP front selfie camera.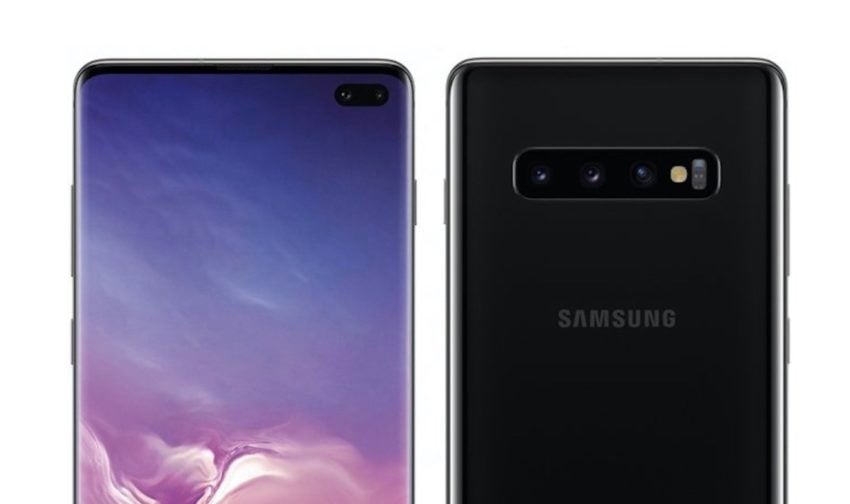 Yes, that's a ton of cameras on the new and improved bigger Galaxy S10+ coming in March. And, it'll be even more interesting to see what Samsung does with the rumored Galaxy S10 X with 5G speeds, 6 cameras and 10GB of RAM inside.
Samsung Galaxy S10 Release Date
We know the Galaxy S10 and S10 Plus will be great, so your biggest question is likely "When can I buy the Galaxy S10?". They'll ship in time to hit your doorstep on March 8th, or earlier, and be in-stores on March 8th. For those unaware, Samsung will host its annual Unpacked 2019 event in California on February 20th, earlier than any of the last several years.
Galaxy S10 February 20th launch event
Galaxy S10 Pre-orders likely start Feb 21st
The official release date is March 8th
Being it's 10th-anniversary expect a huge event in San Fransisco for the unveiling. We'll also see the curved and flexible Galaxy X at the end of the event. Possibly called the Galaxy X, Galaxy Fold, or something else.
Galaxy S10E, Galaxy S10, Galaxy S10+ Colors
Every year Samsung mixes things up when it comes to the color choices for Galaxy smartphones. And, as expected, for 2019 we're getting a few unique colors and potentially a Ceramic White Galaxy S10+. Here's what we know and the latest leaked images.
Galaxy S10 & S10+ will be available in: Midnight Black, Ocean Green & Pearl White
Expect additional "Ceramic" color variations and more colors (like Blue) later
Galaxy S10E will come in: Deep Blue, Ocean Green & Canary Yellow
Galaxy S10 vs the Competition
At this point we know almost everything about these phones. As a result, we're able to compare the Galaxy S10 to some of the most popular phones, upcoming devices, or older Galaxy S models to help buyers know what to expect, or decide if they should upgrade and more.
A Few More Galaxy S10 Leaks & Rumors
In closing, we want to share a few other Galaxy S10 leaks, rumors and news for potential buyers. For one, it looks like the Galaxy S10 will feature something known as "Powershare" or reverse wireless charging. That means owners can use the big 4,100 mAh battery inside the S10+ to recharge another phone or to quickly recharge the new Galaxy Buds wireless earphones coming alongside the Galaxy S10.
The phone basically becomes a wireless charging mat you can set other devices on, which is really neat.
Earlier this year Samsung's chief hinted at a name change but we're not sure they'll ever drop the "Galaxy" moniker. If so, what do you think they'd call these new phones? Then, a report from Korea believes Samsung will ditch the Plus with the Galaxy S11 in 2020, as the bigger model eats into the Note market share. We doubt that'll ever happen.
We're even hearing sources from Weibo mention a graphene battery, which would make the Galaxy S10 recharge faster than any phone on the market. If there's one downside to recent rumors, it's that the Galaxy S10 possibly won't charge any faster than the Galaxy S9. We heard Samsung will use some new faster-charging technology, but those reports are unconfirmed. We're hoping for faster 25w wired charging.
Either way, expect at least three all-new and improved Galaxy S10 smartphones to arrive in March following a February 20th launch event. They'll be awesome albeit expensive devices. Before you go, here's what we wanted to see from the Galaxy S10 this year.
Then, Stay tuned for the latest news, rumors, leaks, hands-on videos, reviews and more once the phones get announced.