Spider-Man PS4 Release Date, Details & Characters
Some gamers say the Spider-Man PS4 release is reason enough to get a PlayStation 4 next year.
Spider-Man PS4 is a super-hero title in development from Marvel and Insomniac Games. Insomniac Games previously worked on Sunset Overdrive, an exclusive game for Xbox One. Sony has locked out all other consoles for the new Spider-Man game. Xbox One won't get a version. Even PS3 users will need to upgrade to play the game.
Sony finally gave gamers a taste of Spider-Man PS4's combat, graphics and features at E3 2017. Here's what we know about the game's release date, pre-orders, characters and story now.
Spider-Man PS4 Release Date, Details & Characters
Spider-Man PS4 Release Date
Spider-Man PS4 Characters & Story
Spider-Man PS4 Pre-Orders and Pre-Order Extras
Spider-Man PS4 DLC and Add-On Content
Spider-Man PS4 Deals
When We'll Learn More About Spider-Man PS4
Spider-Man PS4 Release Date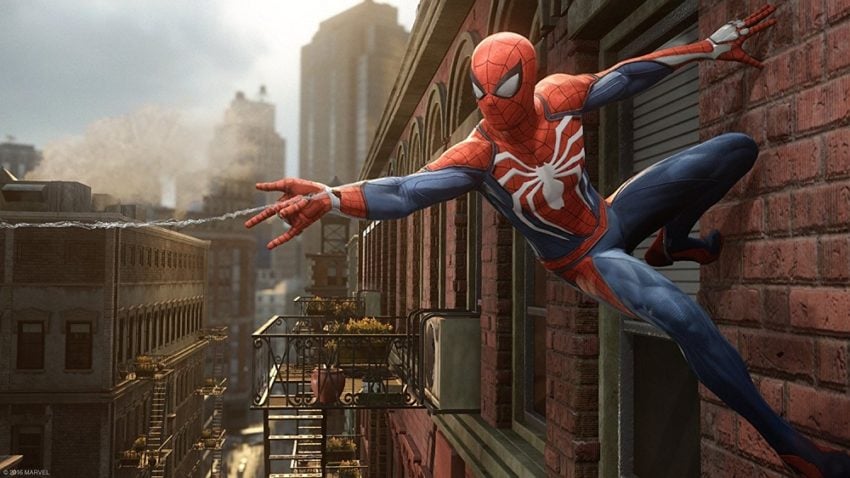 We don't have an official Spider-Man PS4 release date and its release window has changed. Executives at Marvel Digital said the game would arrive in 2017 to bolster the studio's Spider-Man Homecoming movie. Spider-Man PS4 arrives on PS4 and PS4 Pro in 2018 instead. Sony confirmed the change during its E3 2017 Showcase.
Spider-Man PS4 Characters & Story
The Spider-Man PS4 moniker is just the game's working title. Its real name is Marvel's Spider-Man. Insomniac shared that and more story details in a post on the PlayStation Blog. 
The Peter Parker in Spider-Man PS4 is 23 years old. That's a little older than we're using to seeing. Making him older allowed the studio to skip his early years in the game's story. He's developed a signature style and gadgets to aid him in his crime fighting. He's also dealing with issues he'd never struggle with as a teenager.
The game uses parkour to let players move along the rooftops of New York City. Like other versions of Spider-Man, he swings from building to building using webbing he blasts from his wrists. Web Trip Wires let him trap an enemy without physically restraining them himself.
The game's most recent trailer shows Spider-Man fighting a crew run by Mr. Negative. Players use a free-flowing combat system to battle enemies when he's on the ground. He can sneak around and take down enemies without brawling with them too.
Spider-Man PS4 Pre-Orders & Pre-Order Extras
Spider-Man PS4 pre-orders are available at some retailers and not available at others. Amazon and GameStop are both taking early purchases. The PlayStation Store, which only sells digital games for PS4, isn't taking any pre-orders. Sony may not make the game available to buy there until it has a final release date to share.
Right now, buying options are slim. The pre-orders at Amazon and GameStop are for a $59.99 standard version of the game. Big fans of the character should wait for enhanced versions with collectibles to arrive before placing a pre-order.
GameStop and Amazon don't mention any Spider-Man PS4 pre-order extras in their listings of the game. Usually, titles this anticipated have exclusive missions to lure gamers into buying a new copy at launch instead of a used copy months later.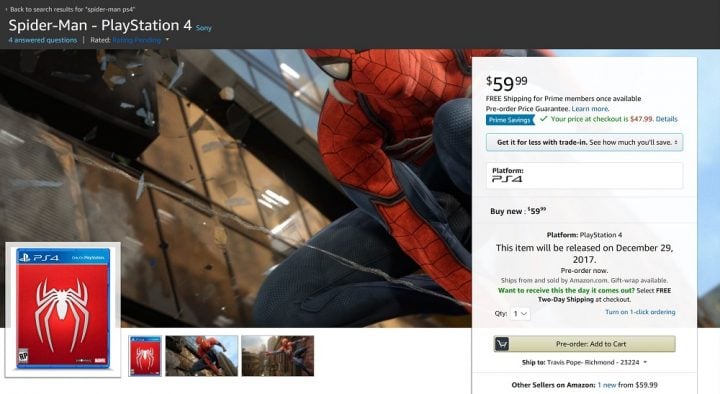 Again, the PS3 won't get the game. There are no Xbox One versions because Sony Interactive Entertainment will publish Spider-Man PS4. Everyone needs a PS4 to experience this game.
Spider-Man PS4 DLC and Add-On Content
Spider-Man PS4 for doesn't have any add-on content that we know about. Expect that to change around the time that Sony shares the Spider-Man PS4 release date. Most games have add-on content that extends their life after launch. It'd be very strange if a game as important to PlayStation as Spider-Man PS4 didn't have any DLC.
A season pass is possible. Spider-Man PS4 is an action-adventure game, and publishers usually offer season passes with them. These passes get gamers all a title's downloadable content for one price. Often, season passes offer a slight discount compared to paying for every piece of DLC separately.
Spider-Man PS4 Deals
Expect plenty of Spider-Man PS4 deals closer to release. Amazon is the only retailer offering any savings today. Spider-Man PS4 is just $47.99 to pre-order when shoppers have an Amazon Prime subscription.
When We'll Learn More About Spider-Man PS4
It's hard to predict when we'll see more of Spider-Man PS4 now that we know the game won't launch this year. It'll certainly surface at Sony's 2018 PlayStation Showcase. The company will want to update PS4 owners on the game's development and tease more of its story. Beyond that, more news could surface anytime.
5 Best PS4 Exclusive Games Coming in 2017
Crash Bandicoot N. Sane Trilogy
The Crash Bandicoot games were synonymous with the PlayStation during its formative years. Past games in the series let players use jumps and spins to take on enemies. Long levels offered combat, crates and fruit that players needed to collect. There are three games in the series.
Crash Bandicoot N. Sane Trilogy includes all three older games. It has Crash Bandicoot, Cortex Strikes Back and Crash Bandicoot Warped. The original experience of all these games are there, but developer Vicarious Visions has added in a checkpoint system and a manual save system across all the games in the trilogy. Checkpointing ensures that gamers don't lose progress when they forget to save. Crash Bandicoot N. Sane Trilogy has upgraded audio and 4K visuals to along with the updated saving features. This game arrives for PS4 on June 30th for $39.99.

[ Buy Crash Bandicoot N. Sane Trilogy from Amazon for $39.99 ]