Star Wars: Battlefront Beta: 5 Things You Need to Know
The new Star Wars: Battlefront beta offers a chance to play one of the most anticipated games of the year before the physical release. That's right, in 2015 you get Star Wars: Battlefront and you get the new Star Wars VII The Force Awakens movie.
Star Wars: Battlefront is a new shooter from EA and LucasArts that combines the Star Wars universe with a shooting and vehicles in a game similar to Battlefield style games. The game spans Endor, Hoth, Tatooine and Sullust in ground and air vehicles and with an array of weapons and special powers.
EA and LucasArts confirmed the arrival of the Star Wars: Battlefront beta that allows gamers to play through an epic multiplayer battle in one of the most iconic settings in the game.
You can pre-order Star Wars: Battlefront for $59.99 and there is a special edition for $69.99 that includes five special in-game items. If you are looking to upgrade to a new console to play there is a Darth Vader PS4 that will allow you to play on a console complete with the Vader on the cover and a custom controller. Unfortunately this will not be on store shelves in time for the beta.
The Star Wars: Battlefront release date is November 17th, just a few weeks ahead of the Star Wars VII: The Force Awakens release date and there is themed DLC coming near the movie's arrival.
Here's what you need to know about the Star Wars: Battlefront beta.
Star Wars: Battlefront Beta Release Date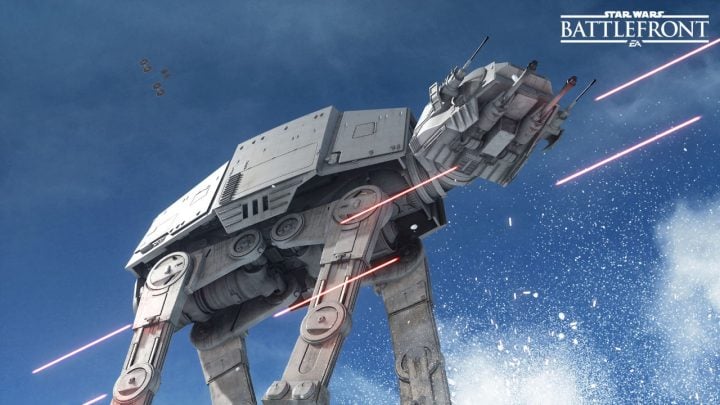 The Star Wars: Battlefront beta release date is in October. We don't have any more exact timing available, but the odds are good that this is coming early in the month.
EA describes the Star Wars: Battlefront beta as, "a technical test," that will allow 40 players to fight on the same map. The purpose of these types of beta tests are to figure out if weapons and gameplay need tuning and to stress test the servers.
Players will be able to use the companion features on the Star Wars: Battlefront website, but the companion apps for iPhone and Android will not be available until the Star Wars: Battlefront release date in November