Brawl Stars Release: Everything You Need to Know
Supercell's hit new game Brawl Stars is finally available. From the developers of Clash Royale and Clash of Clans, is a brand new competitive real-time 3v3 battle royale style top-down shooter game. It's like Clash Royale, Overwatch and Fortnite all rolled into one. After months of waiting, the game arrived on December 12th.
The free-to-play game, Brawl Stars, was quietly announced back in June of 2017. Yes, that's over a year and a half ago. After nearly two years of testing the game was released globally on December 12th.
This is an exciting new game that just received a huge December update. Delivering a new Brawler named Leon and more. If you're excited to play and just getting into the game, here's what you need to know. We'll go over the 3v3 shooter style, the "battle royale updates", characters, game modes, and more.
Supercell started testing Brawl Stars in June of 2017
In November, after a year of testing, they confirmed a global launch
Brawl Stars got released around the globe on December 12th
Supercell has successfully launched several different games for Android and iOS. Starting with Hay Day, then Clash of Clans, Boom Beach and more recently Clash Royale. Each game is wildly successful, with Clash of Clans still being one of the highest grossing mobile games on the planet.
Brawl Stars Global Release Date
It's finally official. Brawl Stars launched on both Android and iOS on December 12th. After a long 15-month testing phase, a complete redesign and tons of changes, it's finally here.
WE'RE GOING GLOBAL!!!!!!!!!! https://t.co/skk15Wh2R7

— Brawl Stars (@BrawlStars) November 14, 2018
Most of the gaming community thought the title would go global (get released around the world) on the 1-year anniversary. Which, of course, was back on June 15th, 2018. That didn't happen. Instead, they continued testing for several months to get everything perfect, and now it's ready.
Download – Brawl Stars for iOS 
Download – Brawl Stars for Android 
Not surprisingly, in less than 24 hours Brawl Stars hit #5 on the top games chart for iOS, #2 trending on Android. Not to mention had well over 5 million downloads on Android and even more for iPhone.
What is Brawl Stars?
The best way to explain Brawl Stars is to consider it a MOBA title, which stands for multiplayer online battle arena. Players will participate in real-time 3v3 battles using one of several different characters, each with their own unique hero abilities and attack styles.
Read: 10+ Brawl Stars Tips & Tricks for Beginners
There are multiple game modes, achievements, leaderboards and more. It's like a top-down cartoonish battle royale 3v3 game.
Hero-based combat games like DOTA or League of Legends come to mind, although Brawl Stars has a friendly look and feel full of cartoon graphics. Like any MOBA title, Brawl Stars has different game modes to enjoy.
We've seen several updates over the last 12 months that changed the entire game. From balance changes, how the game looks and feels, new game modes, hero changes and more. The December update gave the game a neat 3D look and added a new character, Leon. We're expecting a few more small updates this month along with the release, then at least one update a month in 2019.
Legendary Brawler Leon will arrive with the next update.
But blink and you'll miss him – because his Super is invisibility! pic.twitter.com/cGdo867jiB

— Brawl Stars (@BrawlStars) December 3, 2018
Each team consisting of three players battle another team of three in the arena. The goal is to take out the enemy with any of the 15+ characters while collecting gems, crystals or stars along the way for upgrades and skins. You can also destroy the enemy mines to win the battle, or kill all three players. This, of course, depends on the game mode being played. Not to mention some of these modes or game rules may change when the game is released on December 12th.
Brawl Stars Game Modes
Last year during the initial launch, there were four main game modes. These are the initial game modes, although they likely changed in the last 12 months. And, they might change again before the game goes public. It's still in a limited soft launch beta testing phase.
Bounty: Collect stars for your team by eliminating opponents, but be careful not to let them pick you off. The team with the most stars at the end of the match wins!
Smash & Grab: Collect Crystals from the center of the map, while fighting the opposing team. The first team to collect 10 crystals and hold onto them wins.
Heist: Crack the safe protected by the opposing team, or defend your valuables from would-be safecrackers. You have a couple of minutes to determine who leaves with the loot!
Showdown: The rowdiest rumble! 10 players get dropped into a slowly shrinking arena. Can you be the last Brawler standing?
Players will be able to collect coins, Elixir and chips to unlock new Brawlers. You can do upgrades, get new skins, and plenty of other personalization. You can battle solo, or play with friends. Instead of joining a clan like other Supercell games, you'll be able to join a Band of Brawlers to battle for the top spot. Climb the leaderboards, complete achievements and become the best Brawler.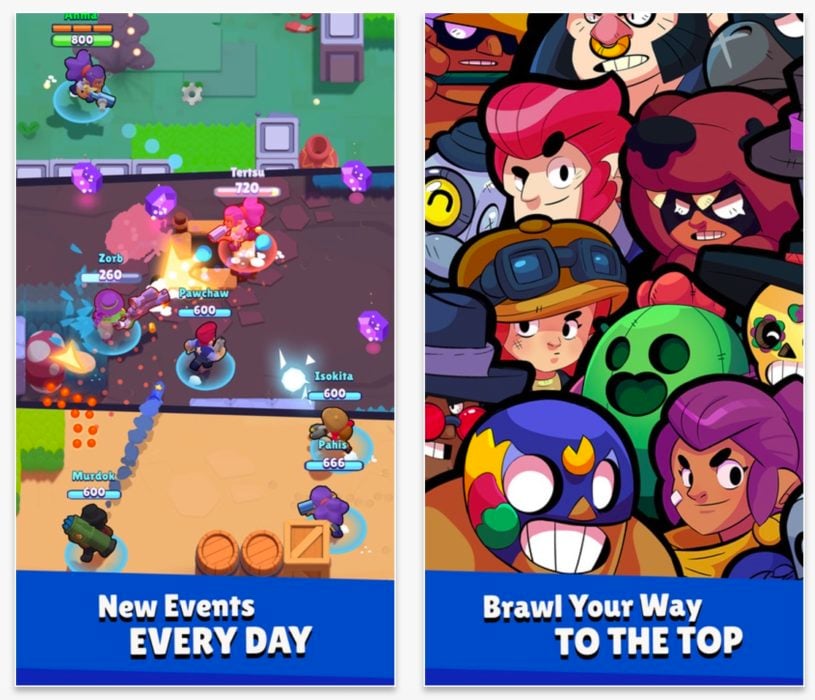 Keep in mind that while Brawl Stars is free to play, there are plenty of in-app purchases like all Supercell games. Players can spend real money on new characters, upgrades, skins, and weapons. It'll have an aggressive free mode, but an even more aggressive pay to get more stuff structure.
This could become the best fast-paced multiplayer shooter on mobile.
Brawl Stars Gameplay Video
It's hard to get a sense of a game without seeing it played in real-time. Along with the announcement, Supercell gave some popular YouTube "lets play" personalities early access to the game. GamingWithMolt has played for over a year, and here's one of his most recent videos to help you get a sense of the game.
Here we see the fast-paced 3v3 battles in real-time as they take on enemies with a slew of different characters and weapons. It looks like a fun game, but some may not enjoy the childlike cartoon graphics.
Other Details
For now, just know that this game is brand new and things will take time. Expect a few bugs now that millions of people are playing it, and multiple updates to fix small problems. There will be growing pains for Supercell, and for players, especially if you haven't played in a few months.
A lot changed from the testing phase in 2017, and the global release date at the end of 2018. Download the newest version of Brawl Stars, check out the new UI, try the latest character, and get brawling.
Supercell is in a unique position when it comes to mobile games, as each title released has been a smashing success. Whether or not Brawl Stars will receive the same attention and fame as their other titles is a complete mystery. At the end of the day, this is a trusted game developer with a history of releasing some of the best games for mobile, and we expect the same from Brawl Stars.
Now that it's here, stay tuned for tons of coverage, tips, tricks, and information about this exciting new game. If you're sick of Fortnite, Pokemon GO, or Clash Royale and want to play something new, give Brawl Stars a try.