Surface Pro 4 Windows 10 Anniversary Update: What to Expect
Microsoft always said that it would continue to add new features regularly after Windows 10 was available. This summer, the company plans to deliver the Windows 10 Anniversary Update, a software upgrade for all those that are running the operating system today. We're talking notebooks, desktops, tablets and Windows 2-in-1s. The Surface Pro 4 Windows 10 Anniversary Update, won't consist of anything that other users aren't getting necessarily, it's just that Microsoft is improving on the operating system in ways that also improve its flagship notebook and tablet replacement.
There's Windows Ink Space for users that still get a lot of use out of their Surface Pro 4's Surface Pen. Surface Pro 4 has always had the Cortana personal assistant deeply integrated. With the Surface Pro 4 Windows 10 it easier than ever to access her. Upgrades for the built-in apps are coming too.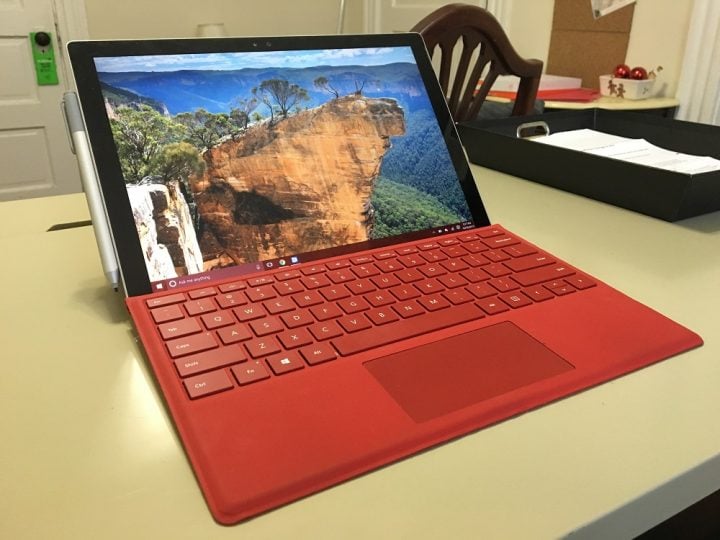 Read: Surface Pro 4 Review – The Best There Is
Upgraded Start Screen
The first thing you'll notice when you finish installing the Surface Pro 4 Windows 10 Anniversary Update is the slightly tweaked Start Screen design. Yes, Microsoft is trying to perfect the idea again this time. Microsoft added the Start Screen in Windows 8. It moved to make it more mouse friendly with Windows 10.
The Anniversary Update doesn't ditch the screen or how it works. It still morphs when a keyboard and mouse are detected. Microsoft has made it friendlier in Tablet Mode though. App icons allow users to quickly access also added a fullscreen app list so that users can browse through the apps that they don't have pinned easier with touch.
There are some extras for those that don't like Tablet Mode on their Surface Pro 4 too. Apps now show number notifications on their Taskbar icon.
Windows Ink Space
Every Surface Pro has offered Surface Pen input. Microsoft maintains that pen input is one of the things that differentiates its line of productivity tablets from entertainment tablets meant to read music on and watch TV with. The Surface Pro 4 Windows 10 Anniversary Update includes Windows Ink Space, a dedicated area for pen input.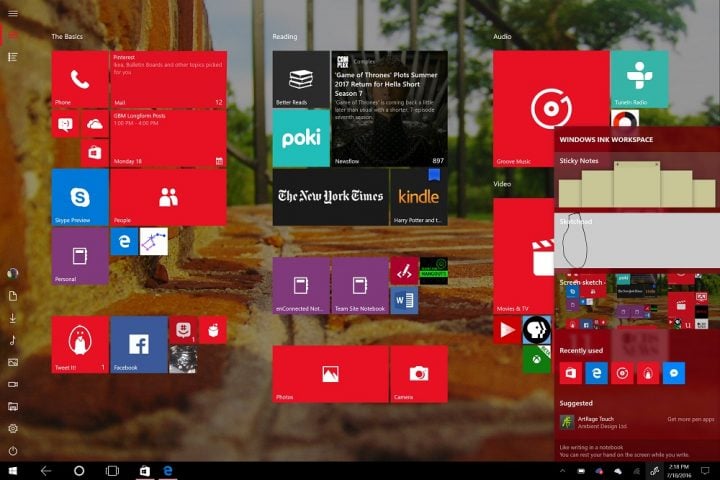 Windows Ink Space is accessible from the Taskbar, the same place that the Surface Pro 4 allows users to bring up the keyboard with. Selecting it gets you access to some upgraded pen experiences already available in Windows 10, plus suggestions on new apps that you might want to download to your Surface Pro 4 that use its Pen.
Integrated Pen Settings
Going hand in hand with the introduction of Windows Ink Space are new Settings. Windows has generally done a terrible job of supporting accessories and add-on hardware, leaving it to PC makers to handle the user experience. It's why getting the most out of the Surface Pen requires an app download. Windows 8 added a Camera app for web cams. Windows 10 integrated fingerprint readers. The Surface Pro 4 Windows 10 Anniversary Update brings Surface Pen settings.
This new area provides a logical way to change your Pen settings
Read: 7 Features I want for the Windows for the Windows 10 Anniversary Update
Sticky Notes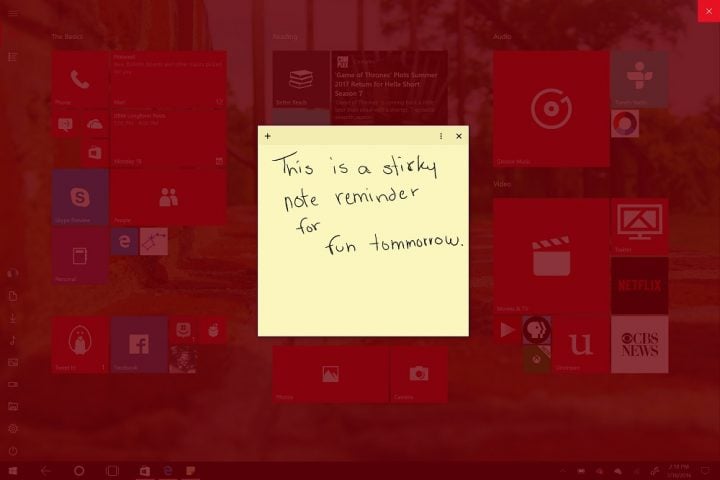 For years, there's been a Sticky Notes app in Windows. With the Surface Pro 4 Windows 10 Anniversary Update, that app finally gets some much-needed attention.
It's available from anywhere, directly from Windows Ink Space. It's there because it now supports writing Sticky Notes with a pen. You can paste those Sticky Notes to your Desktop when out of Tablet Mode too. Cortana, the Windows personal assistant, provides links inside of Sticky Notes if they're necessary. For example, through creating a Sticky Note, you can get a deep link to your Calendar for the next day.
A Better Windows Store
The Surface Pro 4 is a hybrid device. You can use any program that you install from the internet with touch and pen, but the best results require apps from the Windows Store.
The Surface Pro 4 Windows 10 Anniversary Update comes with another Windows Store redesign. Movie trailers are effortless to start. Apps are said to be easier to find. Extensions for the Edge web browser are available in the Windows Store now too.
Cortana from the Lock Screen
You can already open the Cortana personal assistant with a few clicks of the eraser button on your Surface Pen. Now you can configure Cortana to listen even when your Surface Pro 4 is sitting on your desk and locked. New commands let you start playlists and music with Cortana too.
Improved Surface App
One thing that the Settings app hasn't picked up is a battery monitor for pens. Luckily, the Surface app itself now has that functionality. It's also been redesigned for mouse and keyboard control, something the older app wasn't.
Microsoft says that it plans to make the Surface Pro 4 Windows 10 Anniversary Update available in waves beginning August 2nd. Besides coming to the Windows PCs, it's also heading to Windows phones and Microsoft's Xbox One entertainment console.
Read: Anniversary Windows 10 Upgrade – Release Date & Features
As with all updates to Windows 10, the Windows 10 Anniversary Update is free for everyone already running Windows 10.
17 Anniversary Windows 10 Update Features
Cortana Upgrades
The procession of impressive new features begins with Cortana, Microsoft's digital personal assistant. With the first Windows 10 release, Cortana became cross-platform; there are apps for Android and iPhone now.
With this release, Microsoft is closely tying the assistant to Windows phone and Android. Cortana now stays informed of your device's battery life. She notifies users when your battery is low. She can be asked to track down your iPhone or Android device using its built-in GPS too. The personal assistant now sends directions` directly to your phone when you request them on your Windows 10 PC. The company says that it has improved the setup process for Cortana too.

As an Amazon Associate I earn from qualifying purchases.