Xbox One Deal Cuts Price in Half with PS3 or Xbox Trade In
A new Xbox One deal offers an option to buy the new console for $175 when you trade in a PS3 or Xbox 360 towards the purchase of a new Xbox One.
The Xbox trade in deal at Best Buy is available through the end of the week and includes a few catches, but overall is one of the cheapest ways to buy a Xbox One.
These types of PS3 and Xbox trade in deals aren't rare, but they may start to dry up over the next several months as the second anniversary of the Xbox One release date arrives.
Read: Xbox One Tips and Tricks
Here's what you need to know about the PS3 and Xbox trade in deal at Best Buy that offers an option to buy a new Xbox One for $175.
If you want to take part in this PS3 trade in deal or Xbox 360 trade in deal at Best Buy you only have until June 20th. After that date the trade in values plummet back to normal levels.
The full value of a $175 Xbox trade in or PS3 trade in is only valid with the Xbox 360 250GB or PS3 Slim. If you trade in a different model that is older or with less storage you can still score $75, but it is not as tempting. Here's the details from Best Buy on the trade-in.
The $175 value is good towards an Xbox One, so you cannot use this to buy a PS4 or something else at Best Buy. All trade in consoles must be in working order and include a AC adapter or power cord and cannot show signs of being opened. Best Buy only offers one trade in per person.
When you trade in, you can buy any of the Xbox One models that Best Buy offers. This includes the new Xbox One 1TB Halo Master Chief Collection bundle that is $399 with double the hard drive size that the $349 model offers. This arrives at Best Buy on June 18th, so if you want to use that option, don't go in store until the 18th.
Other options include the White Xbox One Special edition that is $349 before the trade in bonus and the various other Assassin's Creed Unity bundles and Master Chief Collection Bundles that are $175 after the trade in. It is possible to use this trade in deal on the Xbox One with Kinect that retails for $499.
This is a good time to upgrade to the Xbox One, as many of the biggest games of 2015 are not coming to the Xbox 360 or PS3. Those that will come to the older console will strip out features or will come from another developer, which means a different experience in Madden 16, FIFA 16, Call of Duty: Black Ops 3 and other games.
Microsoft just announced another huge reason that this upgrade may be worth taking advantage of. The Xbox One can play Xbox 360 games starting this holiday season. The new Xbox One backwards compatibility will launch with 100 games and expand from there to cover both disc and digital Xbox 360 games on the Xbox One. We may not see every Xbox 360 game playable on the Xbox One, but this will help convince some users to upgrade at a discount and keep playing a vast library of games.
Madden 16: 5 New Details Gamers Need to Know
Madden 16 Gameplay Trailer at E3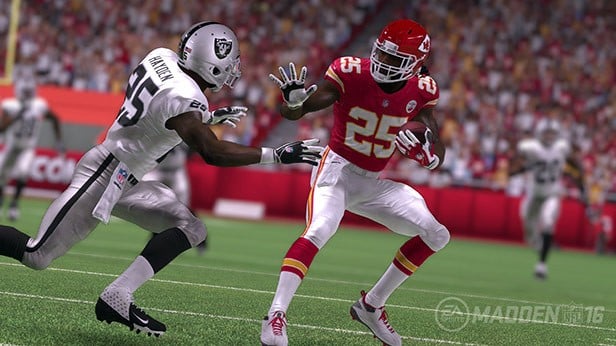 The Madden 16 gameplay trailer from E3 2015 uses in-game footage, but sticks to showing off the replay-like cinematic in-game engine style of gameplay that leaves many gamers wanting more.
The Packers vs Giants game shown in the Madden 16 E3 trailer delivers a look at some of the new gameplay, but the biggest highlight is the new Air Supremacy that includes more spectacular catches.
Without a full game to watch just yet, there is plenty of missing Madden 16 gameplay that we want to see. Very often we will see this come in the next day or two as EA shows off the new Madden to journalists and lets us play an early version of the game.